Sunday, 25 Sept 22, Ayres Rd, Nth St Ives to Flying Fox Cafe, Mona Vale and back - 43km - three regulars and a New Young Chum - 43km

Click on above 'Relive' image to view last Sunday's Nth St. Ives to Flying Fox Cafe, Mona Vale and back in Google Earth.

Then click on the 'Right Arrow' therein. Then click on: View interactive route > and drag the route with your mouse to evidence a further application of Google Earth
As Gomer Pyle would say, Garsh, Sha-zam, Gall-lee!!!

Sunday, 29 May, Tallawong light rail station visit to Windsor, Kurrajong, Richmond, back to Windsor and Tallawong - 62km. The backroads were dry, but the damage to them is real bad. To view this ride route from Tallawong light rail station in Google Earth, click on 'Relive'. Then click on the 'Right Arrow' therein. Then click on: View interactive route >

Chris aka RecalcitrantBankTeller and George aka Englishman joined us at The Bridge Cafe, Macquarie Square Windsor under sunny skies. (Some of the pics in The Bridge Cafe are 20 years old.)

This is where we crossed the creek which was a tad precarious for aging BankTeller, as skipping across dry odd shaped rocks midstream was almost beyond him.
Fortunately, David carried BankTeller's bicycle over the flowing stream.

We had to jump three fences like this one.

David aka OnceAnIronMan and BankTeller took up 'Residency' yesterday at rural Cornwallis by crossing three road closures to return from Richmond to Windsor

Prior to recent floods, we used to cycle WestSouWest across the road above from Windsor twds Kurrajong/Richmond that is no more. Now there is a massive land fall. Hard to believe, but alas true. Hawkesbury Council doesn't have the funds to repair this, especially when similar damage is likely 'just around the corner'.

Subject: RE: Pete's weekly Oyster ride!...Friday 12/3/2021
Well yesterday was an interesting day! ….the rain showers only came while we had coffee at Mt White so we did not get wet !! The day proved humid and warm! Our planned visit to Australian Reptile Park at Somersby was well worth it. I liked the Komodo dragon and platypus while Peter checked out the reptile show and snakes ….. and the fat tailed dunnarts (a nocturnal Australian marsupial) was rather cute. Of course there were koalas, kangaroos, wallabies, cassowary, emus and dingoes too!..... all set in lovely Australian bush and shrubs! I am glad to say there were quite a lot of visitors!
To our surprise, we learnt that Eric had a part-time job at Australian Reptile Park leading suspecting prey on a crocodile walk, where you might end up as a reptile's dinner.
Of course we had usual delicious oysters and fresh prawn rolls at Woy Woy Fisherman's Wharf before catching the train back to our Berowra start!
Next Friday I will be in Kiama for the L'Etape ride, but Pete anticipates riding….. the following Friday some of us will be in Corryong and/or Mt Beauty on the annual Victorian ride!!
Happy cycling!
Cheers Ann


Backpacker Eric has lost a foot' so be wary that you don't lose even a bit more if going on a 'Nature Walk' with so much "Nature", 'cause lots of those reptiles have innate primal instincts to feed their kids!
Last Sunday, Nth St Ives, Fruit Barn, Duffy's Forest, Akuna Bay, Illawong Bay, Nth St Ives - 50km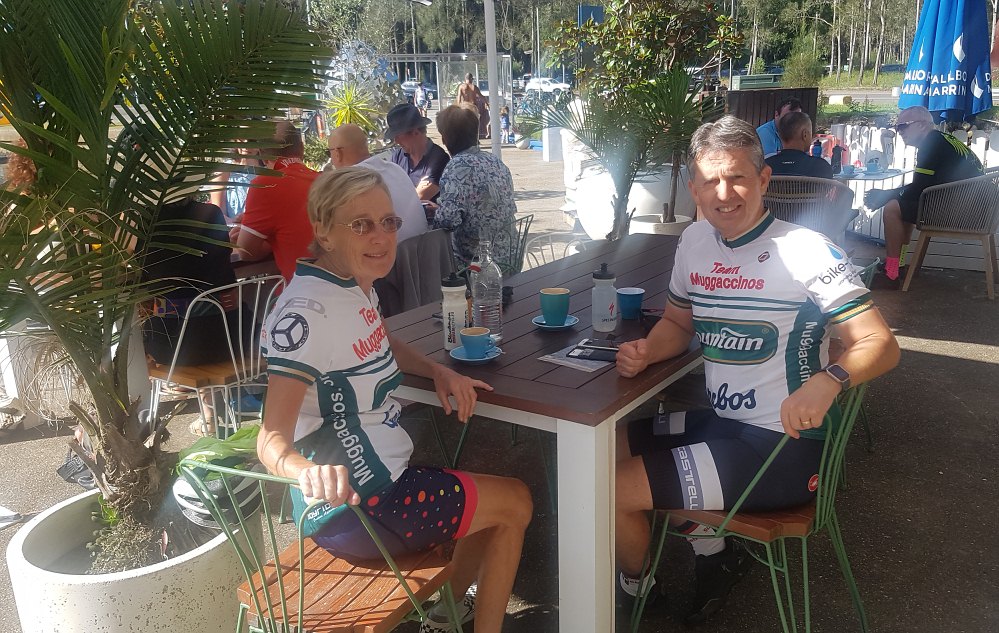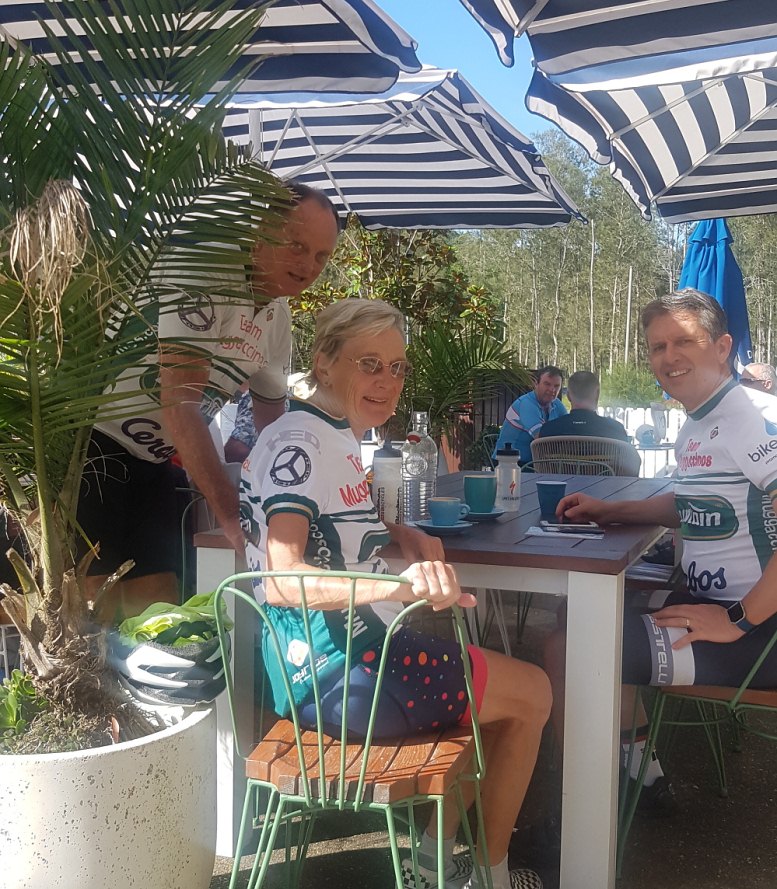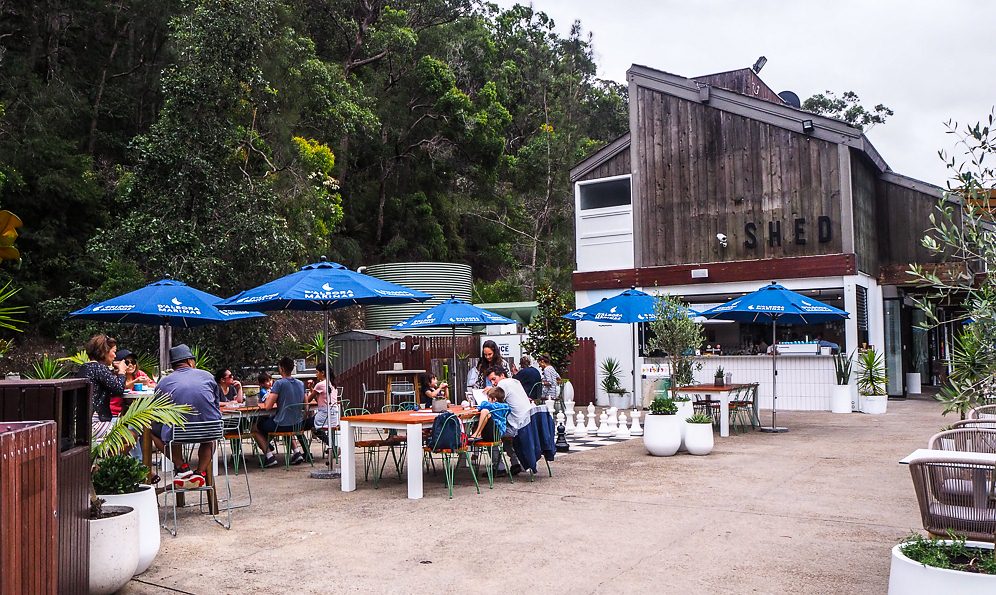 The refurbed cafe at Akuna Bay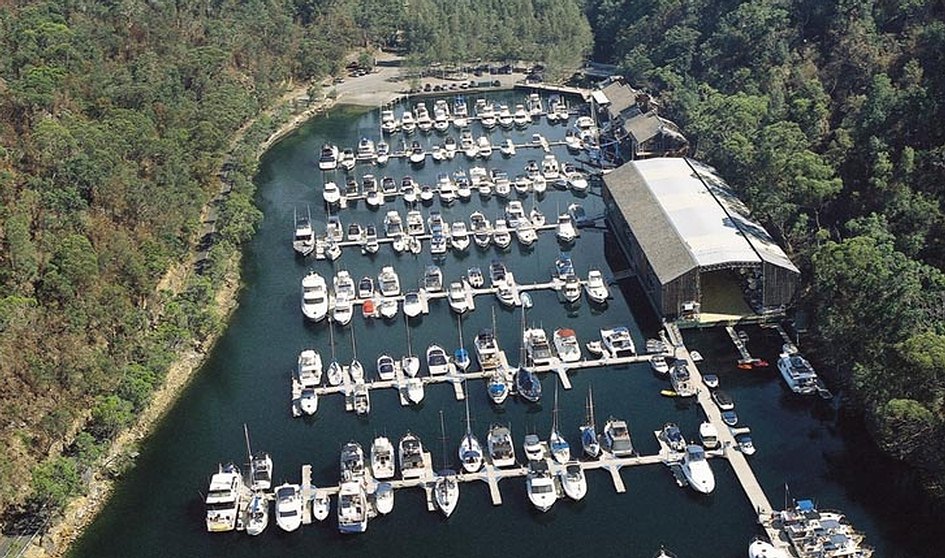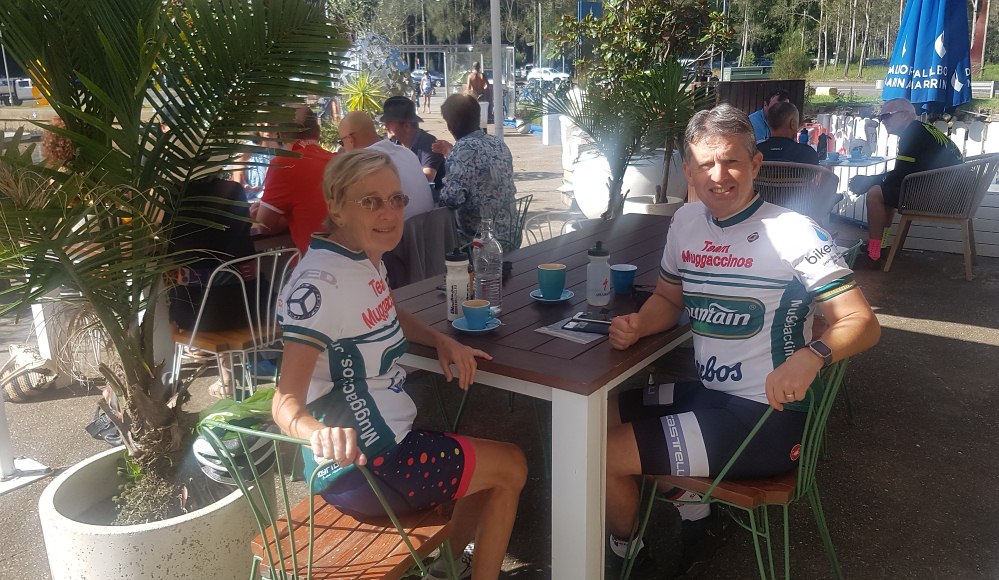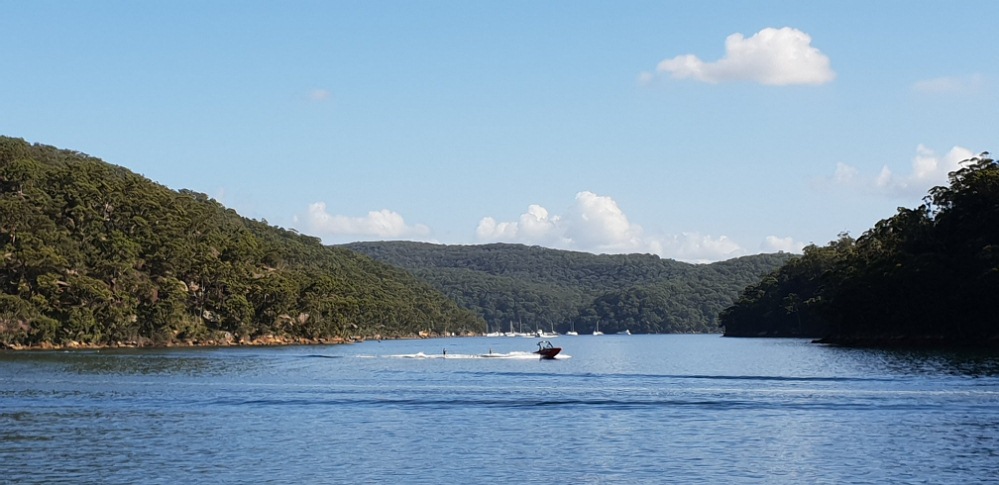 Two pics from ToothFairy at impressive Illawong Bay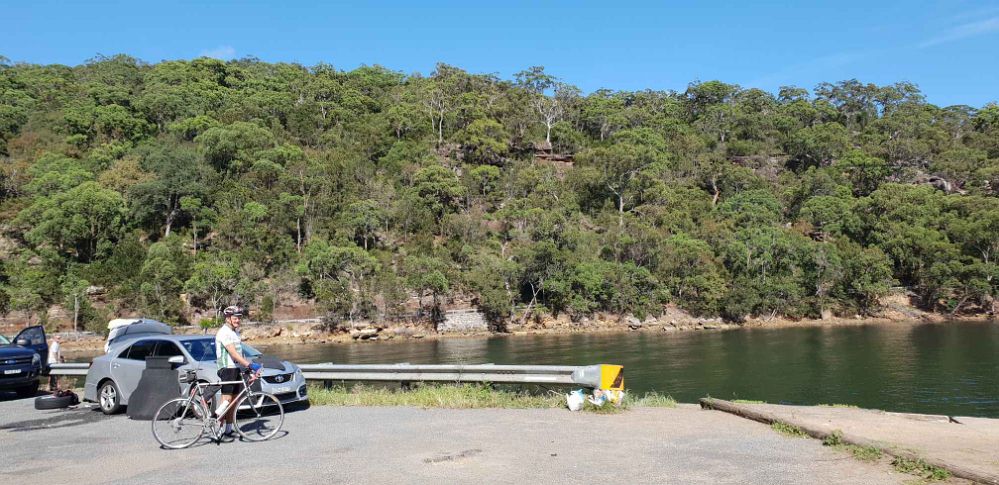 Sunday, Galston, Halcrows rd, Sackville Ferry ride, Wilberforce, Windsor, Annangrove Rd back to Galston - 83km - 3 riders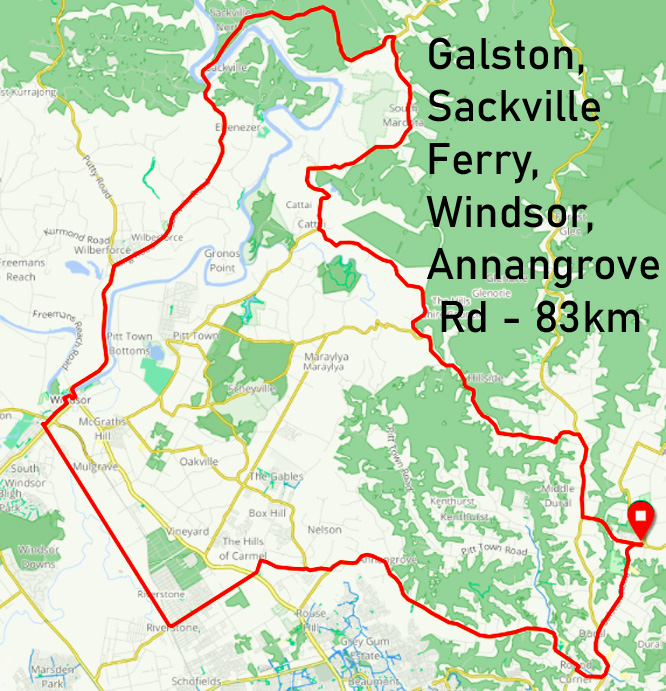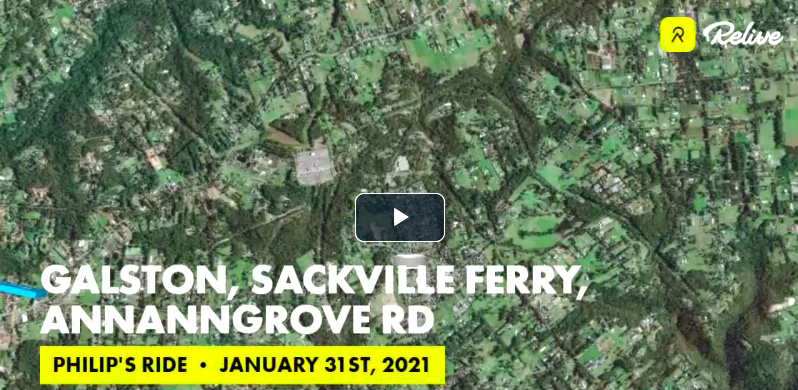 Click on above 'Relive' image to view last Sunday's Galston, Halcrows rd, Sackville Ferry, Wilberforce, Windsor, Annangrove Rd, to Galston - 83km in Google Earth.
Then click on the 'Right Arrow' therein. Then click on: View interactive route > to evidence a further application of Google earth
As Gomer Pyle would say, Goooolly !!!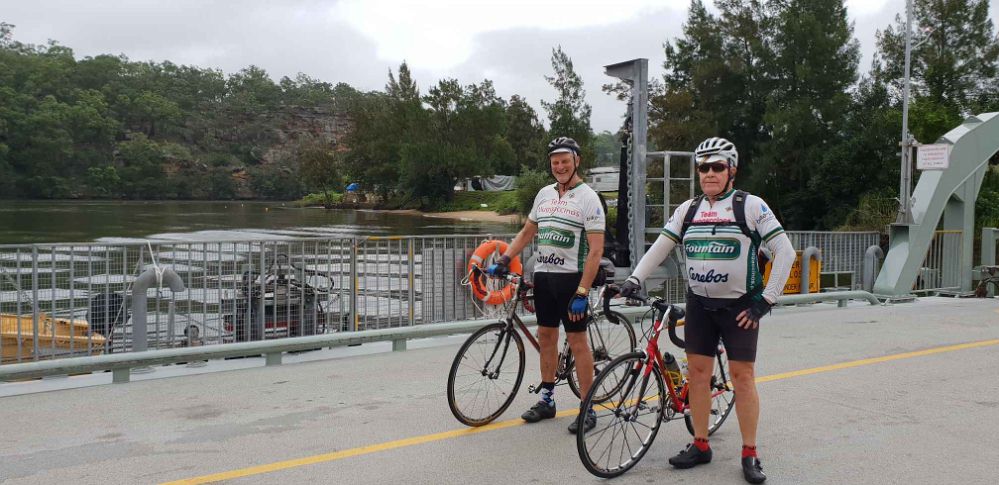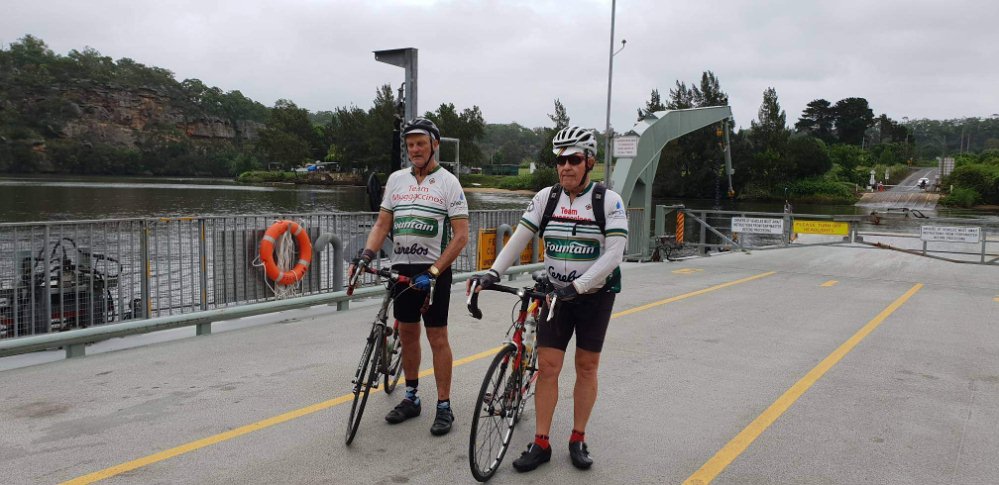 Above two pics were snapped by Muggs back-up photographer, ToothFairy
Sunday St Ives, Duffy's Forest, Bayview Marina, back up McCarrs Creek Rd to St Ives - 58km - 4 riders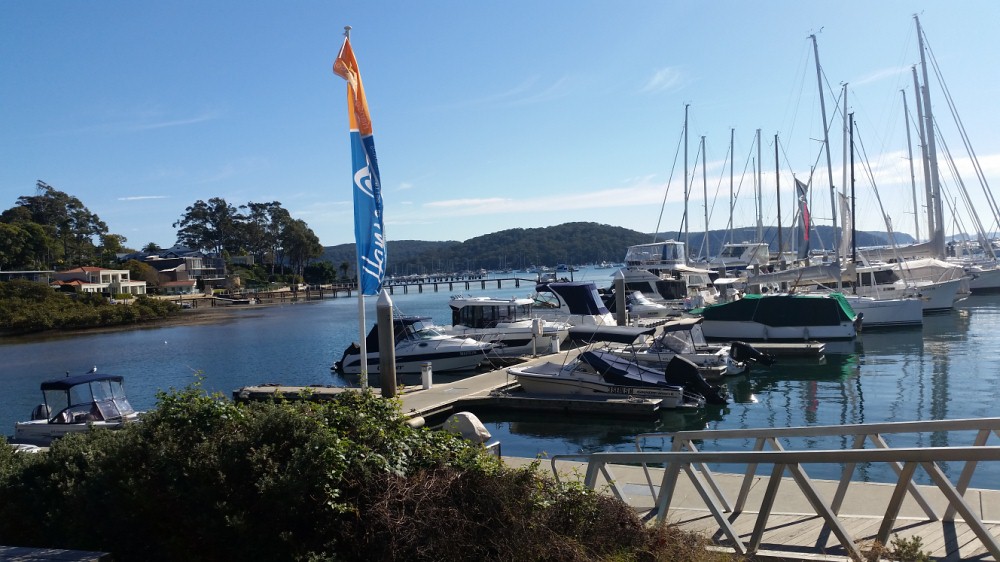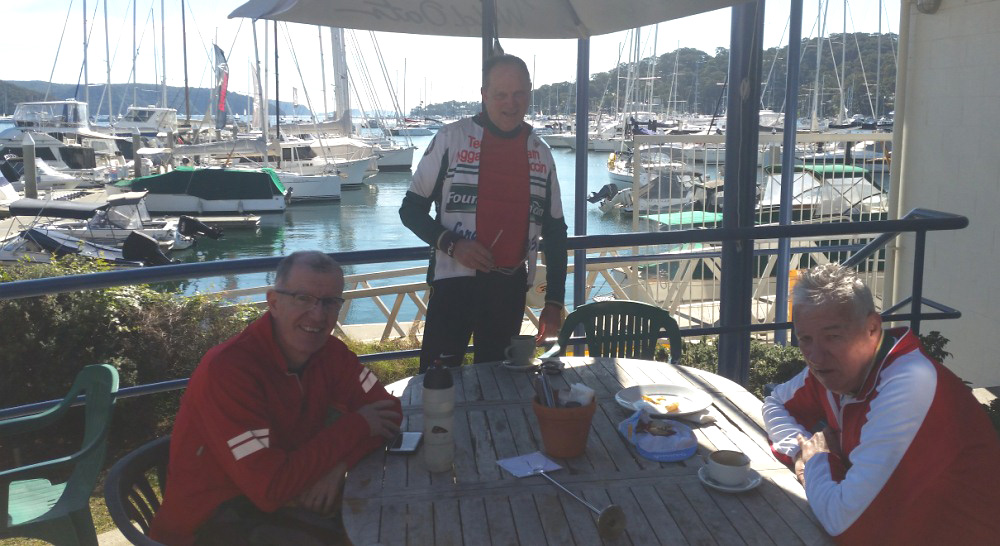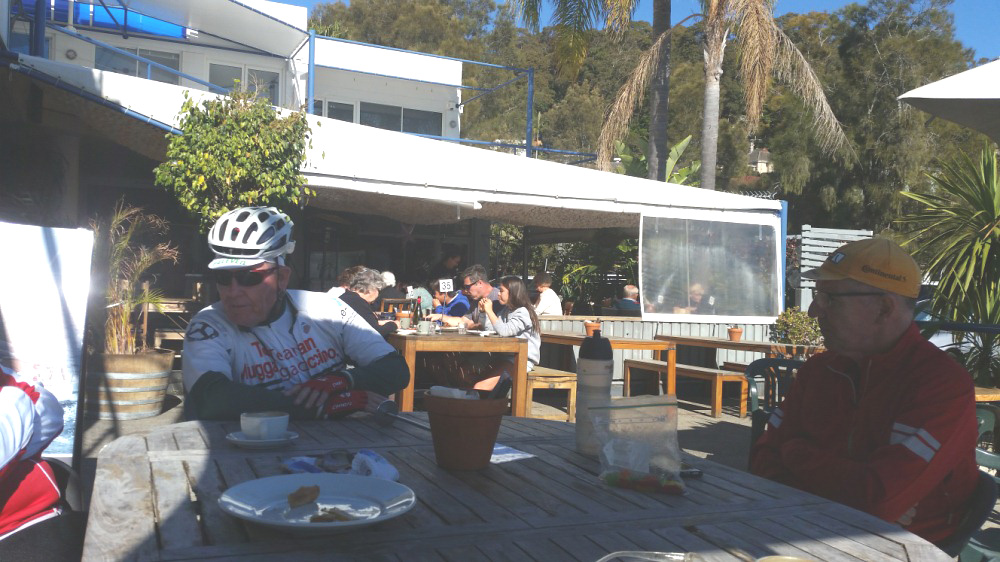 Sunday St Ives carpark for "Brekkie at Bayview Marina - optional Brunch at Akuna Bay" - 92.6km - 3 riders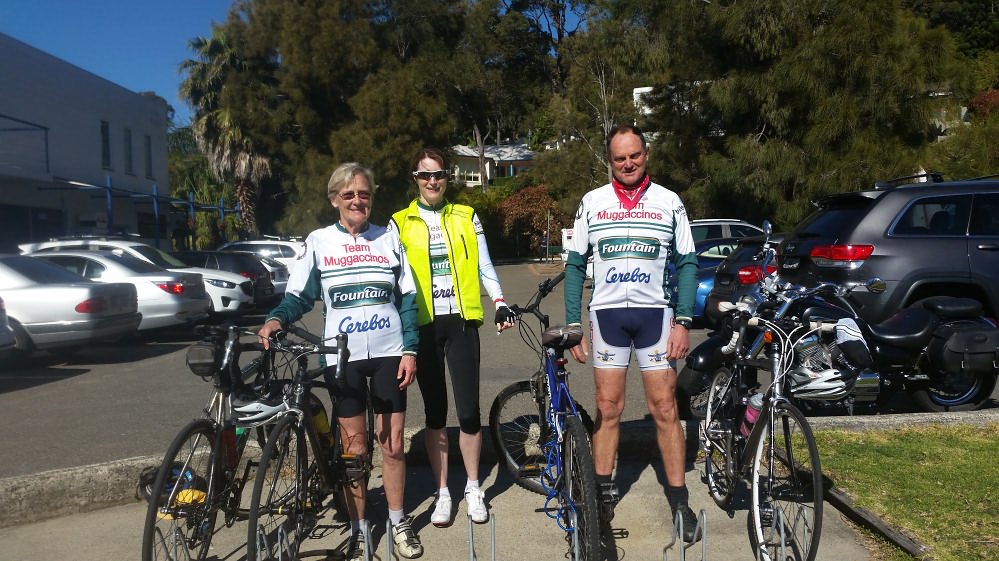 ToothFairy, Trumpeter and BankTeller down at Bayview Marina on a veritable corker of a morn'
St Ives, Illawong Bay, Akuna Bay, West Head, Church Point 'n back - 74km - 7 riders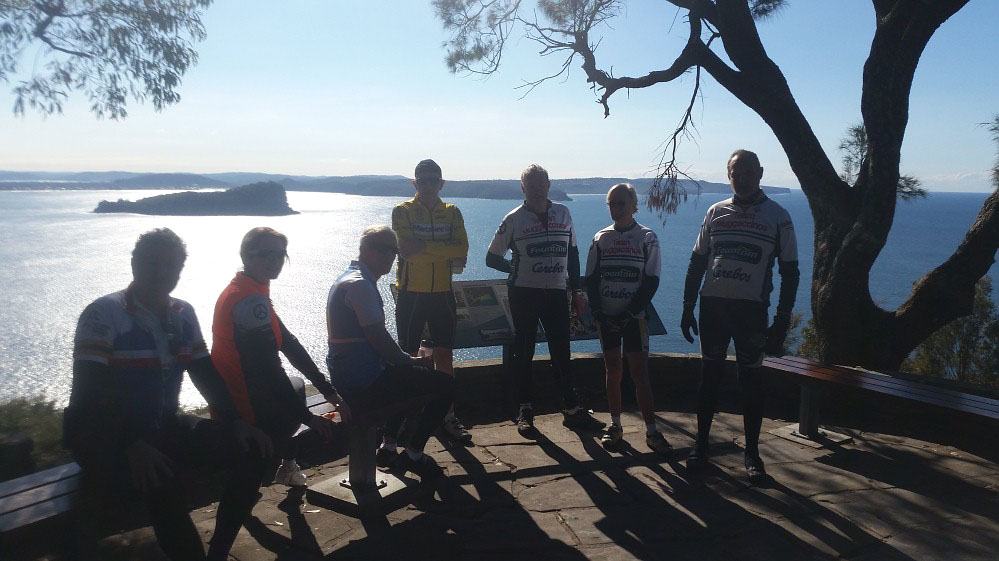 Kevin aka TexDubbo, Justine aka Trumpeter Alan aka PharLap Bill aka Glasgow, Pete aka CampyAficinado, Ann aka ToothFairy and Bank Teller
The lass who took these pics warned that they would be glary due to the bright sunshine behind. BankTeller suggested that she take a pic from the second branch behind, but she wasn't enthused.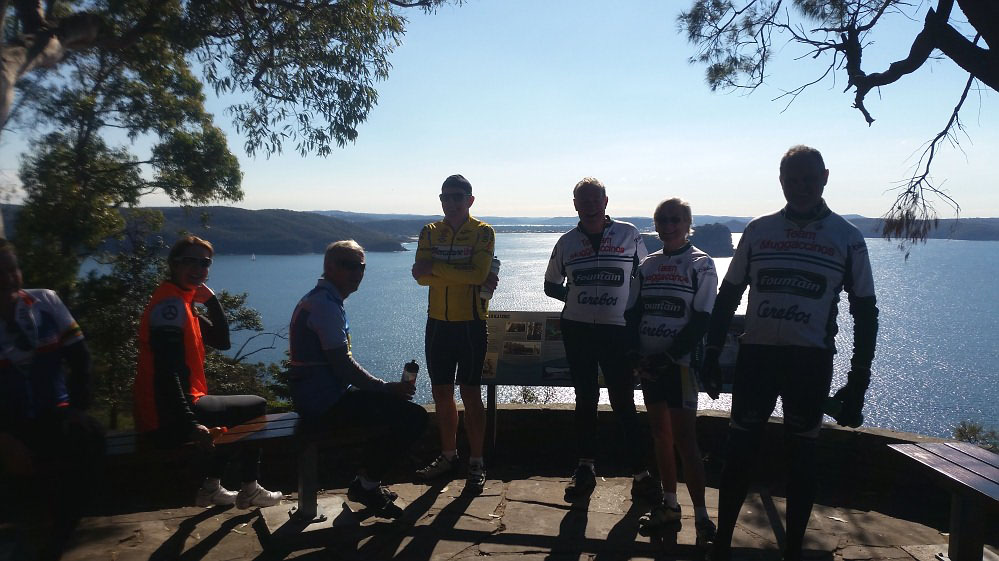 St Ives, West Head, Church Point 'n back - 51km - 8 riders
Bank Teller took the below four pics of the carpark opposite Pattisons Patisserie at St Ives at midday last Sunday, 25th June, following Muggs' abbreviated ride to West Head and Church Point. These pics evidence that the recently extended carpark off Mona Vale Rd, St Ives, had four cars parked in it. 30 of the 34 car spaces were vacant. Why so empty, when on a Sunday morning over recent years, you couldn't previously get a parking spot in there after 8am in Winter and earlier in Summer? Because prior to the recent redevelopment by Ku'ring'gai Council, there was no time limit on parking in this carpark on Sundays. Nowadays, following the renovations and minor extension that occurred three months ago, perhaps because the local shops complained about road cyclists clogging up the carpark on Sundays, parking is now restricted to 2 hours after 9am on Sundays. Hence, road cyclists that invariably filled it up prior to the recent refurb, cannot park their vehicle there, if their Sunday morning bicycle ride will not finish prior to 11am.

On Sunday mornings, Bank Teller parks his Berlingo 'baguette van' in Stanley St (opposite), and evidences a lot of cars, with bicycle clamp racks fitted, similarly parked in Stanley St. and nearby Lynbara Ave. What is the economic rational for Ku'ring'gai Council to recently extend the size of this carpark and then force road cyclists to park in nearby streets by setting a 2 hour maximum stay after 9am on Sundays? Surely, Council could remove/amend the time limit signs on all car spaces (for Sundays), except the 10 spaces that directly affront Mona Vale Rd.

One ponders -

(a) the methodology that Council applied to impose the two hour time limit on Sundays after 9am for the entire 34 car spaces, because a useful off-road carpark is now largely unused after 11am on Sundays. Because the majority of road cyclists do not finish their Sunday ride until well after 11am. Many road cyclists' vehicles that used to park off-the-road, now park on roadways outside houses as evident in the below pics; and

(b) whether when expending rate-payers monies to increase the capacity of a social utility, whether Council subsequently monitored the patronage of this utility after restricting parking on Sundays to two hours post 9am.

Bank Teller has observed this carpark (post ride between 12:15pm and 1:30pm) on the four occasions that Muggs cyclists have commenced their Sunday bicycle ride from St. Ives since the recent carpark refurb - from early April. He has never seen more than seven vehicles in it. On one Sunday two tow trucks were parked in it.

One of the two tow trucks referred to above in front, with the other nestled in the background

Above and below pics of two SUVs (with bicycle racks aloft) parked in Stanley St around midday on a Sunday when most of the road cyclists have finished their Sunday morning ride and vamoosed

Bank Teller took the below ten pics (from 8:35am on Sunday, 16th July in Stanley Street) of predominantly road cyclists' vehicles that previously parked in the Mona Vale Rd carpark (opp. Pattisons Patisserie) which now has a two hour parking limit after 9am.
17 July '17