Eric, the former FatMan is a pedal Bludgeoning Behemoth, who once extended the bathroom scales over 100kg. The infamous Bottom Bracket Frame-Breaker with an ox's heart has rec'd three replacement frames under an original Avanti bike warranty, such is the punishment he bestows upon his bicycles.
A spinal fusion required insertion of a couple of bolts in his lumbar region in '84. However, the prosthesis hasn't stopped the former Frigidaire on Wheels, from completing twenty three 200km Audax Alpine Classics in Bright over the Aust. Day long w'end, interspersed with Fitz's Challenge, and 210km Fitz's Epic, and 250km Three Peaks which Eric contends are more demanding than the annual visit to Bright Vic. 200km Audax Alpine Classic, although the infamous 40o temps in the Bright Basin in the 2006 AAC where half the field wisely pulled-out, tested Eric's resolve.
Eric is a rumbustious chap who thinks he's distinguished, 'cause he constantly strives to look eminent - a Falstaffian figure seemingly epitomizing mirth 'n merriment until he slips into his Arian whingeing 'n whining mode which he contends 'ignorant Australian' confuse for constructive criticism, helpful hints and clever counsel.
In conversation, don't bring up The War. Because this Old Krout has an sanguine recollection of an Altar Boy named Adolph ie. "that Austrian did a marvelous job in unifying a lot of countries to a common cause."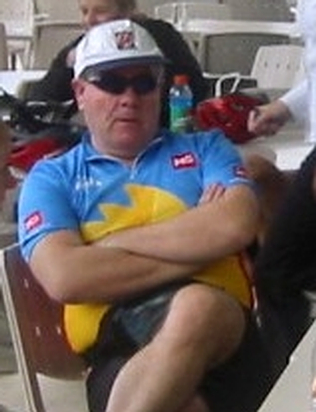 After whingeing and whining for many years "about I can't afford it", in 2000 the Bulbous Bloke dusted-off the moths and shelled out big bucks on a hand-made Paul Hillbrick, state of the art, treadley. However, it is now 20 years old, so the former FatMan has indulged in a few new treadleys, because his extraordinary cycling resolve is only surpassed by his ego not to be out-done.
Like Prague, PapaBear enjoys climbing famous Tour de France KOM climbs.
Alps mountains:
- Alpe d' Heuz 14 km, 1h 47min
- Combination Lautaret / Galibier (2642m) 20 km 2h 11min
- Aravis 10 km
- Colombiere 12 km
- Joux de Plane both sides each 12 km
- Combination Glandon / Croix de Fer 18 km
- Col du Mont Cenis 10 km
- Mont Ventoux 22 km, 2h 45 min
Pyrenees mountains:
- Aspin 12 km
- Tourmalet 17 km
- Peyresourde 10 km
Swiss mountains - not used for TdeF although - quite tough for the average Sunday rider:
- Grimsel 5.5 km
- Furka (2431m) 11 km
- Gotthard 12 km
- Col de la Forclaz 13 km
Eric rates Ventoux as the hardest climb. However, he struggled with Tourmalet as there was thick cold fog with very low visibility for about half of the 17km ascent.
"I was also the only one climbing that day, and I didn't get overtaken by anybody. And I didn't overtake anybody either."