Hornsby to Wyong, via Mt white, Peats Ridge, Bumble Hill, Yarramalong Valley - 93km - 5 riders, but two turned around at Mt White and Bazza did a switch-a-roo a tad before Mt W.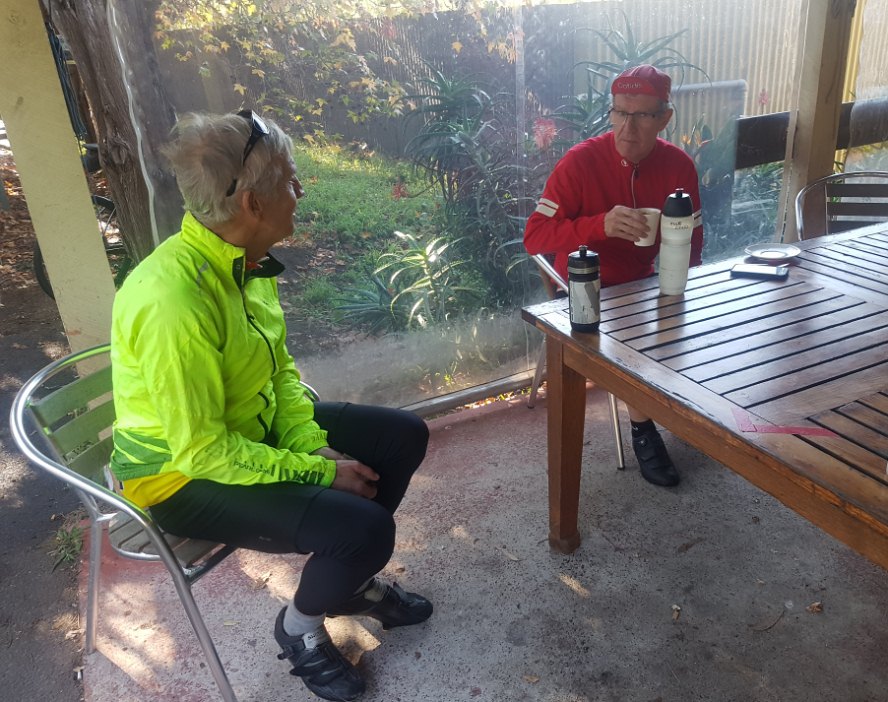 Alan aka Pharlap and Bill aka Glasgow at Mt White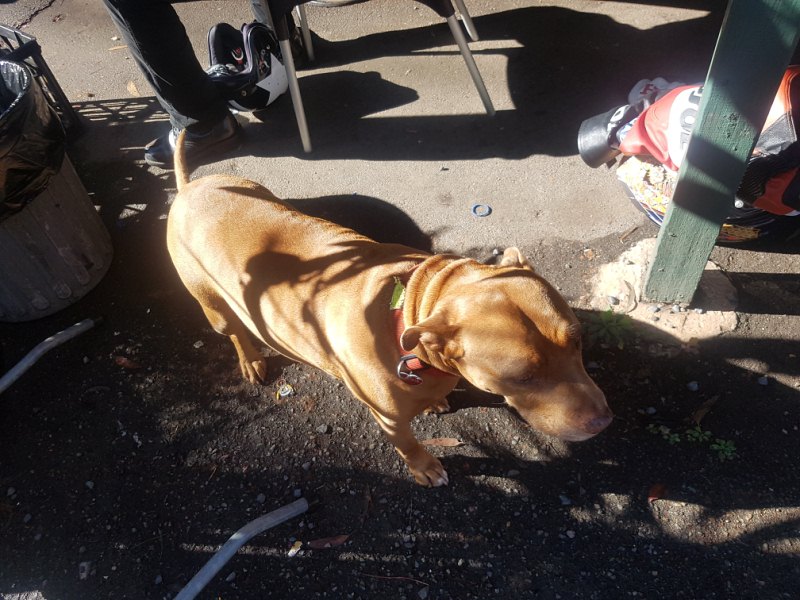 Jacqui was fore loon looking for Jane aka NeoLuddite!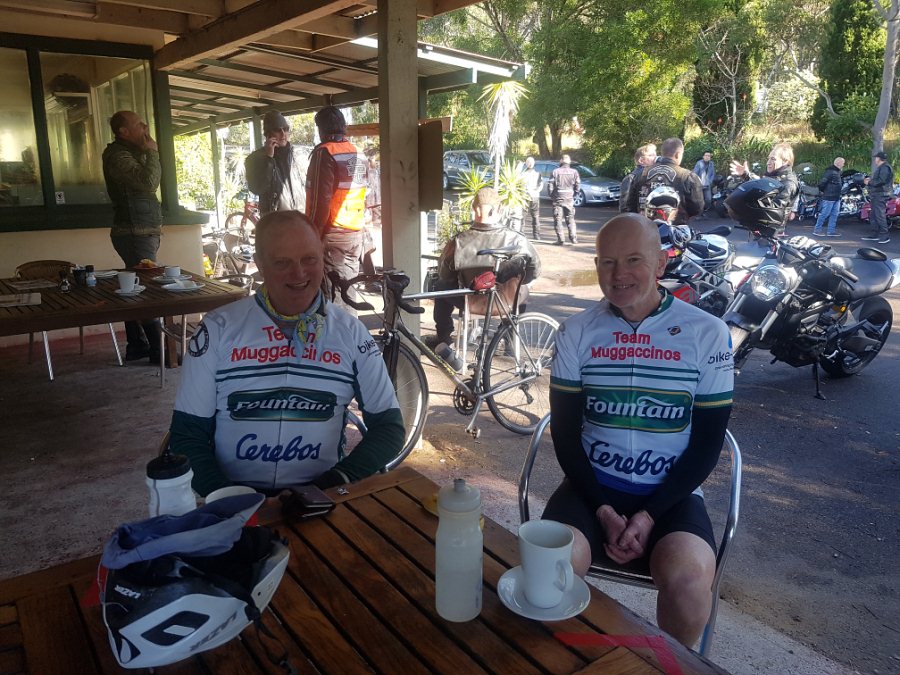 BankTeller and Terry aka Navigator were in uniform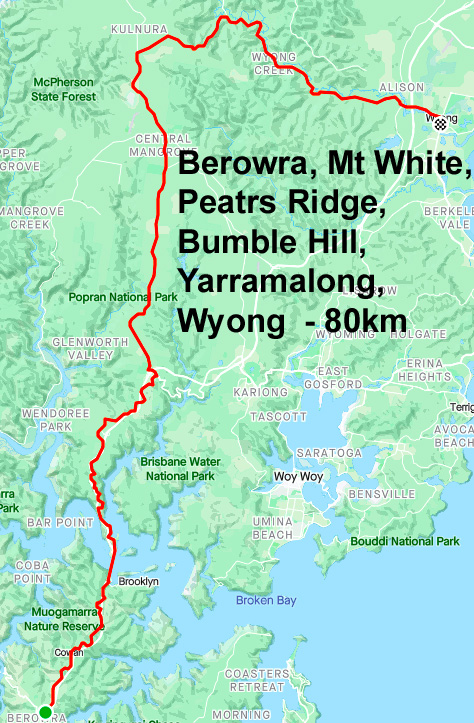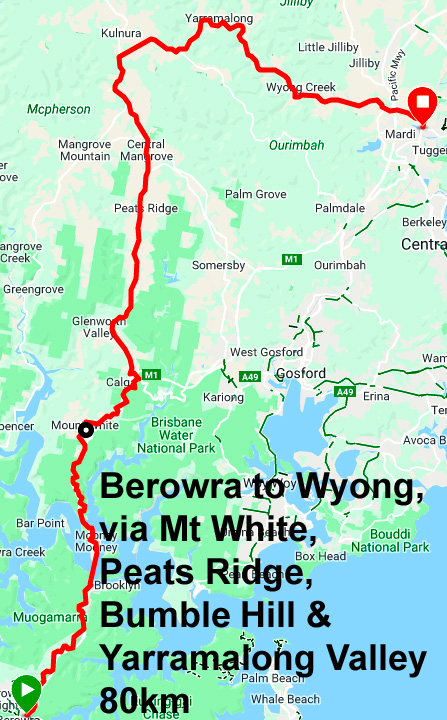 Last Sunday's route and the same route 7 weeks before
St Ives, Duffy's Forest , Church Pt, Warriewood 'n back - 71km - 6 riders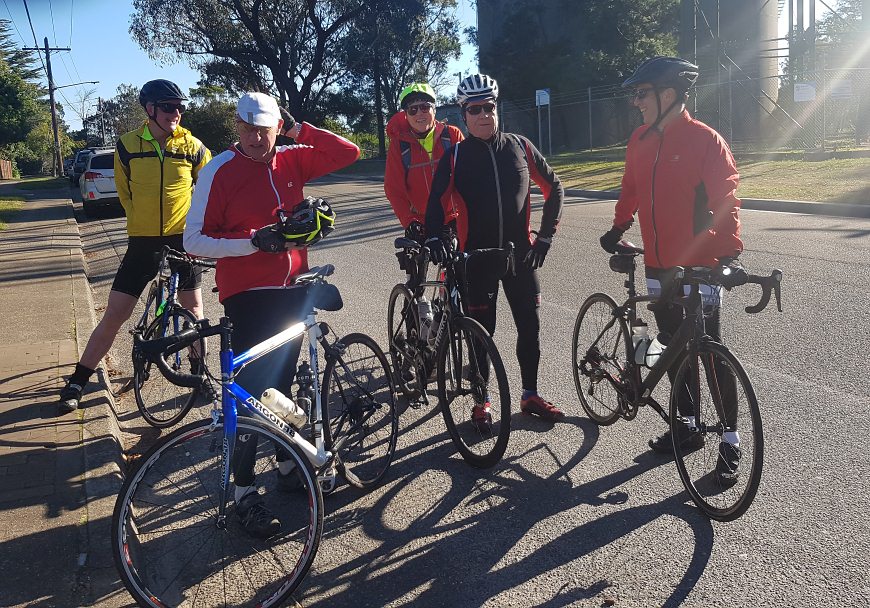 PapaBear doing an admirable job in concealing his tummy at the (former) Thai Restaurant (sojourn) Sag Stop après Duffy's Forest sortie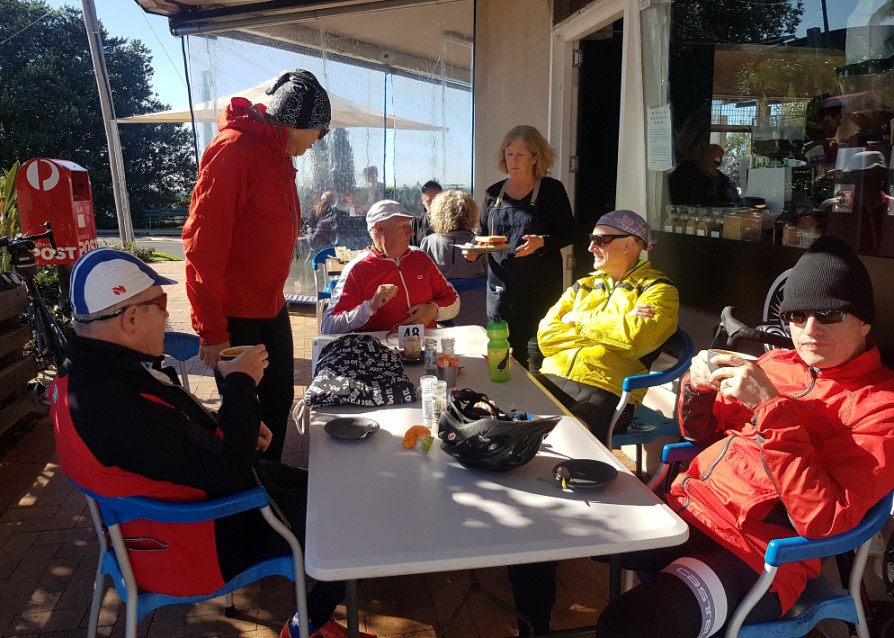 Pigging-out at the Sunrise Cafe after 48km or thereabouts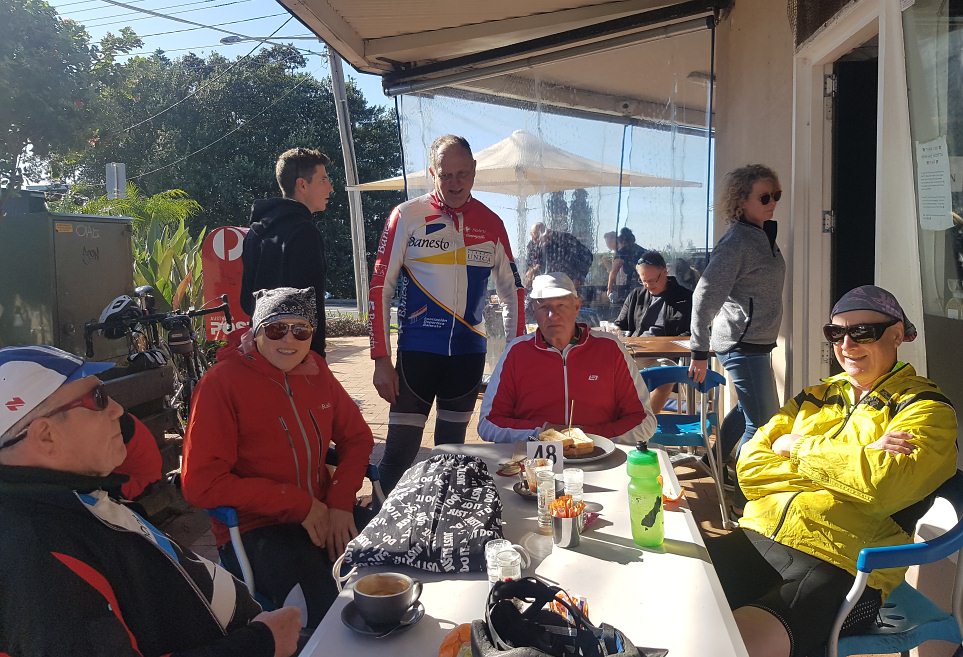 Hornsby to Somersby Bellbird loop - 109km - 3 riders
Last Sunday, Terry aka Navigator, Ann aka ToothFairy and BankTeller cycled the Somersby Bellbird loop. Ann and Phil started from and finished from Cowan - 94km. Terry cycled a further 15km having started from Hornsby. Alas, the Somersby General Store, which was a popular Nosh Stop for Muggs years ago, was all shut and may have been for some time.
Below is the route that ToothFairy and BankTeller cycled.
Click on above 'Relive' image to view last Sunday's Somersby Bellbirds ride in Google Earth.
Then click on the 'Right Arrow' therein. Then click on: View interactive route >
Good Friday - Annual Sutherland to Otford Apple Pie Shop, via Bundeena, return up Waterfall - 94km - 3 riders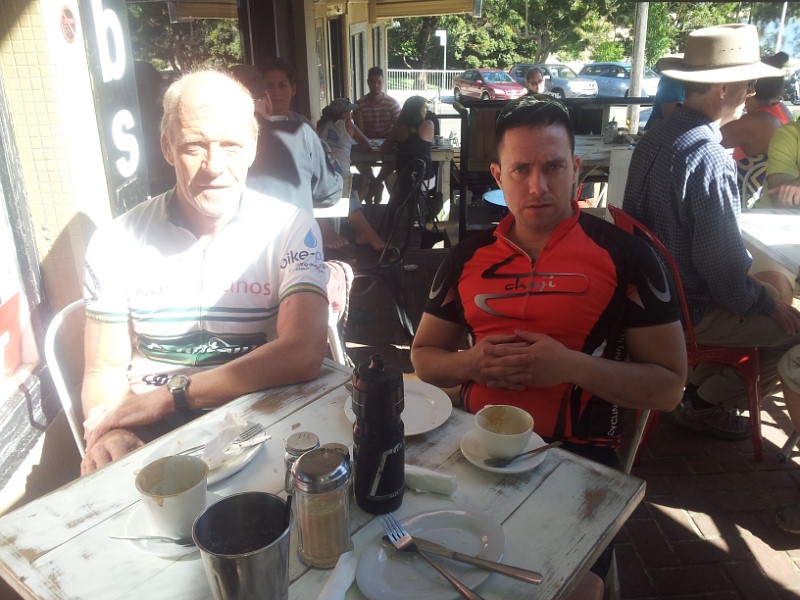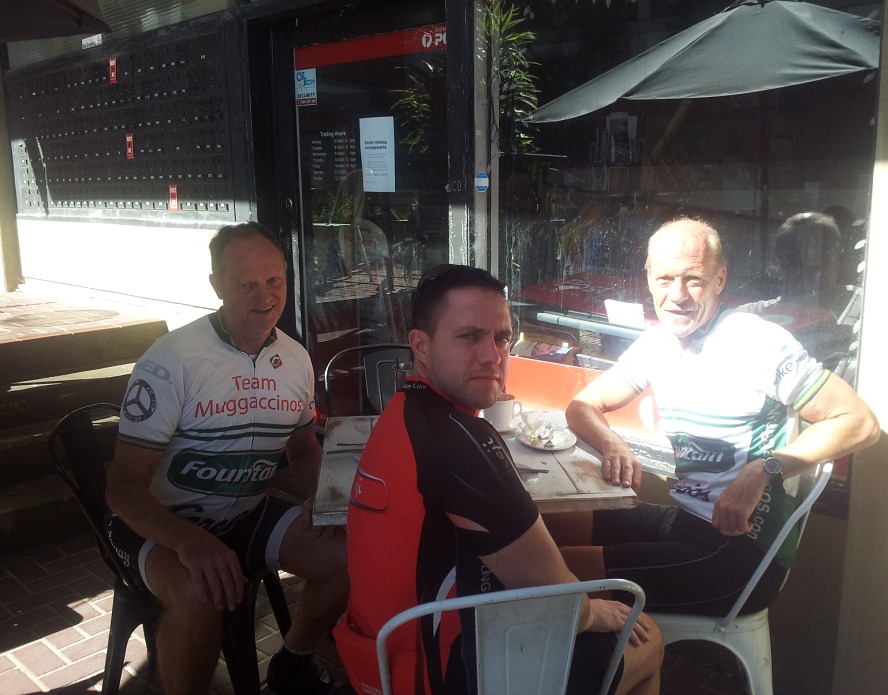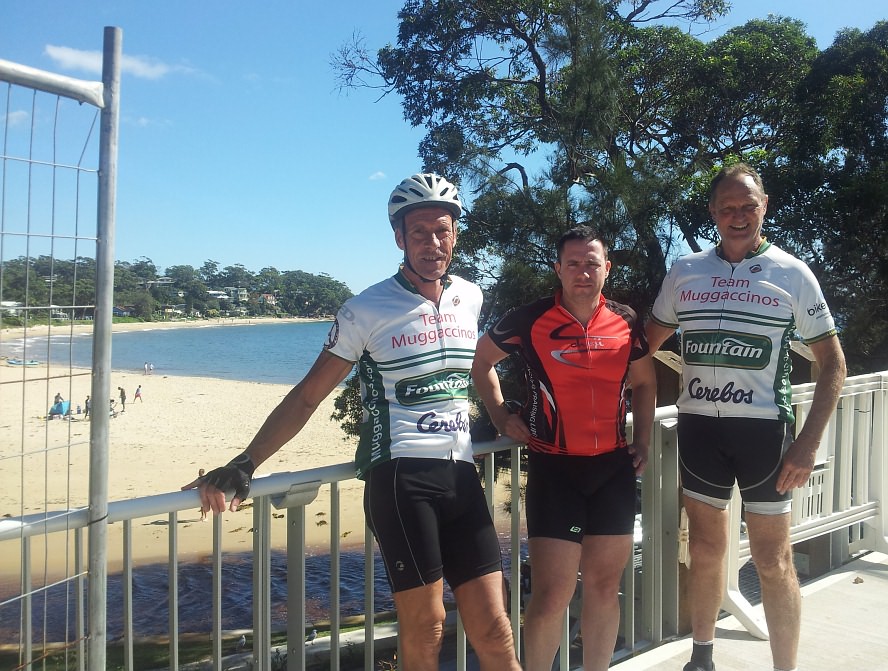 Same pic below as above, but more tress and less water below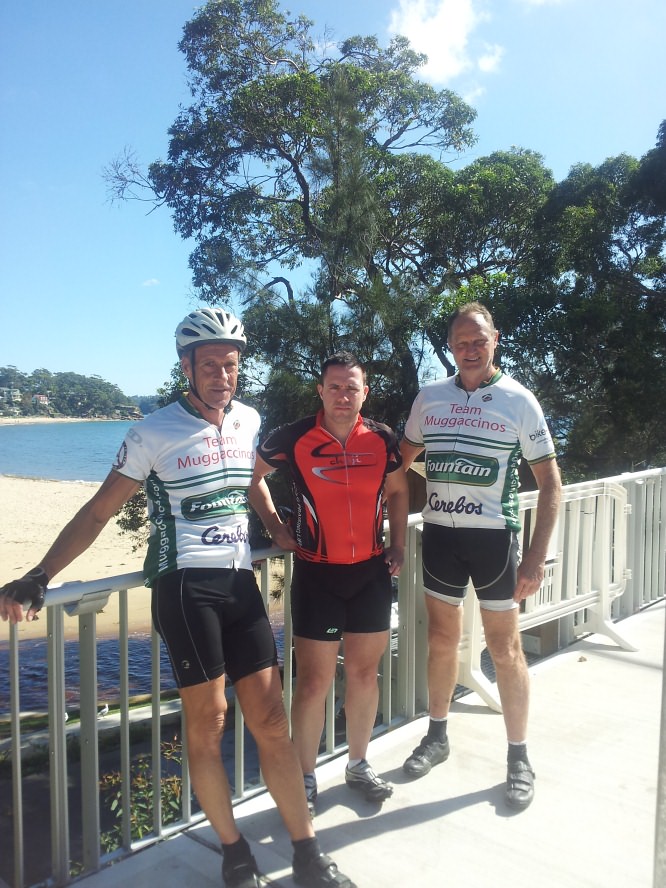 Sun, 9 Apr - Hornsby, St Ives, Palm Beach ferry to Patonga, Woy Woy - 61km - 7 riders although only 4 boarded the ferry to Patonga
Brill morn', blue skies, fresh Autumn air. And a new wharf at Palm Beach with impressive black poles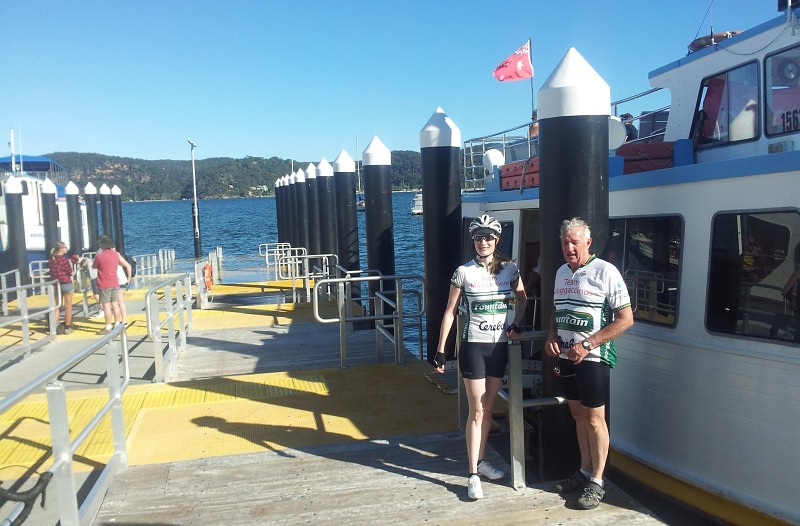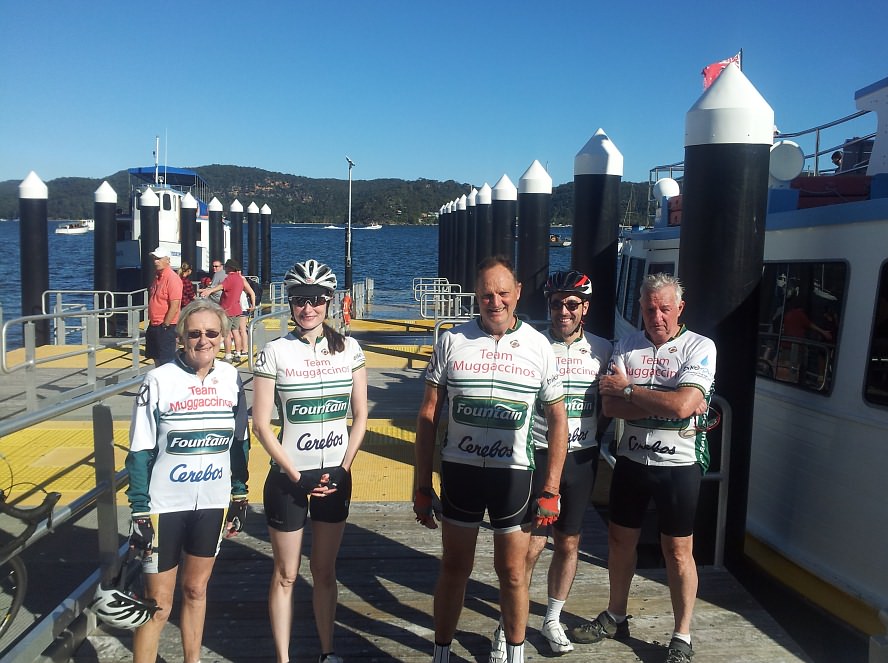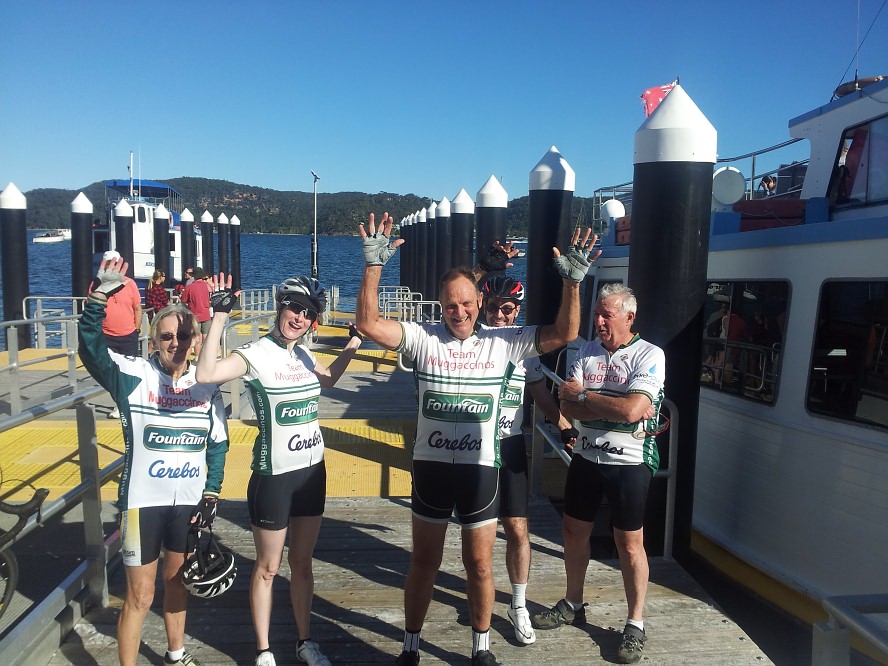 Pete aka CampyAficinado thought that we were behaving 'immature like'.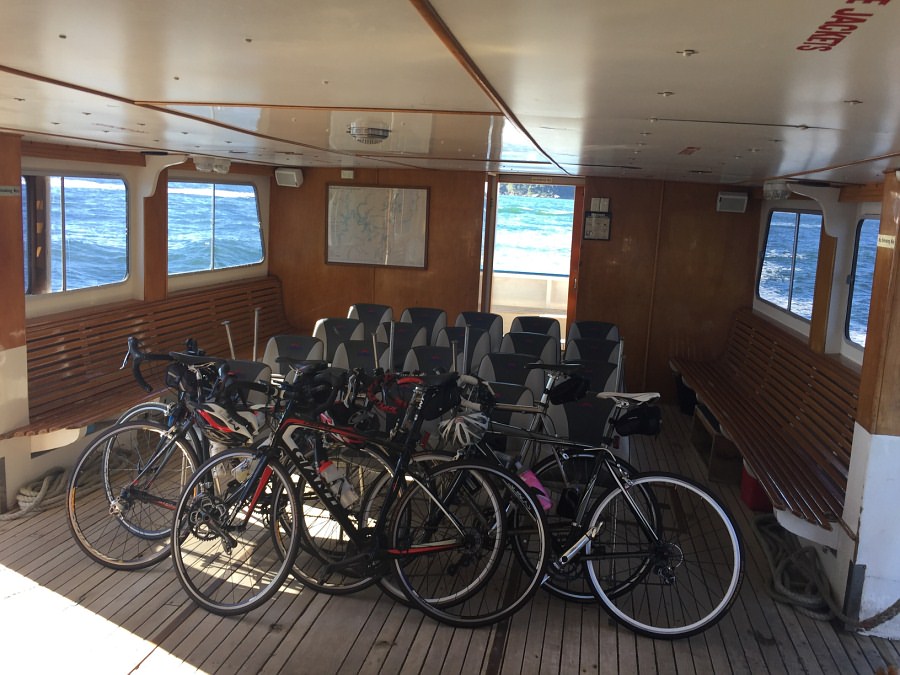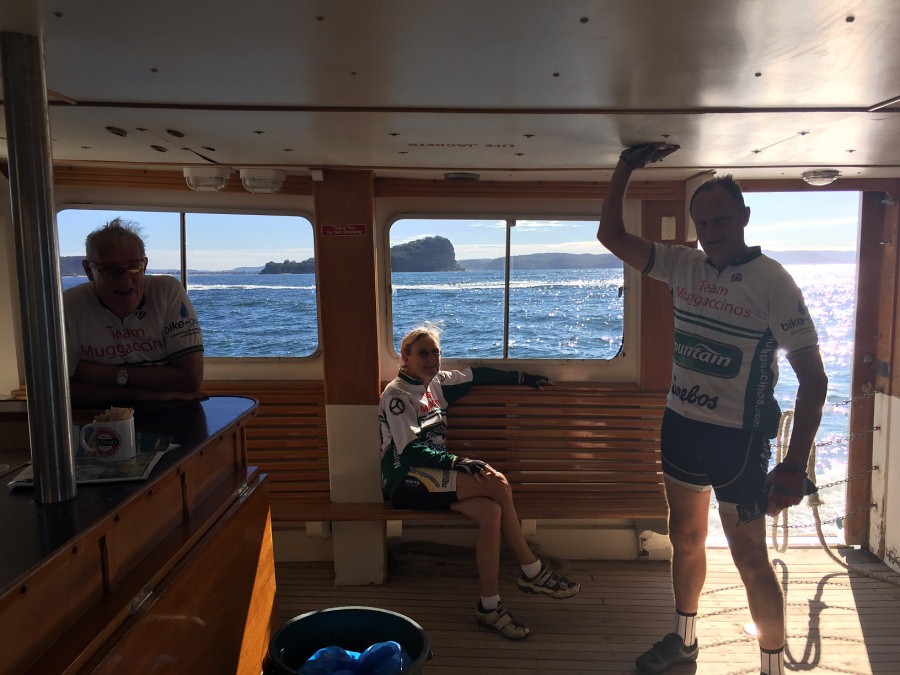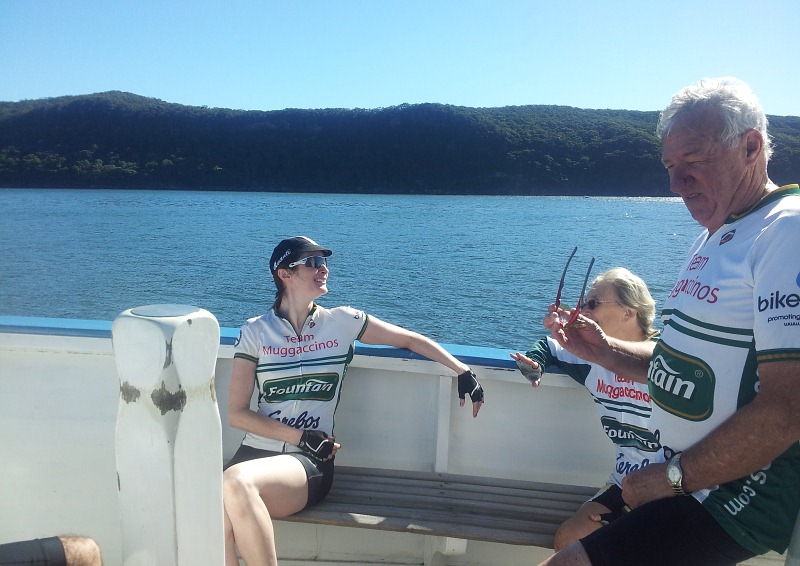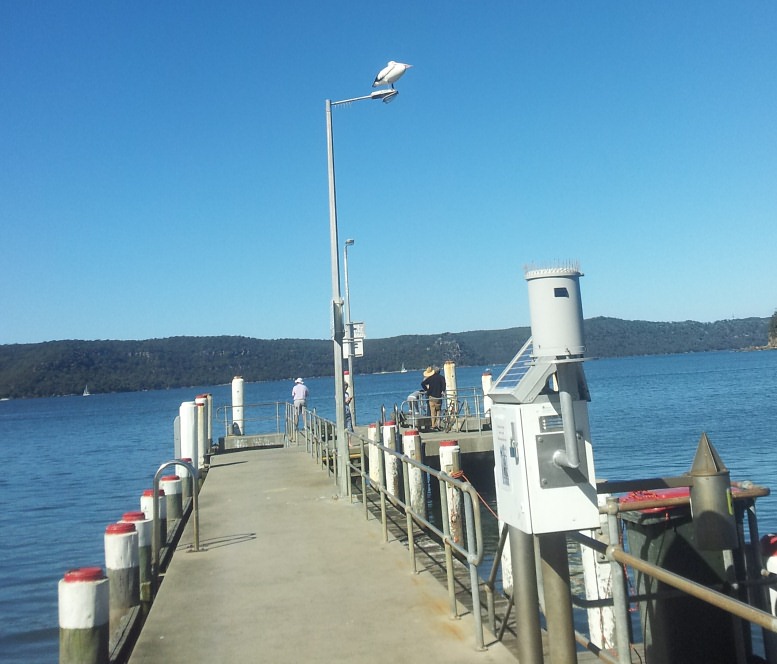 That thing up the pole is a Pelican enjoying "a bird's eye view" of Patonga on a pristine, perfect morn'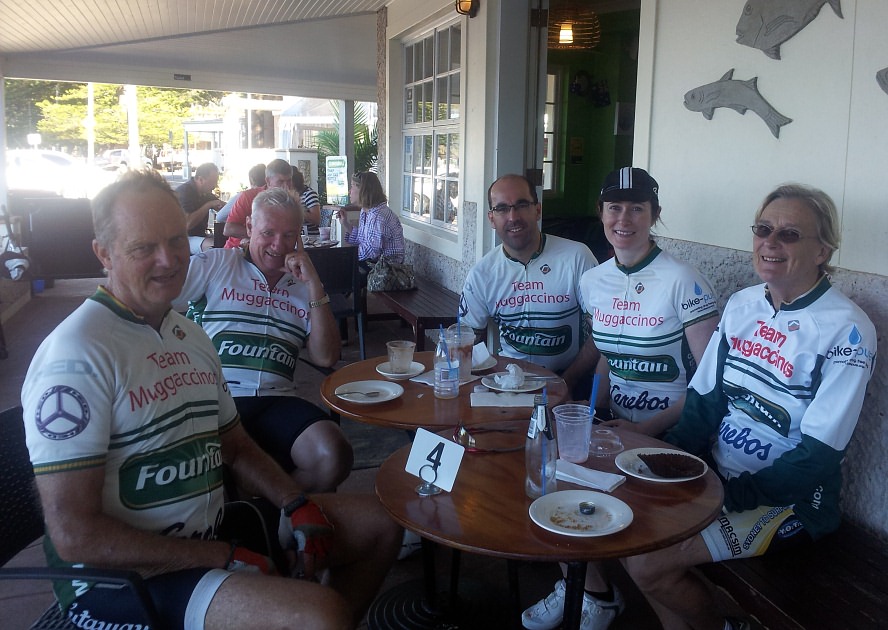 We called a 'Power Play' Nosh Stop at the General Store after alighting the Patonga Ferry and doing the customary 5 min clockwise reconnoiter of Patonga taking us thru the camp ground, cause that nasty climb up Patonga rd awaited.
Good Friday 2015 - Sutherland Leisure Centre to Bundeena, then south to McKell Ave and up to Waterfall, thence Princes H'way - 62km - 7 riders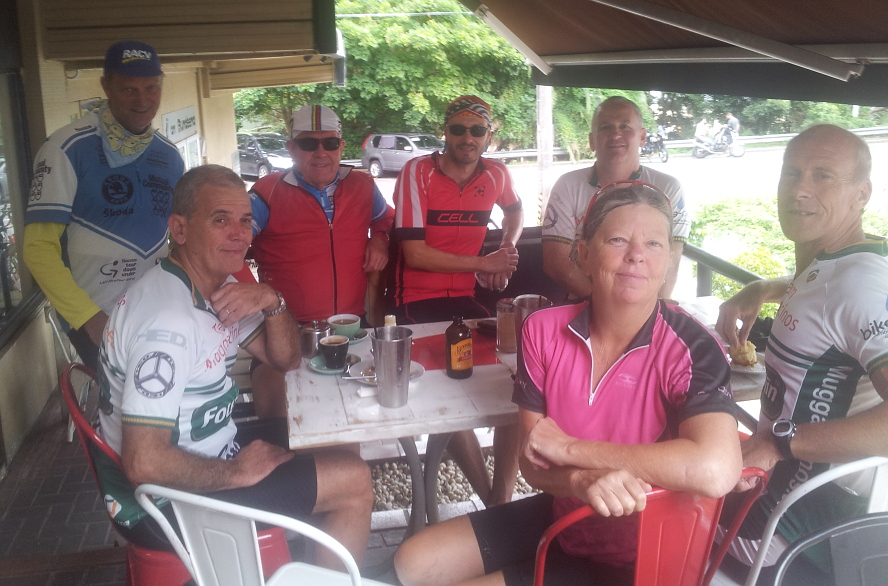 Pigging out at Manna Bundeena Cafe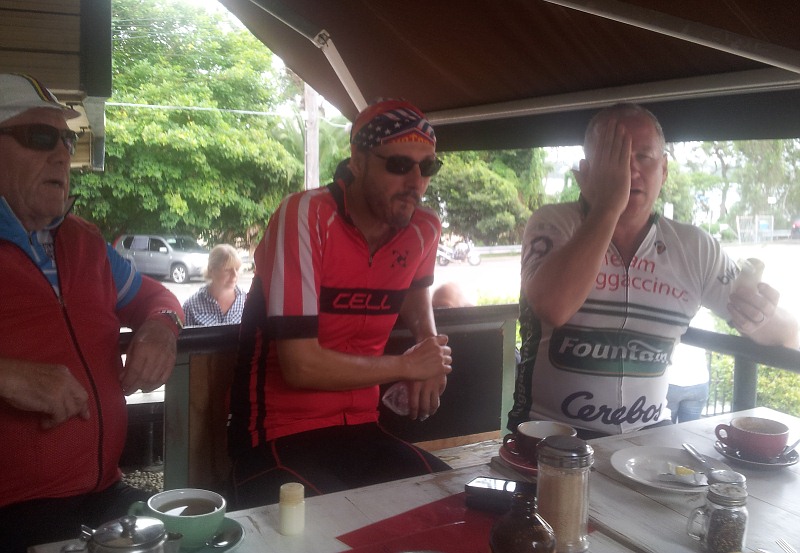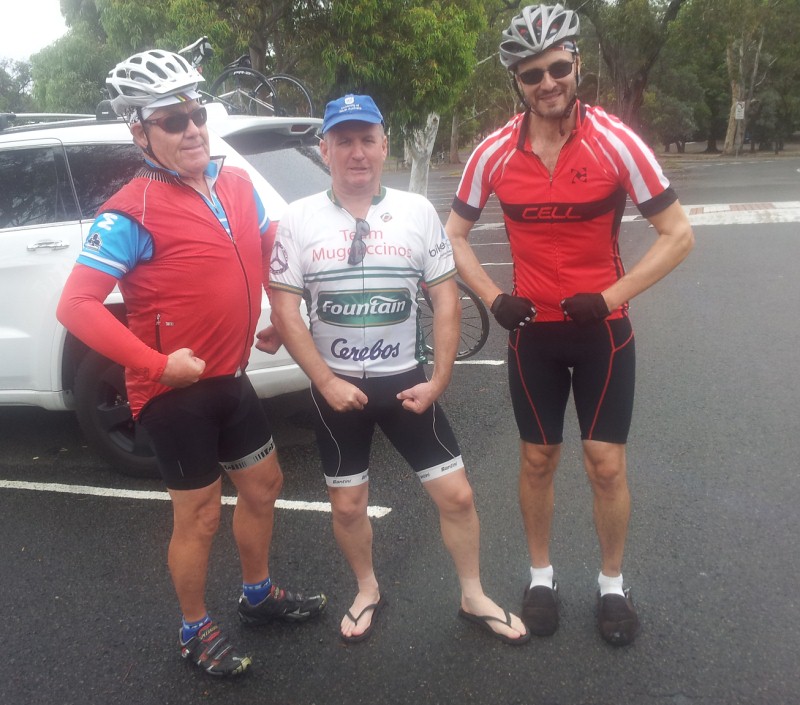 Which one is the MichelinMan ???