Muggaccinos.com The Bullsheet Sunrise 6:39am Sydney weather forecast
Rollout by 8:45am Sunday, 25 July '21 - Hornsby station Jersey St carpark for Quatre Montagnes - 1st Leg to Mt White Village Store, Mt White arriving from 9:30am
+ Return via PitS to Hornsby - 70km - ETR 1:25pm
+ OR return via Berowra Waters and Galston - 87km - ETR 2:40pm
WHO, WHEN, WHERE:
Ride Organiser, Phil Johnston aka Bank Teller 0434 715.861 [1st Acceptor], Pete aka CampyAficinado [2nd Acceptor], Eric aka PapaBear [3rd Acceptor], Ann aka ToothFairy [4th Acceptor], Chris aka Recalcitrant BankTeller [5th Acceptor], John aka EarlyRetiree [6th Acceptor], George aka Englishman [7th Acceptor] are starting from Hornsby station Jersey St carpark.
Phil Johnston aka Bank Teller is sneaking off 10 mins early @ 8:35am, 'cause he lasts longer when not chasing ToothFairy. Faster riders will start after 7:45am. George et al are departing Hornsby 8am.
,Ron aka Draughtsman, John aka L'Etape, George aka Englishman David aka TreeHugger, Jane aka Neo-Luddite Bill aka Glasgow, John aka Auckland Jean aka ChiliDog Tony aka Publican,

APOLOGIES:
If you are >80% confident of joining us, contingent upon being greeted by a fine morn', can you e-mail Scribe, and he will add ya moniker above. If an 11th hour impediment 'pops-up', No Worries.
Nosh Stops:
1st
Mt White Village Store, Mt White, Mt White
2nd
Andy's Cafe, Nth Galston
King of the Mountain climbs
:
1st
Cherro Point Rd to 15m past Mt White sign 7.55km
2nd
Berowra Waters to Berrilee 3.50km
3rd
Galston Bridge to Hornsby Heights Bus Stop 3.2km
1st Leg: Hornsby station Jersey St carpark N/W side of station due Nth to Mt White Village Store, Mt White - 35km - 110 min
8:45am rollout for 1st Nosh Stop (30 min) from 10:35am.
2nd Leg: Mt White to Galston Village shops - 43km - 140 min (agg 73.3km)
11:05am:
South down Old Pacific H'way for 24km to Berowra
R into Berowra Waters Rd for 6km to Berowra Waters ferry and 1st Sag Stop (10 min) waiting for Ferry
Ahead scaling to 3.5km to Koppers Log KOM at Berrilee
Ahead along for 9km to Galston Village shops for 2nd Nosh Stop (25 min) from 1:25pm.
3rd Leg: Galston shops to Hornsby Heights Bus Shelter - 10.7km - 30 min (agg 84km)
1:50pm:
Sth 4km along Galston Rd to Galston Roundabout
Left East 4.6km dropping to Galston Gorge timber bridge
Ahead climbing 3.3km to Hornsby Heights Bus Shelter 2nd Sag Stop (5 min) arriving 2:20pm.
4th Leg: Hornsby Heights Bus Shelter to Hornsby station carpark - 3.7km - 15 min (agg 87km)
2:25pm:
Left East 2.9km to Hookham's Cnr.
Right into Pacific Highway for 1.1km to Hornsby station carpark - ETR 2:40pm.
Risk Warning
Ø Motorbike aficionados regularly station cameraman and/or camerawomen at the acute left hand bend about half way up the ascent to Pie in the Sky to photograph motor bikers on extreme angles whilst taking that corner. Motor bikers often become affected by the hubris of riding rapidly thru that corner, in the company of their motor bike hombres, and continue to break the 60km p/h speed limit all the way to the Pie in the Sky apex. Too often, too many motor bikers pass road cyclists within the 1 metre rule. The likelihood of being hit by a motor biker travelling at 80km ph or faster is relatively high.
Ø Do not cycle over the metal girders on the ramp at the Berowra Waters ferry, 'cause you will come down hard, like many before you if you try to cycle over any of the longitudinal steel beams.
Ø Descend Les Montagnes real slow on wet or damp roads.
Ø Hardcopy these directions and bring on Sunday
Ø Expend 5 min studying your street directory for this route, if you haven't ridden it before
Ø Don't ride two abreast on single lane roads with an unbroken centre line and descend corners on wet roads as though you are skating on ice
Ø When passing a fellow Mugg, always provide a metre clearance. If you can't, or are passing on the inside, you MUST call out loudly eg. "passing inside" etc
Some forms of cycling are dangerous. An ave of 36 Australian cyclists have been killed annually since 2000. 95% of these fatalities occur on the road.
Other cyclists in Australia break bones and incur nerve impairment from falling off their bikes in accidents.
A cyclist could fall from his/her bike, inter alia, due to -
(i) being hit by a car or another cyclist; or
(ii) encountering a pothole;
(iii) cycling too fast on a wet downhill where the coefficient of friction is much less, particularly at corners; or
(iv) getting their bicycle wheel caught in a gap in a timber bridge.
A negligent cyclist could -
(a) be litigated by a seriously injured cyclist, or 3rd party (ie. a woman pushing a pram on a footpath or a car driver) under common law where the damages could exceed $500,000; and
(b) lose his/her home if he/she did not have public liability insurance which covers their negligence whilst on a push bike.
A negligent cyclist who did not have personal injury insurance (ie self-employed without income protection cover) could struggle to meet regular outgo commitments.
A seriously injured cyclist could be awarded damages which a negligent cyclist could not afford to pay if the negligent cyclist -
(I) did not have public liability insurance cover; and/or
(II) did not possess valuable assets.
Ø Cycling without Public Liability cover is as silly as driving without 3rd Party -
join Bicycle NSW for PL insurance, so that all Muggs are better protected
Ø Click on: Risk Management which warns of 'inter alia', the dangers of cycling on public roads with motor cars, potholes and over bridges with vertical timber planks with gaps
Ø Cycling with Muggs is predicated upon notifying Bank Teller if you materially disagree with any clause(s) in Muggaccinos' "Ride Participants Liability Acknowledgment"
Last Sunday, Tallawong to Windsor, thence a meander on backroads to Richmond and return back to Windsor, thence on to Rouse Hill light rail - 57km - 4 crew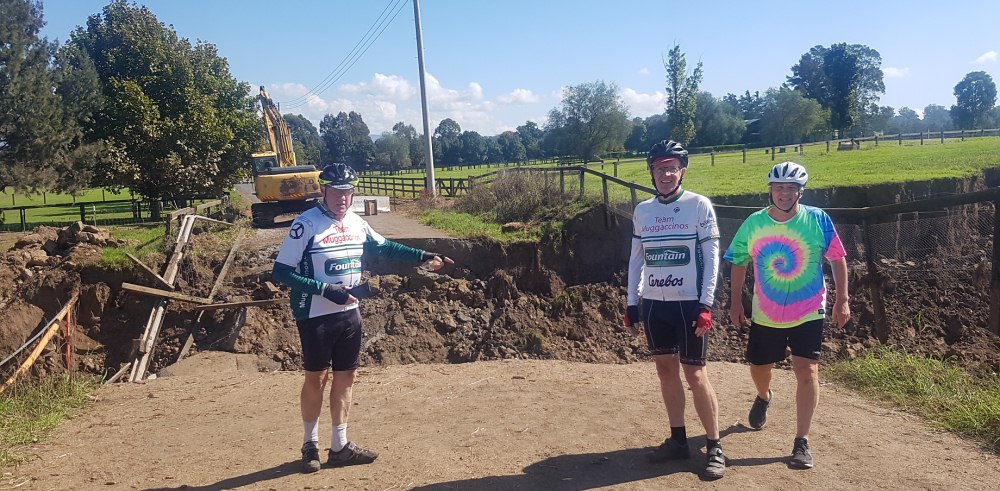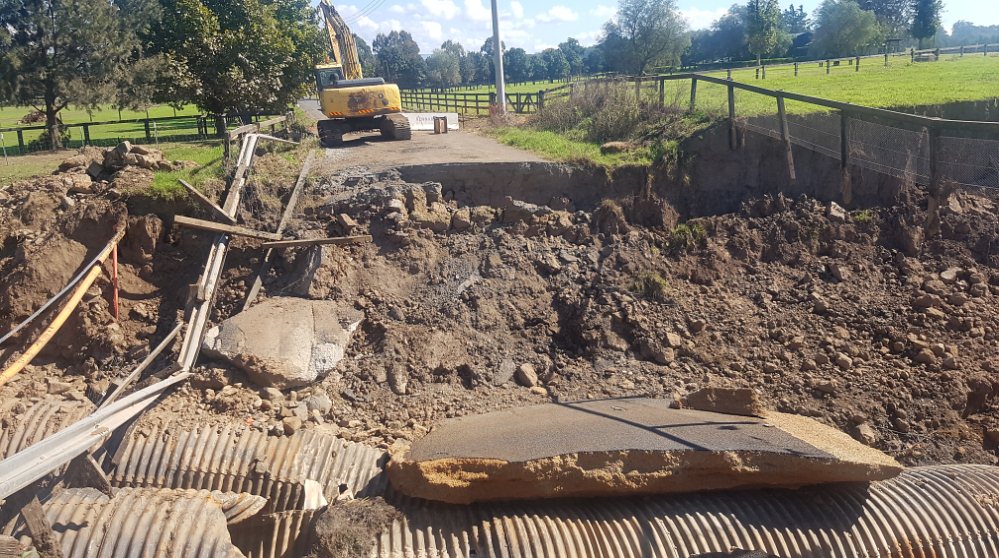 Alas, our cycle thru the flatlands of Cornwallis got interrupted due to a nasty/dangerous/scary bridge collapse, which after extensive exploring and investigating by CampyPete as to how we could progress to the other side past that big yellow crane, we opted to back-track to Richmond on a 'safe route'. Thence, we cycled the main drag back to Windsor and onto to Rouse Hill light rail.
Sunday, Galston, Halcrows Rd, Sackville Ferry ride, Wilberforce, Windsor, Annangrove Rd back to Galston - 83km - 3 riders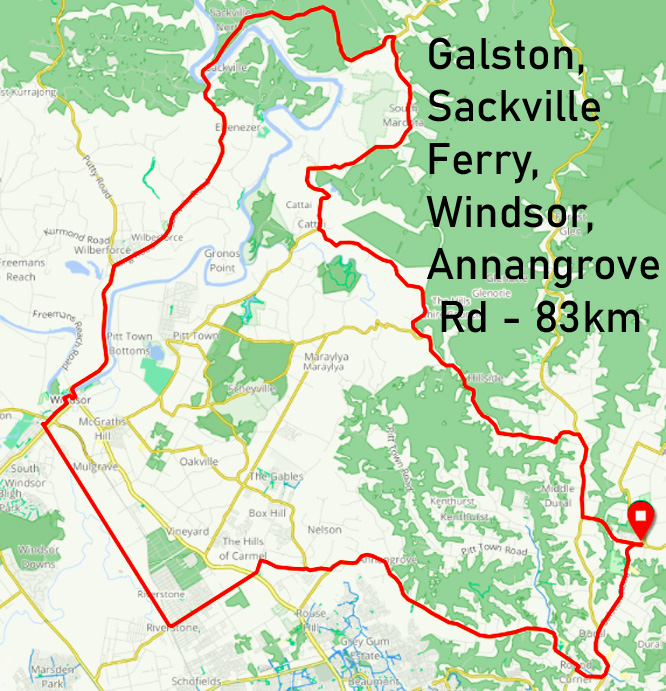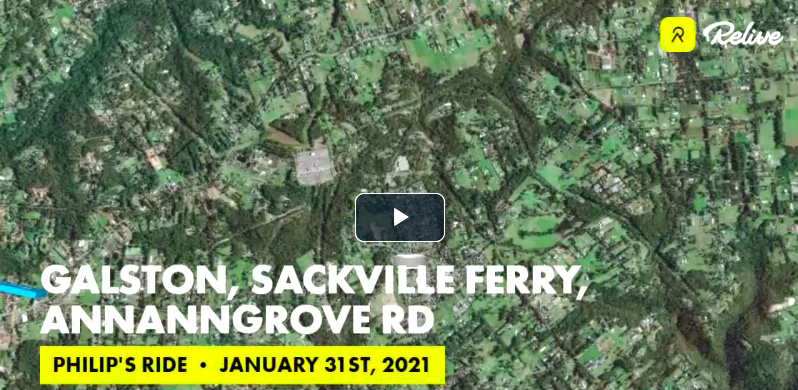 Click on above 'Relive' image to view last Sunday's Galston, Halcrows rd, Sackville Ferry, Wilberforce, Windsor, Annangrove Rd, to Galston - 83km in Google Earth.
Then click on the 'Right Arrow' therein. Then click on: View interactive route > to evidence a further application of Google earth
As Gomer Pyle would say, Goooolly !!!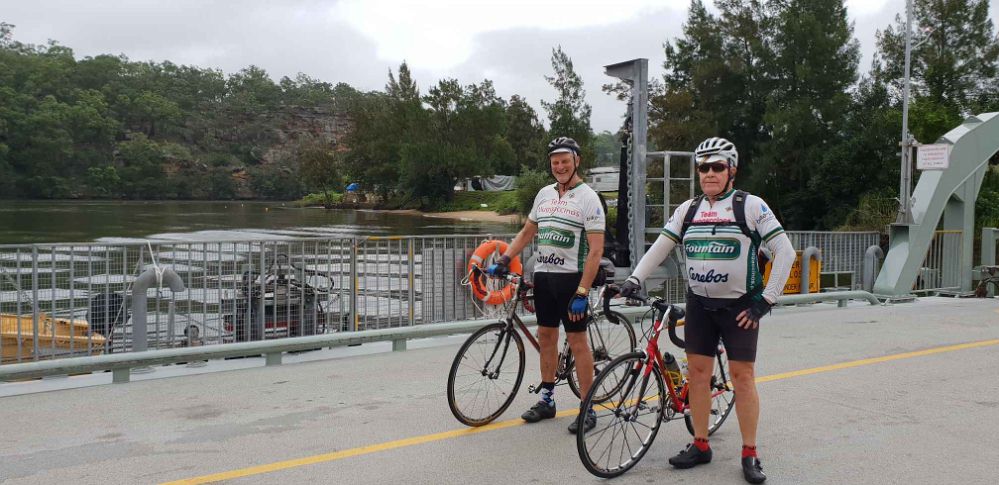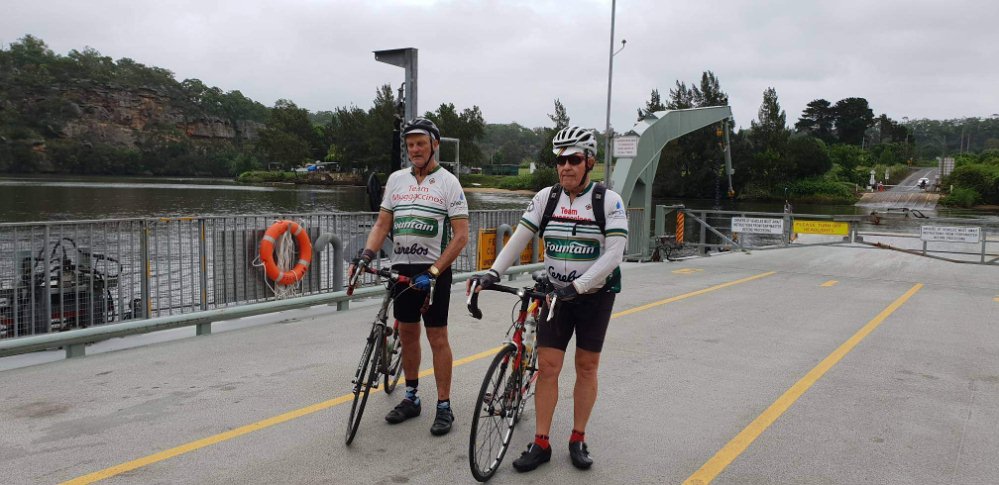 Above two pics were snapped by Muggs back-up photographer, ToothFairy
Sunday St Ives, Duffy's Forest, Bayview Marina, back up McCarrs Creek Rd to St Ives - 58km - 4 riders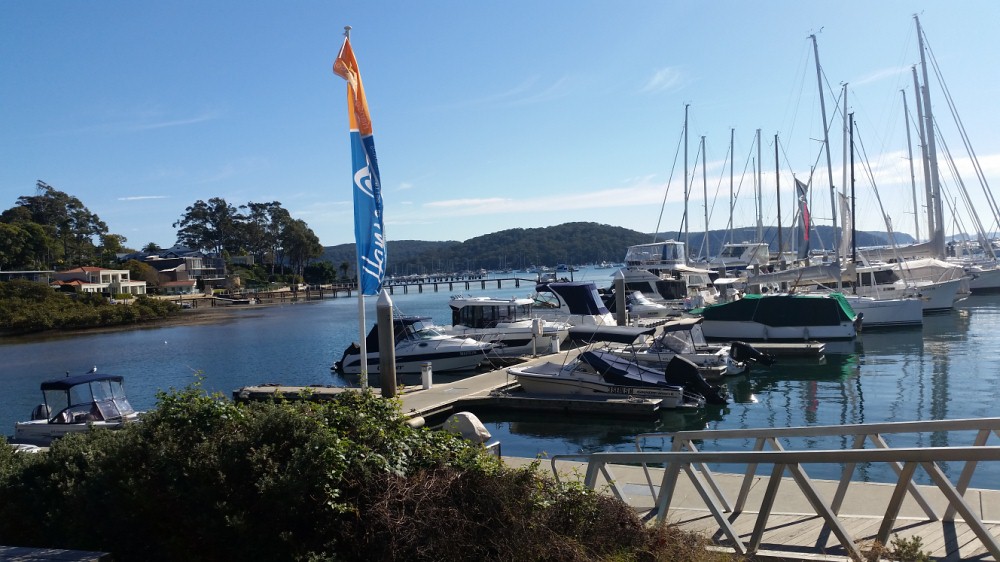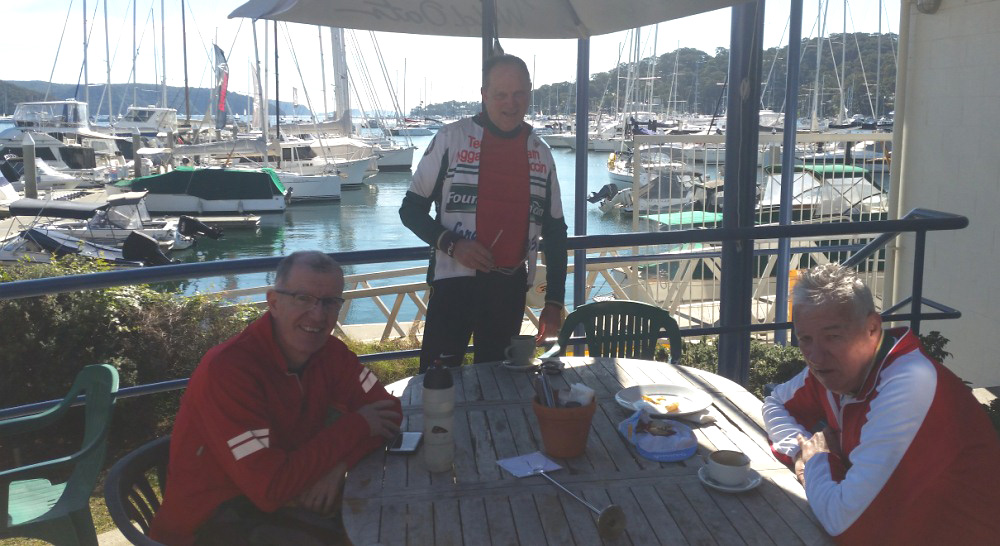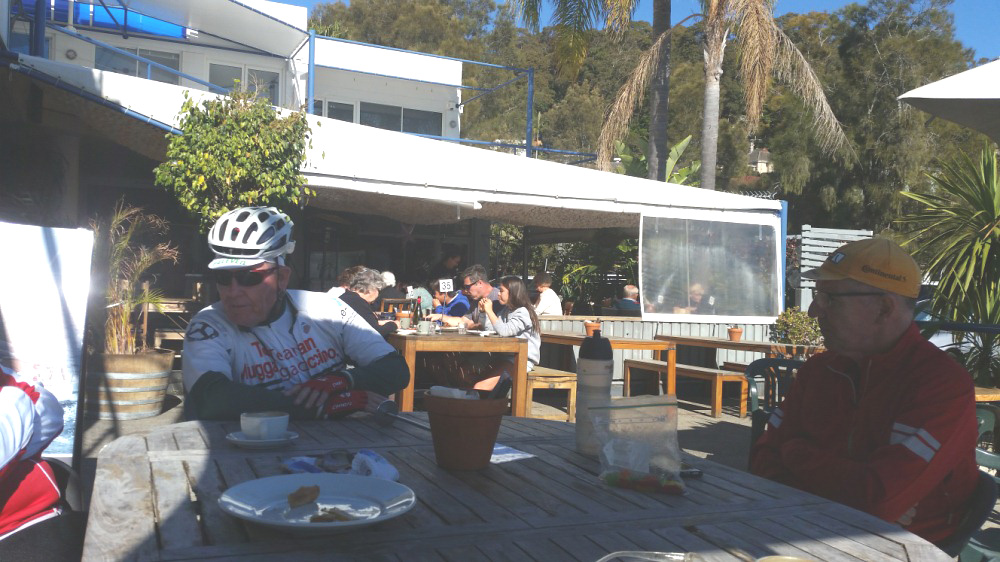 Sunday St Ives carpark for "Brekkie at Bayview Marina - optional Brunch at Akuna Bay" - 92.6km - 3 riders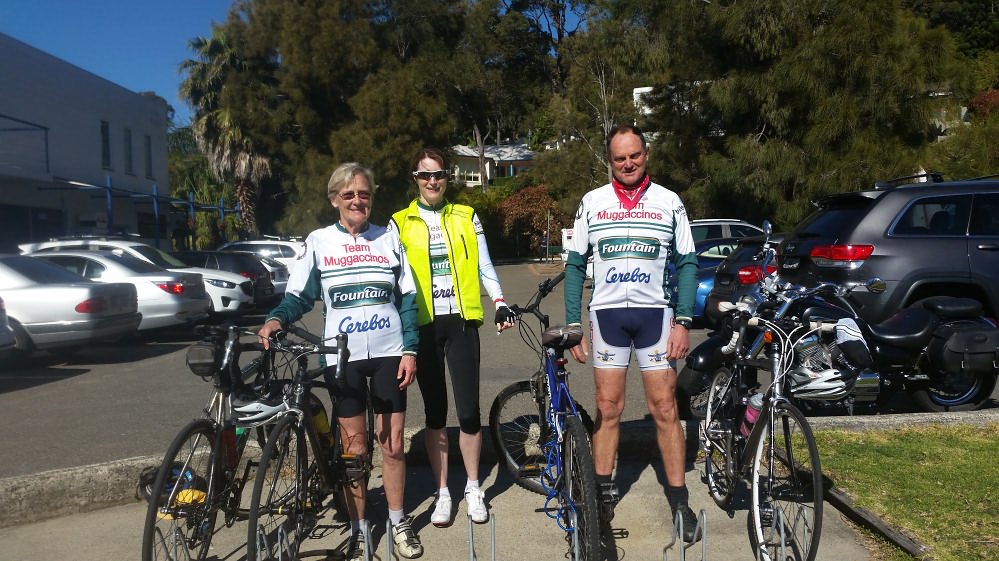 ToothFairy, Trumpeter and BankTeller down at Bayview Marina on a veritable corker of a morn'
St Ives, Illawong Bay, Akuna Bay, West Head, Church Point 'n back - 74km - 7 riders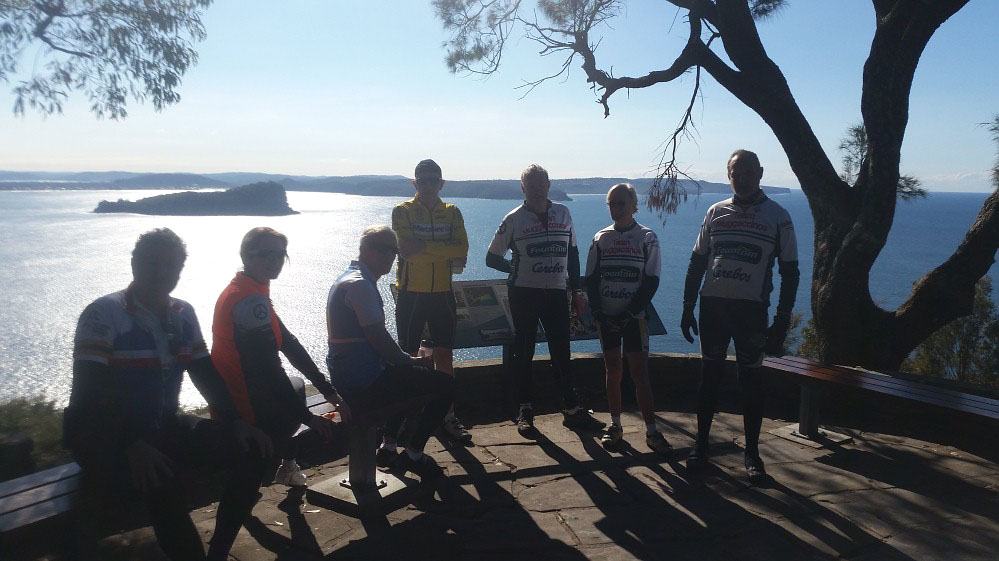 Kevin aka TexDubbo, Justine aka Trumpeter Alan aka PharLap Bill aka Glasgow, Pete aka CampyAficinado, Ann aka ToothFairy and Bank Teller
The lass who took these pics warned that they would be glary due to the bright sunshine behind. BankTeller suggested that she take a pic from the second branch behind, but she wasn't enthused.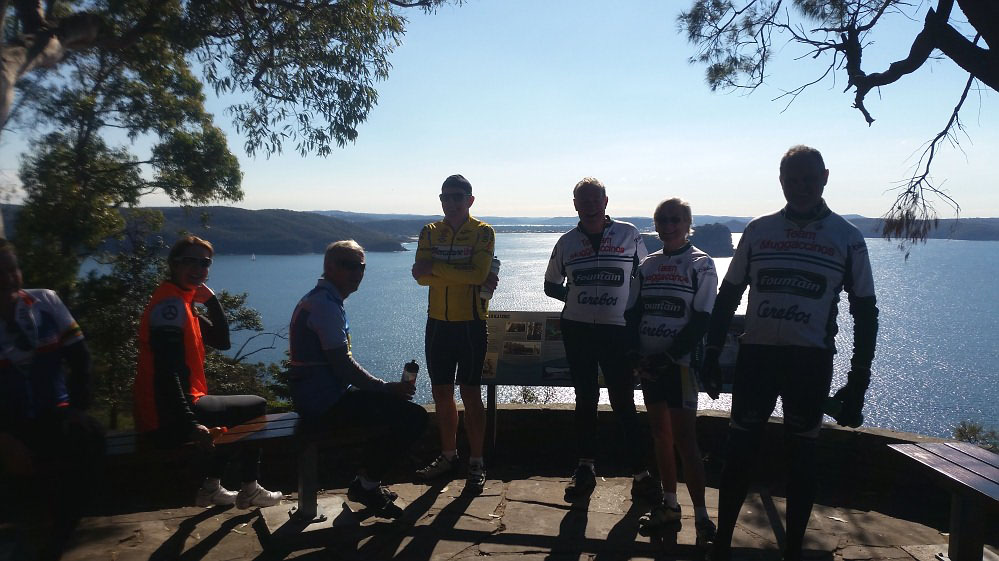 St Ives, West Head, Church Point 'n back - 51km - 8 riders
Bank Teller took the below four pics of the carpark opposite Pattisons Patisserie at St Ives at midday last Sunday, 25th June, following Muggs' abbreviated ride to West Head and Church Point. These pics evidence that the recently extended carpark off Mona Vale Rd, St Ives, had four cars parked in it. 30 of the 34 car spaces were vacant. Why so empty, when on a Sunday morning over recent years, you couldn't previously get a parking spot in there after 8am in Winter and earlier in Summer? Because prior to the recent redevelopment by Ku'ring'gai Council, there was no time limit on parking in this carpark on Sundays. Nowadays, following the renovations and minor extension that occurred three months ago, perhaps because the local shops complained about road cyclists clogging up the carpark on Sundays, parking is now restricted to 2 hours after 9am on Sundays. Hence, road cyclists that invariably filled it up prior to the recent refurb, cannot park their vehicle there, if their Sunday morning bicycle ride will not finish prior to 11am.

On Sunday mornings, Bank Teller parks his Berlingo 'baguette van' in Stanley St (opposite), and evidences a lot of cars, with bicycle clamp racks fitted, similarly parked in Stanley St. and nearby Lynbara Ave. What is the economic rational for Ku'ring'gai Council to recently extend the size of this carpark and then force road cyclists to park in nearby streets by setting a 2 hour maximum stay after 9am on Sundays? Surely, Council could remove/amend the time limit signs on all car spaces (for Sundays), except the 10 spaces that directly affront Mona Vale Rd.

One ponders -

(a) the methodology that Council applied to impose the two hour time limit on Sundays after 9am for the entire 34 car spaces, because a useful off-road carpark is now largely unused after 11am on Sundays. Because the majority of road cyclists do not finish their Sunday ride until well after 11am. Many road cyclists' vehicles that used to park off-the-road, now park on roadways outside houses as evident in the below pics; and

(b) whether when expending rate-payers monies to increase the capacity of a social utility, whether Council subsequently monitored the patronage of this utility after restricting parking on Sundays to two hours post 9am.

Bank Teller has observed this carpark (post ride between 12:15pm and 1:30pm) on the four occasions that Muggs cyclists have commenced their Sunday bicycle ride from St. Ives since the recent carpark refurb - from early April. He has never seen more than seven vehicles in it. On one Sunday two tow trucks were parked in it.

One of the two tow trucks referred to above in front, with the other nestled in the background

Above and below pics of two SUVs (with bicycle racks aloft) parked in Stanley St around midday on a Sunday when most of the road cyclists have finished their Sunday morning ride and vamoosed

Bank Teller took the below ten pics (from 8:35am on Sunday, 16th July in Stanley Street) of predominantly road cyclists' vehicles that previously parked in the Mona Vale Rd carpark (opp. Pattisons Patisserie) which now has a two hour parking limit after 9am.
17 July '17