Muggaccinos.com The Bullsheet Sunrise 6:15am Finally back on the M2 after the 3 year upgrade - Yippee
Sunday, 1 Sept '13 - Tour de Windsor, Richmond, Hawkesbury Heights, Springwood, Mitchell Pass, Penrith, M2, Pennant Hills Rd exit (study carefully the below alternate backroads route at 4th Leg back to Vimiera Rd - ETR Turramurra 2:50pm
Or return from Windsor to Hornsby via Cattai Ridge Rd, thence cycle south to Turra' station - ETR Turramurra 12.20pm
Start from Turramurra station carpark at 7:15am or from bottom of Kissing Point Rd at 7:25am or from north end of Vimiera Rd, Marsfield at 7.35am
Ø If driving from Inner West, park at most Northerly Point in Vimiera Rd Marsfield to join ride
Ø Hardcopy these directions and expend 10 min studying the street map to familiarize with the below and bring on Sunday
WHO, WHEN, WHERE:
Ø Ride Organiser: Phil Johnston aka BankTeller 0434 715.861 [1st Responder] Jean aka ChiliDog [2nd Responder], Chris H [5th Responder] are starting at 7:35am from top of Vimiera Rd, Marsfield (north end) where we access the M2 breakdown lane thru the gate. David aka CricketTragic [4th Responder], Tony aka Yorky [5th Responder] is joining us just after the tunnel at Beecroft Rd on-ramp.
Ø BakerBoy [3rd Responder] hopes to cycle from Hornsby station at 7:05am down Pacific Highway and turn right at 7:20am into Kissing Point Rd to arrive at top of Vimiera Rd in time for 7:35am roll-on.
Ø ............ is starting at 7:15am from Turramurra station carpark.
Ø .......... is starting 200m from the bottom of Kissing Point Rd at 7:25am.
Ø ................ and ToothFairy are meeting us at the Pennant Hills Rd "On-Ramp" around 8:35am
APOLOGIES:
Syd aka MotorMechanic, "It is my mum's b'day this w'end, so her kids are taking her to lunch on Sunday."
Snapshot:
Start 124km anti-C/W loop route at 7:15am from Turramurra station carpark 3.7km down Kissing Point Rd, 1.45km thru Browns Water Hole (7:35am from Vimiera Rd, Marsfield), M2, M7 exiting at Quakers Hill Parkway and follow Western rail line to Windsor.
2nd Leg is 31km to Richmond, then SW up Hawkesbury Heights to Yarramundi for 2nd Nosh Stop at Subway Springwood.
3rd Leg descends mountain incorporating scenic Mitchells Pass to Emu Plains station to catch train back to Blacktown station (or Penrith station to Seven Hills) followed by 31km cycle back to Turra' station - ETR 2:50pm.
Nosh Stops:
(i) Macquarie Square, Windsor (35 min) from 10:00am
(ii) Subway Springwood (30 min)
(iii) Train from Emu Plains to Blacktown station for 19 min or train from Penrith station to Seven Hills station for 25 min
KOM Climbs:
Shaws Creek Bridge to veer R sign approaching Hawkesbury Heights Lookout 4.1km
Shaws Creek Bridge to 'Old Stone Cottage' at crest of Hawkesbury Heights 2.6km

1st Leg:
Turramurra
station Rohini St car park
via Kissing Point Rd, Browns Water Hole,
M2, M7
, Quakers Hills Pky, thence follow rail line to Windsor
–

49

km
- 2 hrs 10 min
Rollout 7:
15
am:
* R Sth 200m up Rohini St to traffic lights on Pacific H'way
* R 200m W on Pacific Highway to traffic lights
* L Sth down Kissing Point Rd for 3km - very steep early so be very cautious
* 200m before bottom of Kissing Point Rd
* Ahead SW thru Browns Water Hole for 700m - caution steep decent with sharp turns
* R W thru 30m tunnel under the M2
* L access M2 breakdown lane from 7:35am.
* Ahead along M2 for 17km
Continue ahead onto M7 for 9.7km to Quakers Hill Parkway where we Left at off ramp and turn R at lights
onto Hambledon Rd.

750m

later
L into Bali

Drive (
through housing estate
) R at "T" junction into Walker St and 600m L into Burdekin Rd and follow this for 600m when it becomes Railway Terrace.

Follow railway line to Schofields and continue to Riverstone along Railway Tce.
Where Riverstone station level crossing is on your LHS, turn R then immediately L and follow the railway line on your LHS.

Riverstone Parade take us to Vineyard Station.

At Vineyard station road veers to the R.

Turn L into Wallace Rd after 50m.
Follow railway line along where Wallace Rd ends at a "T" intersection.

Turn L and c

ycle over a level railway crossing, and turn R into Railway Rd and remain on it for about 1k to Mulgrave

Station where we R onto Mulgrave Rd and follow until you reach Windsor Rd.

Turn L into Windsor Rd, and follow it 3km to Windsor
for 1st Nosh Stop (35 min) from approx 9:25am at Macquarie Square Windsor.
2nd Leg: Windsor to Richmond, Yarramundi, Springwood - 31km - 85 min
10:00am:
| | | | | | |
| --- | --- | --- | --- | --- | --- |
| R | Windsor | 5.0 | ~ | NWW | Richmond |
| R | Market St | 0.1 | ~ | NWW | March St |
| L | March St | 0.6 | ~ | SSW | Bosworth St |
| R | Bosworth St | 0.3 | ~ | SWW | Castlereagh Rd |
| R | Castlereagh Rd | 4.0 | ~ | SWW | Springwood Rd |
| L | Springwood Rd | 11.4 | / | SWW | Hawkesbury Heights Lookout (10 min Sag Stop) |
| R | Hawkesbury Rd | 9.1 | ~ | SWW | Macquarie Rd |
| R | Macquarie Rd | 0.2 | ~ | W | Raymond Rd |
| L | Raymond Rd | 0.1 | ~ | S | |
| | | | | | |
| --- | --- | --- | --- | --- | --- |
| L | Raymond Rd | 0.1 | ~ | N | Macquarie Rd |
| R | Macquarie Rd | 0.2 | ~ | SEE | Hawkesbury Road |
| R | Green Pde/Macq. Rd | 4.0 | ~ | SEE | Green Pde/Macquarie Rd |
| R | Great Western Highway | 0.8 | ~ | SEE | Great Western Highway |
| L | Wilson/Railway Pde | 4.4 | ~ | SEE | Wilson/Railway Pde |
| L | Mitchells Pass | 4.3 | \ | E | Great Western Highway |
| L | Great Western Highway | 2.3 | ~ | NE | Station St |
| A | Station St | 0.1 | ~ | N | Emu Plains station at 12:30pm or Penrith station 12:40pm |
4th Leg: Alight train at Blacktown station around 1:20pm or Penrith 1:25pm and cycle to Turramurra station carpark - 31km - 90 min - ETR Turramurra station 2:50pm (If your train stops at Seven Hills station, exit at Seven Hills station because you are immediately on Prospect H'way/Abbott Rd/M2 - 33km - 95 min) - ETR Turramurra station 2:50pm)
Ahead into Boys Ave 200m,

R into Second Ave for 400m,

L into Sunnyholt Rd for 800m,

R into Sackville Rd for 1.2km

Ahead in Lucas Rd for 1.4km

L into Prospect H'way for 400m

Ahead at Johnson Ave traffic lights into Abbott Rd/M2 (take extreme car as lots of traffic proceed leftish along the Prospect H'way, and one of those Red Necks could wallop ya!) for 11km,

Exit M2 at Pennant Hills Rd by turning Right onto the cycle path on LHS and follow concrete cycle path about 200m to below yellow M2 Detour sign:

Turn left heading East along Murray Farm Rd. for about 800m

Take 3rd right into Orchard Rd for 350m

Take 2nd left into Plympton Rd for 700m

Turn right into Midson Road for 250m

Take 2nd left into Wingrove Ave for 350m

Left into Kent St for 200m

Left into Ray Rd for 300m

Ahead into Kandy Ave for 300m

Cross busy Beecroft Rd and turn right and ascend 60m into disused lane up to Cambridge St

Left into Chester St for 150m

Veer right into Essex St for 320m

Left into Pembroke St for 130m

Left into Epping Rd for 800m

Left into Vimiera Rd for 800m

Left into Brown's Waterhole for 1.8km,

Ahead up Kissing Point Rd for 3.7km

R into Pacific H'way for 250m

Left into Rohini St for 200m

Left into Turramurra station carpark.
ETR Turramurra station 2:50pm.
Risk Warning
Take the early steep descent of Kissing Point Rd slowly, as a 45 year old cyclist died on 30 Oct 13 when a car in front pulled up to allow a resident to reverse from their driveway
Also, one lass who rode with Peloton Racing Club had a very nasty bingle 5 years ago, and David Hatley aka Radar broke two collar bones, and wrote-off his carbon bike, when a lady backed-out, and Radar's radar couldn't react in time to avoid a nasty rear-end whack
Some forms of cycling are dangerous. An ave of 36 Australian cyclists have been killed annually since 2000. 95% of these fatalities occur on the road.
Other cyclists in Australia break bones and incur nerve impairment from falling off their bikes in accidents.
A cyclist could fall from his/her bike, inter alia, due to -
(i) being hit by a car or another cyclist; or
(ii) encountering a pothole;
(iii) cycling too fast on a wet downhill where the coefficient of friction is much less, particularly at corners; or
(iv) getting their bicycle wheel caught in a gap in a timber bridge.
A negligent cyclist could -
(a) be litigated by a seriously injured cyclist, or 3rd party (ie. a woman pushing a pram on a footpath or a car driver) under common law where the damages could exceed $500,000; and
(b) lose his/her home if he/she did not have public liability insurance which covers their negligence whilst on a push bike.
A negligent cyclist who did not have personal injury insurance (ie self-employed without income protection cover) could struggle to meet regular outgo commitments.
A seriously injured cyclist could be awarded damages which a negligent cyclist could not afford to pay if the negligent cyclist -
(I) did not have public liability insurance cover; and/or
(II) did not possess valuable assets.
Ø Cycling without Public Liability cover is as silly as driving without 3rd Party -
join Bicycle NSW for PL insurance, so that all Muggs are better protected
Ø Click on: Risk Management which warns of 'inter alia', the dangers of cycling on public roads with motor cars, potholes and over bridges with vertical timber planks with gaps
Ø Cycling with Muggs is predicated upon notifying Bank Teller if you materially disagree with any clause(s) in Muggaccinos' "Ride Participants Liability Acknowledgment"
Brunch at Pearl Beach, return to Woy Woy for 'Old Rattler' home - 84km - 6 crew
The familiar sight at Mt. White on a pristine late winter day where the recent Westerly's were missing. Alas the brill, balmy weather evidenced squillions of motor bikers, pumped with adrenaline, thinking they were racing at Calder Park. Too many passed us, too close. Barry O'Farrell could have bolstered the fiscal purse if the police radar was also 'out' on a pristine day which g'teed lots of motor bikes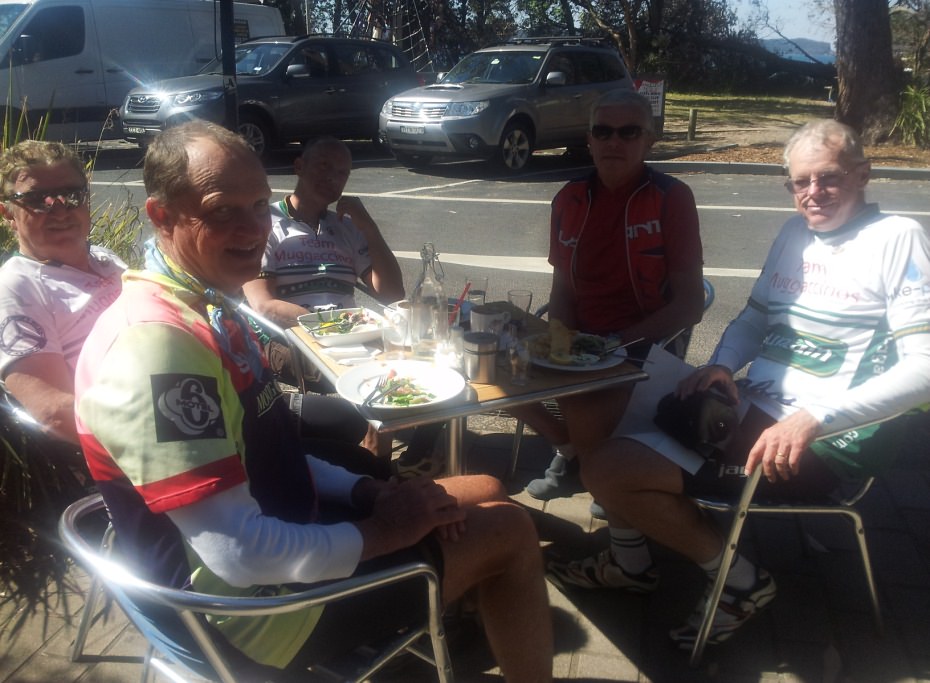 We 'hob-knobbed' it over lunch amidst glorious sunshine at the swish restauranté o'looking the park - none of the usual buying a burger in the milk bar, then eating in the park
1. Seven Muggs (Syd aka MotorMechanic, Shane aka PeoplePlotter, Phil aka BankTeller, Alan aka PharLap, George aka Englishman, Steve aka TravelDoc, Barry aka BackPacker) are attending 2013 Tour de Conquer in Le Rhone Alps departing Sydney on Wed 4 Sept, returning 24th Sept.
Straightfwd, familiar Sunday rides are scheduled in BankTeller's absence. However, upon his return lots of long, routes far afield (ie Wisemans Ferry, Sackville, Ferry etc are scheduled. Hopefully riders will make the effort to take ride pics and email 'em to BankTeller who will publish them in the upcoming weekly Bullsheet from France. Time will tell which Muggs riders have the attention span of mice, and who can think to 'snap some picks' like MotorMechanic has often consistently done in BankTeller's absence.
2. 2013 Tour de Conquer in Le Rhone Alps provides a link to Planning for '2014 Tour de Conquer the Dolomites', Nth Italia which provides 17 days continuous climbing starting Wed, 13 Aug to Fri, 29th Aug 2014 inclusive.
Scribe 24 Aug '13