Not only did Paul find that ride easy, he had also driven from Sydney to Canberra early the morning of the race, and drove back to Sydney that arvo after it.
Paul's cycling pedigree emanates had his formative years spent in the old country as a youth. Paul was born in Carlsbad Czechoslovakia and has worked in Prague its capital, renowned as one of the most beautiful cities in the world.
Paul has a soft spot for cycling in Europe having climbed all the famous climbs in the French Alps (Pyrenees, Alps, and Dolomites) during six separate European cycling holidays. Notable climbs incl Col du Tourmalet, Mont Ventoux, Col du Galibier, and up to the ski resort of Hautacam, and Alpe d'Huez. Paul has climbed the revered Alpe d'Huez six times, the first being in 1990 when he clocked 1:10. His fastest time as shown on the official website Alpe d'Huez called TimToo is 58 min 50 sec which Prague registered on his 6th climb in late August this year, at 58 year's young, under his ride group's name of Boundary Riders.
#

113
Klempfner Paul
1949
Boundary Riders Sydney
25.08.2007
58' 50''
17' 25''
Paul cycles from 6am with Boundary Riders on Tues, Thurs and Friday morn' when the group of DieHards generally cycle twds the northern beaches.
Prague 's best time for the 200km Audax Alpine Classic is 9:23 back in 2000. Like so many who attempted the Alpine Classic in 2005, Paul was another DNF because it was 40o. in the Bright Basin at lunchtime. With 140km completed under the most arduous conditions ever experienced in the history of the Alpine Classic, approaching the base of Mt Buffalo Paul, like almost two thirds of the 200km contenders, saw the merit in calling it a day.
As the Bullsheet for the 2008 Audax Alpine Classic explains, several Muggaccinos' cyclists, incl Arno aka The Kaiser, Jean aka DishPig, Hugh aka Wellington and Laurence aka Tyro are riding the 200km. Guy aka Lawyer, who rode the Dolomites a few months ago, is entered in the 140km Alpine route, because Guy wants to hit the hills, incl Mt Hotham, in the week leading up to Sunday 28th Jan.
Eric aka PapaBear, who has completed the last 12 x 200 Audax Alpine Classics, and has also climbed most of the famous Tour de France climbs, is entered again this Jan, hoping to make it 13 on the trot. Arno, Laurence, Jean, Hugh and Phil aka Bank Teller are camping in the Bright Caravan Park. Siggy aka Smiling Assassin, Eric aka PapaBear and Guy are hob-nobbing it opted for motel rooms.
Perhaps Prague might join us to climb Mt Hotham, known as The Giant on the Wed beforehand, as listed in Audax Bullsheet.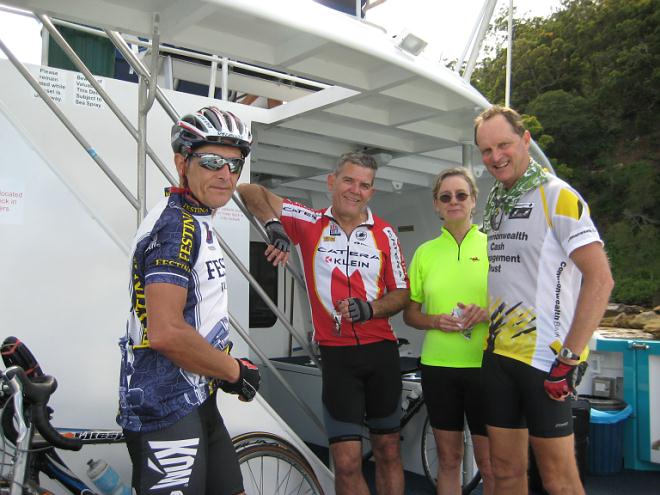 Paul along with DishPig, ToothFairy and Bank Teller on the Wagstaffe ferry