Muggaccinos.com The Bullsheet
Sunday, 2 Mar '08 - 7:30am rollout, Castle Hill Rotary Club's 13th annual "Tour de Hills Cycle Classic" from Dural Country Club – 100km
Route is 2 x 50km loops Click on Entry Form, incl maps phone enquiries to 0418 606.921
Entry is $40 to 27 Feb '08 (with sit down lunch post ride at Dural Country Club) if you -
* post Entry Form, incl maps to Rotary Club of Castle Hill, PO Box 1029 Castle Hill 1765; or
* fax Entry Form to 9634 8344.
Or enter on the day $45 which most of us do. Proceeds to St Gabriel's School for Hearing-Impaired Kids.
Before 7am park in Dural Country Club car-park - 662a Old Northern Rd, Dural to rollout at
7:30am for 100km route (or 8am for 70km route). Anti-clockwise loop passing Glenorie, Cattai, Pitt Town, Oakville, Rouse Hill, Kellyville, Glenhaven, Round Corner, Annangrove and Kenthurst which finishes at Dural Country Club where a lunch and drink are provided free to all entrants.
BankTeller, ToothFairy, Publican and PacificPete are confirmed starters if a fine morn'.
The after-ride inclusive lunch is a major feature of this annual well-patronised tough ride. You may opt to bring a change of clothes for a shower before lunch in the club, 'cause after 100km going hammer 'n tong, you may be on the nose. But few bother to shower.
Bank Teller's rap-up of Tour de Woy Woy - 90km - 12 cyclists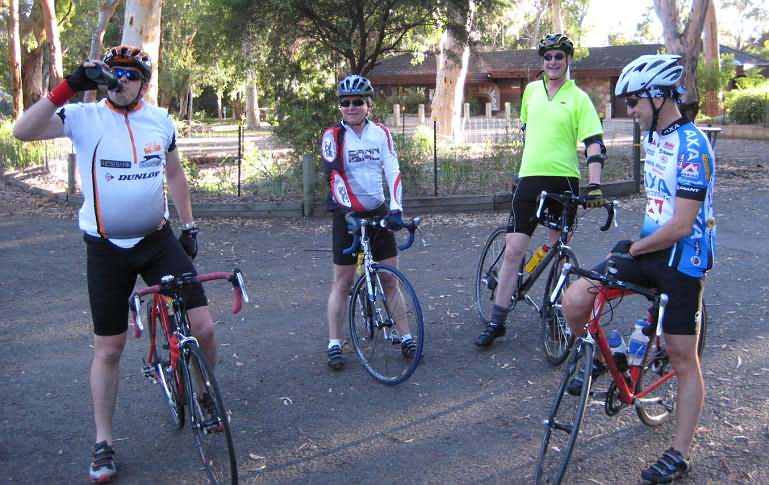 Steve P,

Pimpernel, TreeHugger 'n Lawyer at Kalkari Reserve after the climb from Bobbin Head, where it had been a tad chilly during the descent. Alas, portents of things to come as Fall commences. Golly Gosh it can be a chilling experience during July.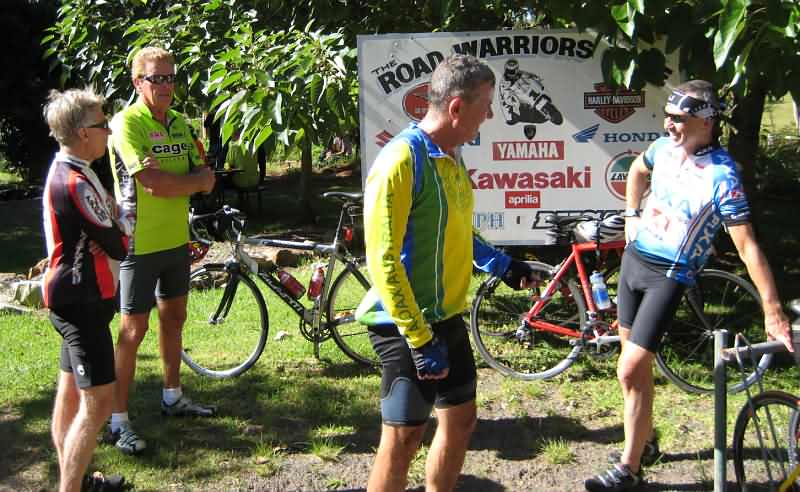 ChiliDog and Lawyer are patently engaged in some frolicking comical banter, with dour faced Pimpernel and BakerBoy unamused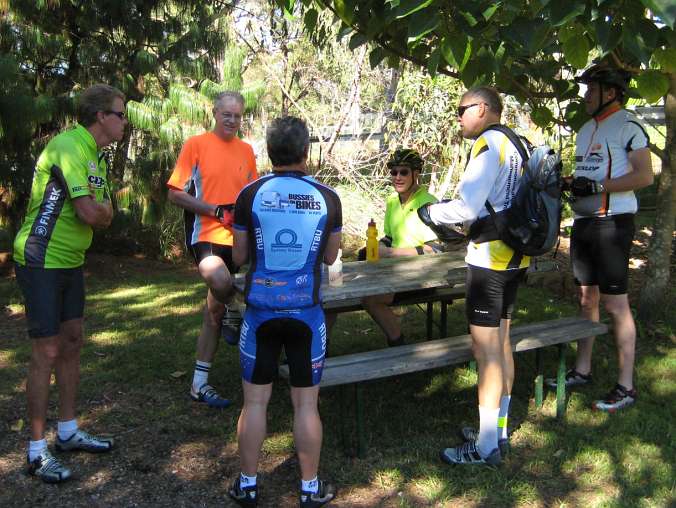 L to R above - BakerBoy, Peter C aka Another BeanCounter , SmallBusDriver, TreeHugger, Bazza and Steve.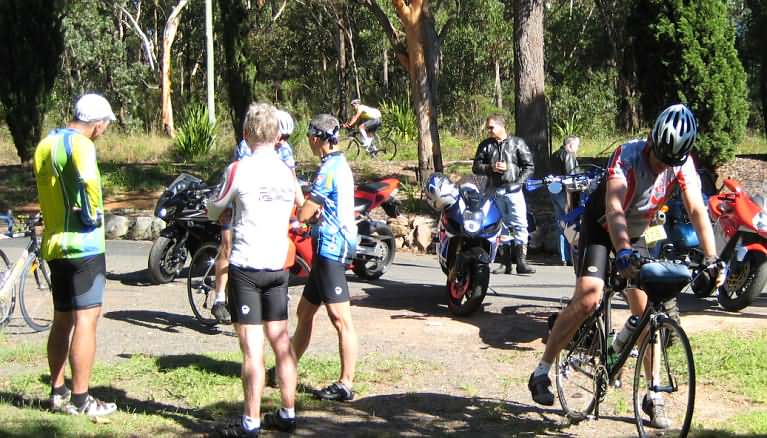 Above 'n below snaps show Dieter and Pacific arriving from Hornsby.
ToothFairy, Bazza 'n Steve did a 'Uie' at Mt White. Helga opted not to stop at Mt White and headed directly to Mooney Mooney, whereupon later we discovered that we couldn't get thru the barricades, as RTA has commenced to rebuild the bridge, leaving a large cavity. Hence, we back-tracked to Calga and took the F3 to Kariong. When you climb a hill, as we did today scaling 3.4km from Mooney Mooney Bridge twds Kariong, and then find we had to back-track down the hill we had just scaled and then climb up the descent we had enjoyed as a downhill some 25 mins earlier, it can be a right-royal pain in the arse - as we found today.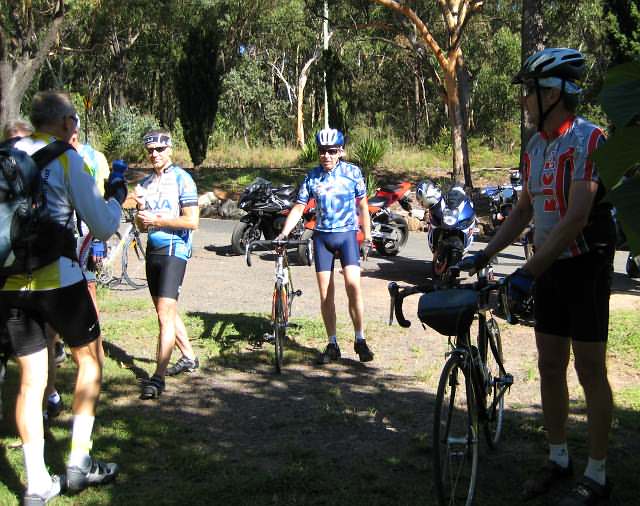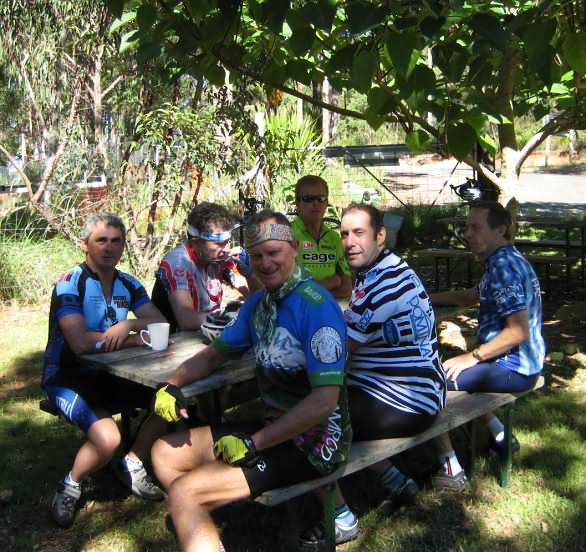 Apologies for all the shadows in the above pics. When U pay peanuts, U get monkeys.
Scribe 24 Feb 2008