Muggaccinos.com The Bullsheet Sunrise 6:41am
Wednesday, 28th Feb '18 - Mount Keira & Mount Kembla loop route -
iBug ride No 007
- Mt Kiera climb section is 11km
Start and Finish at McDonalds carpark off Arrow Ave, Figtree.
Distance is Ride 24 Kilometres from McDonalds Figtree carpark (off Arrow Ave) or 30km from Coniston train station via S/W on Gladstone Avenue, ahead West on Ocean St, ahead on The Avenue, left on Princes Highway, left onto Bellevue Rd, right onto Arrow Ave and McDonalds carpark.
Caution!
Descend Mt Kembla on Harry Graham Drive and Cordeaux Road carefully.
Route
From McDonalds carpark in Arrow Ave turn right into Bellevue Rd and ride 1km passing thru one roundabout.
At the 2nd roundabout, take the 2nd exit veering right onto Uralba St for 300m.
At next roundabout, veer left into Koloona Ave for about 1km.Turn right onto Carcoola St for 180m.
Turn left onto Yates Ave for 500m.
Turn left onto Mount Keira Road - initial two kilometres is the steepest section up Mount Kiera.
Once you have left the built-up area the road is less steep but winding, near the top turn right into Queen Elizabeth Drive for the short, steep climb to the Mount Keira Lookout 1st Nosh Stop in the shipping container temp cafe during the refurb.
Descend Queen Elizabeth Drive and a kilometre past the Elizabeth Drive turnoff turn left into Clive Bissell Road and left into Harry Graham Drive.
Follow Harry Graham Drive up and down several steep hills, turn left into Cordeaux Road, and down hill through Historic Mt Kembla Village.
Turn left into Gibsons Road for 800m and follow it back along the Princes Highway for 500m.
Left into Bellevue Rd and right into Arrow Ave and McDonalds Figtree.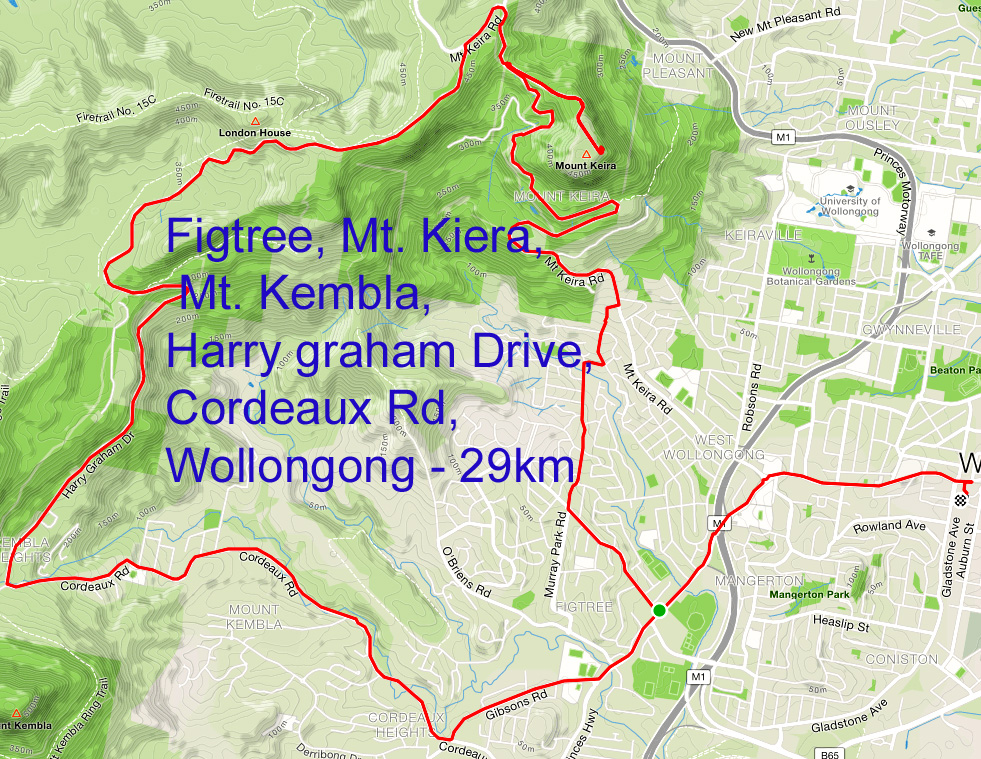 More info at 'Climb Mt. Kiera'.
Scribe 24 Feb 2018 (last edited)