| | | |
| --- | --- | --- |
| <![if !vml]><![endif]> | TugBoat | <![if !vml]><![endif]> |
Andrew scored the label TugBoat in 2004 when his materially more stocky frame didn't make him as lithe as a cheetah. But you could see he had strength. Golly Gosh after being on a sustained fitness/health kick for almost three years, an Anorexic Andrew has got speed and stamina to burn after dropping from 110kg to 72.4kg. Then SpeedBoat lost a further 20.7% of his remaining weight to drop to 57.4kg to win a weight control contest with a Body Mass Index of 20.6 - see comparative result data below which includes Anthony Limare aka Froggy's weight loss. The full data of all the weight loss participants in available in a 6 worksheet Excel File
The immediately below civvies pic was snapped in the carpark at Sutherland Leisure Centre after a New Year's Day Tour de Royal National Park circa 2005 when TugBoat weighed about 88kgs having peeled off 22kgs in the previous 7 months thru a drastic overhaul his diet and mega cycling each arvo - Andrew starts his shift at 6am and finishes at 2pm.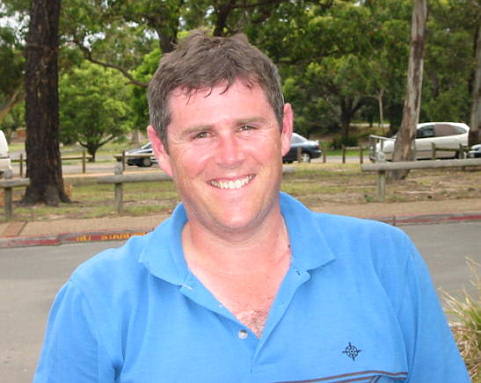 The below pic incl a burly TugBoat at Pie in the Sky was taken in April 2005 with the further below pic taken a few months later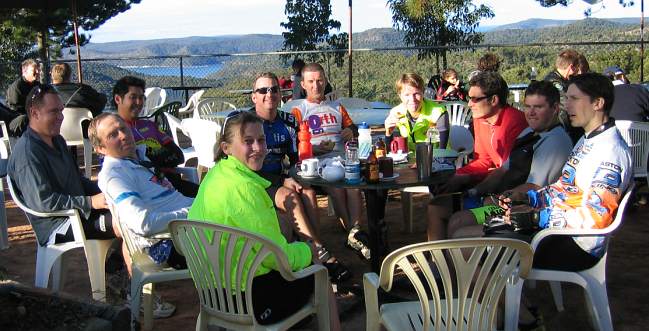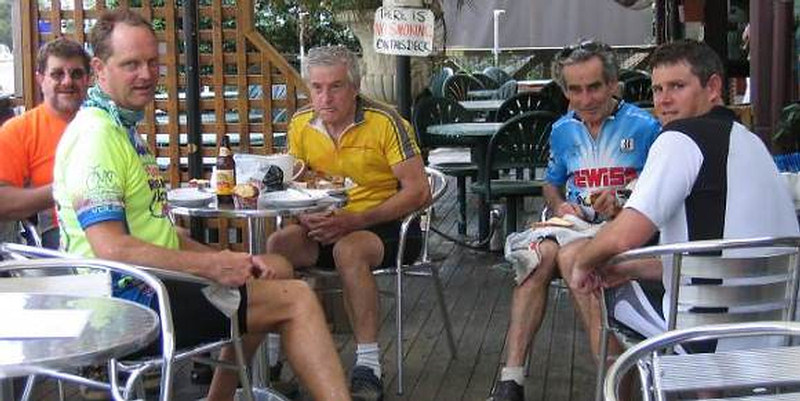 The below pics of TugBoat were snapped on Monday 2 Oct 2006 after scaling the horrendous Bowen Mountain. Anorexic Andrew has lost 32kg since he commenced cycling 2½ years ago, albeit SpeedBoat acknowledges that cutting out the junk foods has been equally significant. Andrew starts work at 6am and returns home around 3pm, whereupon he often gets in at least an hour's cycling, which he will be the first to admit he thoroughly looks forward to the freedom of his push bike. Andrew lives at Narellan and works at Minto and has log lots of KOM Climb Times albeit TugBoat should update the picture therein.

TugBoat circa Jan '06 about 71kgs

Leaning against the Bowen Mtn. KOM marker

Standing in front of the huge Bynup tree near the KOM

Cobbitty Patisserie circa Oct 06 - 66kgs

Pedaling Sth from Pie in the Sky with Guy aka Lawyer in pursuit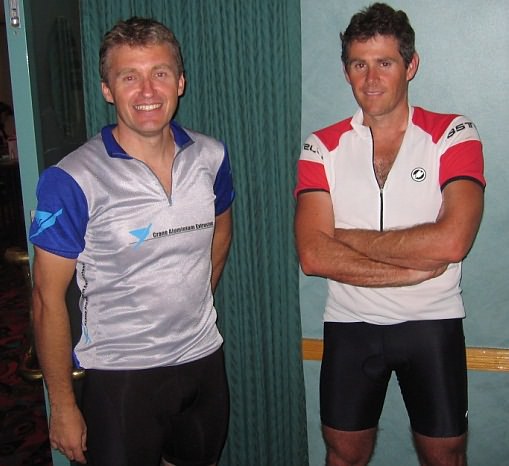 Anthony and Andrew at Dural Country Club after 2007 Tour de Hills held in traditionally humid conditions.

Weighing in at 57.4kg on 16 July 2007

Weekly Weigh Ins

7/05/2007
21/05/07
4/06/07
18/06/07
2/07/07
16/07/07

Andrew Jackson

72.4
69.4
65.8
62.2
61.0
57.4

Anthony Limare

73.6
71.4
69.0
67.2
65.8

Percentage lost

7/05/07
21/05/07
4/06/07
18/06/07
2/07/07
16/07/07

0
4.1%
9.1%
14.1%
15.7%
20.7%

Anthony Limare

0
3.0%
6.2%
8.7%
10.6%

Kgs Lost

7/05/07
21/05/07
4/06/07
18/06/07
2/07/07
16/07/07

0
3.00
6.60
10.20
11.40
15.00

Anthony Limare

0
2.20
4.60
6.40
7.80
7/05/07
21/05/07
4/06/07
18/06/07
2/07/07
16/07/07

Andrew Jackson

26.0
24.9
23.6
22.3
21.9
20.6

Anthony Limare

25.6
24.9
24.0
23.4
22.9
0.0

In early May '07, 13 colleagues from Andrew's company of Austex Dies Phoenix Pty Ltd took up a challenge to lose weight partly influenced by the results that Andrew had achieved over the previous 18 months and his higher QOL. Andrew agreed to join the weight-loss challenge to prove to himself the power of mind over matter, in particular the strength of his own resolve and mental discipline. Twasn't only for that psychological motive, because TugBoat also wanted to explore his optimum climbing weight.

Andrew is the first to agree that 54.7kgs (>50% of his 110kgs body weight three years earlier) is too low and he has brought it back up to 61kgs which is still a tad skinny, but akin to Dutch KOM Climber, Michael Rasmussen 's resolve, it is TugBoat's optimum climbing weight, although he doesn't live on Rasmussen's staple diet of rice crackers.