Muggaccinos.com The Bullsheet Sunrise 6:30am
Sunday, 21 Aug '16, 8:15am from St Ives car park via Eric's "backroads" thru Duffy's Forest, thence clockwise descent to Illawong Bay & Akuna Bay for Brekkie at Church Point - return back up to St Ives 11:30am - 66km
Snapshot
St Ives car park Mona Vale Rd [opposite Pattisons Patisserie]. After our 12km Duffy's Forest "Backroads" out/back, we drop down to Akuna Bay CLOCKWISE. Upon completing the circle back to McCarrs Creek timber bridge, hook left and drop down to Church Point Café for 1st Nosh Stop adjacent to the water's edge.
Then return back up to St Ives.
WHO, WHEN, WHERE:
Pete aka CampyAficinado [1st Responder], Jane aka Neo-Luddite [2nd Responder], [3rd Responder], Ron aka Draughtsman [4th Responder], Jean aka ChiliDog [5th Responder], Eric aka PapaBear [6th Responder], Tony aka Yorky [7th Responder], Bill aka Glasgow [8th Responder], Lea aka SlowLea [9th Responder], are starting from St Ives at 8:15am.
APOLOGIES:
Ride Organiser, Phil Johnston aka Bank Teller 0434 715.861 is in the USA/Canada
Terry aka Navigator
If you are 80% confident of starting, contingent upon being greeted by a fine morn', please e-mail Scribe and he will add your moniker above
1st Leg: St Ives, via Bushlands route thru Terrey Hills/Duffy's Forest to Sag Stop at Thai Restaurant - 18km - 55 min

8
:15am -
* E along Mona Vale Rd for 6.7km,
* L [opposite Forest Way - at Terrey Hills Fruit Barn] into Myoora Rd and take a 1st Sag Stop (3 min)
at least 60m down
Myoora Rd
,
* Ahead 1.1km along Myoora Rd passing the Golf Driving Range on LHS,
* L into Aumuna Rd at dangerous roundabout (ask Martin aka Architect) for 550m - initial steep descent, then big climb,
* R into Coonawarra Rd for 200m
* L into Cooyong Rd for 300m
* R into Boona Rd for 400m
* L into Tooronga Rd for 1.2km
* L into Booralie Rd for 2km
* "U"- turn at the dead-end of Cow Corner – NOTE: turn around as soon as you see faster cyclists returning. Continue past Terrey Hills neighbourhood shopping centre, thru roundabout and take 2nd Sag Stop (5 min) from 8:40am outside Terrey Hills Thai Restaurant at top of McCarrs Creek Rd - muster off the road.

2nd Leg: Terrey Hills Thai Restaurant via clockwise entrance to Akuna Bay loop, thru Illawong Bay/Akuna Bay, right at 'T' junction, left at McCarrs Creek Rd to Church Point Cafe - 27km (agg 45km) - 70 min
9:10am -
* Descend McCarrs Creek Rd
* Ahead down Liberator General San Martin Drive (left hand/clockwise entrance to Akuna Bay),
* Left into Cottage Point Rd for initial 2km of Cottage Point Rd to crest with views down each side to bays - Sag Stop
* Return 2km out of Cottage Point Rd
* Left back into Liberator General San Martin Drive passing thru Illawong Bay, Akuna Bay, up to 'T' junction for Sag Stop,
* Right 1.3km down McCarrs Creek Rd crossing timber bridge,
* Left into McCarrs Creek Rd 5.3km Church Point Cafe arriving from 10:20am for 1st Nosh Stop (30 mins)
3rd Leg: Church Point Cafe back up McCarrs Creek Rd to St Ives - 20.5km (agg 65.5km) - 65 min
Depart 10:25am to arrive back at St Ives for 2nd Nosh Stop at Pattisons Patisserie (25 min) from 11:30am.
Risk Warning
Ø Take Care descending to Illawong Bay. About 1.5km past Cottage Point Rd is a hard RH switch-back, known as The Wall, which has claimed several cyclists, including Siggy, so take that hard right-hander slowly, particularly if the road is damp
Some forms of cycling are dangerous. An ave of 36 Australian cyclists have been killed annually since 2000. 95% of these fatalities occur on the road.
Other cyclists in Australia break bones and incur nerve impairment from falling off their bikes in accidents.
A cyclist could fall from his/her bike, inter alia, due to -
(i) being hit by a car or another cyclist; or
(ii) encountering a pothole;
(iii) cycling too fast on a wet downhill where the coefficient of friction is much less, particularly at corners; or
(iv) getting their bicycle wheel caught in a gap in a timber bridge.
A negligent cyclist could -
(a) be litigated by a seriously injured cyclist, or 3rd party (ie. a woman pushing a pram on a footpath or a car driver) under common law where the damages could exceed $500,000; and
(b) lose his/her home if he/she did not have public liability insurance which covers their negligence whilst on a push bike.
A negligent cyclist who did not have personal injury insurance (ie self-employed without income protection cover) could struggle to meet regular outgo commitments.
A seriously injured cyclist could be awarded damages which a negligent cyclist could not afford to pay if the negligent cyclist -
(I) did not have public liability insurance cover; and/or
(II) did not possess valuable assets.
Ø Cycling without Public Liability cover is as silly as driving without 3rd Party - join Bicycle NSW for PL insurance, so that all Muggs are better protected
Ø Click on: Risk Management which warns of 'inter alia', the dangers of cycling on public roads with motor cars, potholes and over bridges with vertical timber planks with gaps
Ø Cycling with Muggs is predicated upon notifying Bank Teller if you materially disagree with any clause(s) in Muggaccinos' "Ride Participants Liability Acknowledgment"
Ø Hardcopy these directions and bring on Sunday
From: Peter Mckinn [mailto:p.m.mckinn@gmail.com]
Sent: Sunday, 14 August 2016 10:33 PM
To: Phil Johnston
Subject: today's West Head ride
Greetings Phil.
Myself, Jane & Grant turned up today at St Ives, Alan started from the Fruit Barn. Straight out to West Head, stunning views on a crisp, clear morning, lots of people out on the Pushies with Manly Cycle Club having a race morning on the West Head road.
I was as slow as a wet week, even slower than usual, there are a lot of hills between St Ives & West Head (and back). Grant has finished his soccer season, back to the pushie, six months away didn't matter at all,
Have a good trip, Phil
Cheers
Peter
Last Sunday's "Mt White return" - 7 cyclists - 70km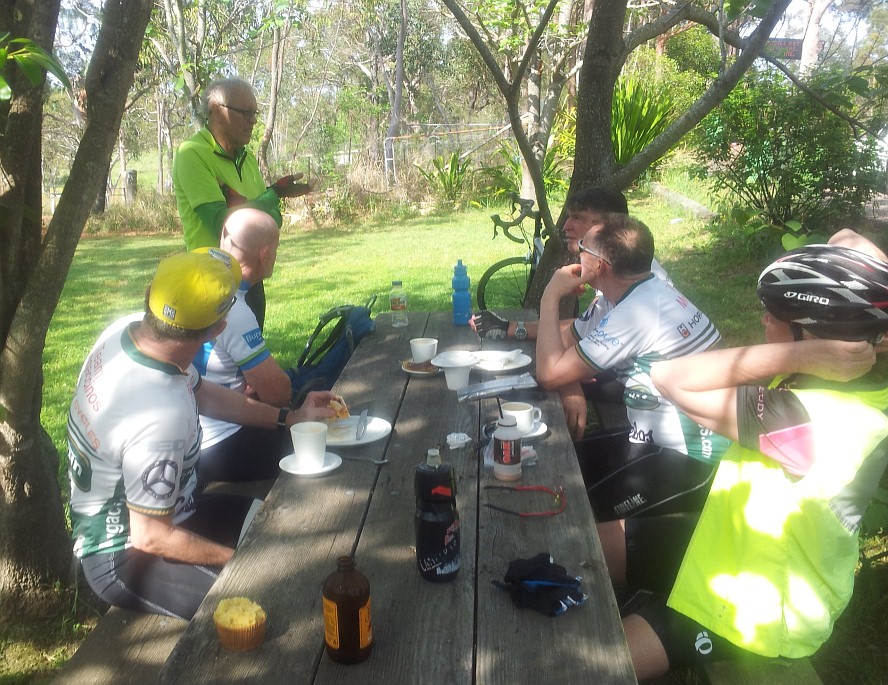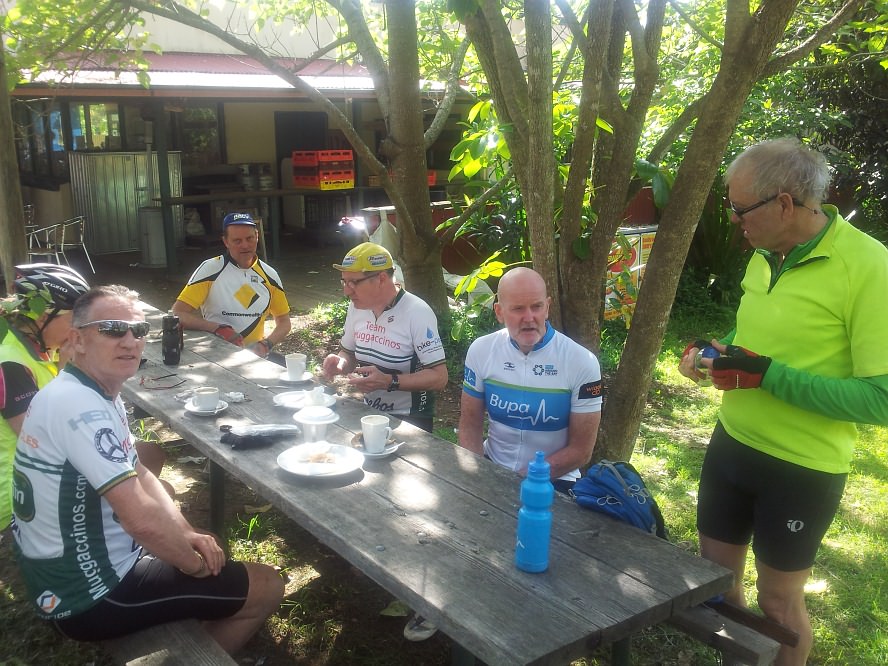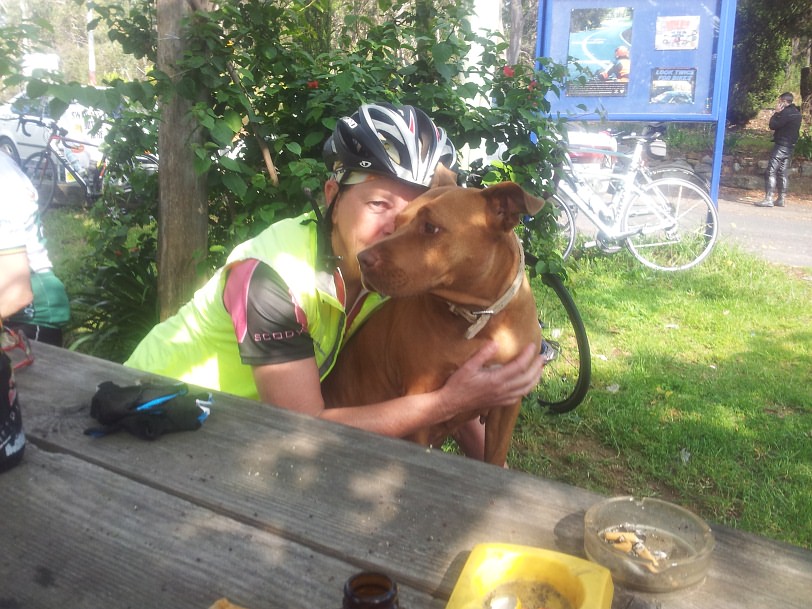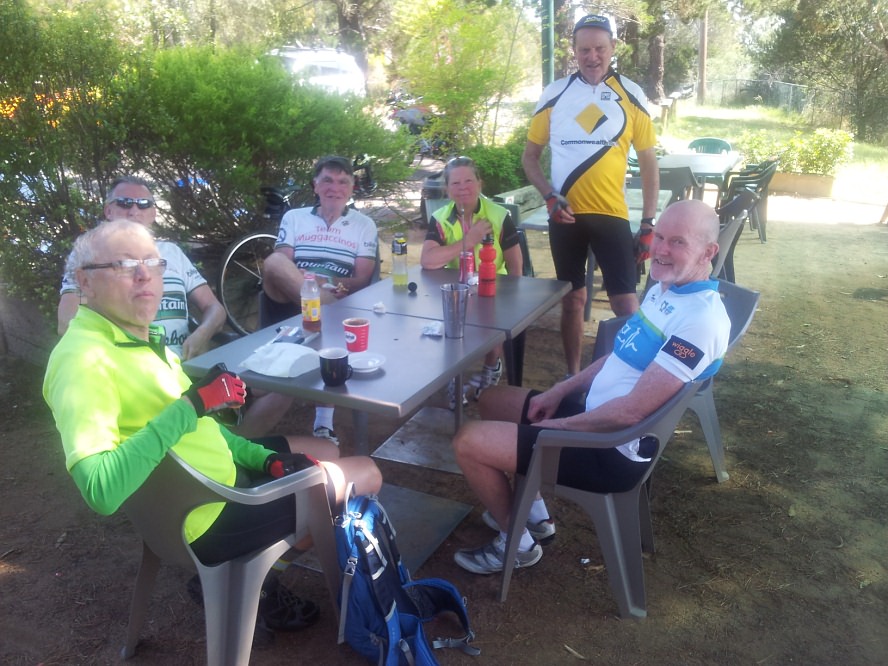 BankTeller 13th May
'16