Muggaccinos.com The Bullsheet - Tour de Central Tablelands
Saturday 12th to Tues 15th April 2008 - Tour de Central Tablelands camping at David Rickards aka TreeHugger's "Tulmeralen Farm" 362 Clarkes Rd, Caloola - 10km NE of Blayney - 40km WSW of Bathurst on Goulburn Rd
Come for either 2, 3 or 4 nights with local rides each day from David's farm with option to get a taste of road racing by entering Blayney to Bathurst Cyclo Sportif:
+ 70km Race in the Master division for $65; or
++ 110km Race in the Masters division for $55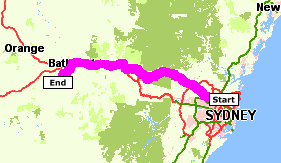 Accommodation on David's "Tulmeralen Farm" - 39.5km Sth of Bathurst on the Goulburn Rd at Caloola

Two farm house sheds are on RHS of above pic. Sleep under cover in one of them, with option to assemble your tent in the shed or merely rollout your bed mat and sleeping bag dormitory style.
TreeHugger's Blayney farm residence is above.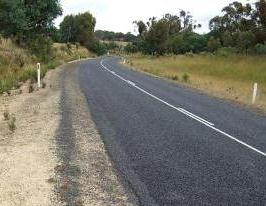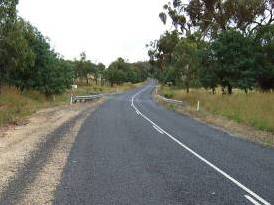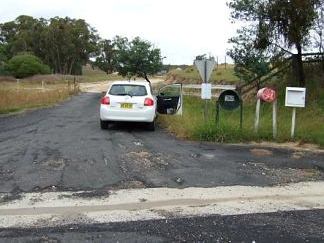 Initial 2 pics view of left turn from Goulburn Rd onto Clarkes Rd Final pic is entrance to Tulmeralen Farm
Friday 11th April
For any early Arrivers, Tour de Abercrombie Caves circa 80km return on good road with few cars. Caves are spectacular - open daily 9 - 4pm.
Saturday 12th April
11am rollout from Tulmeralen Farm due South to Trunkie Creek and Abercrombie Caves 'n return anti-clockwise via Trunkie Rd to Georges Plains, Wimbledon Rd and Newbridge Rd - 70km

Sunday 13th April:
a) Enter 110km or 70km Blayney to Bathurst race; or
b) Join Muggaccinos 65km Tour de Bathurst to watch the two races finish
a) Blayney to Bathurst 110km Long Course or 70km Short Course rides (referred to as B2B) Cyclo Sportif Challenge - open to both Cycling NSW members and non members - promoted by Rotary Club of Bathurst Daybreak and Bathurst Cycling Club.
The Long and Short Course Routes, which start at Carrington Park, Church Street, Blayney at 8:30am and 10am respectively, are on quiet rural roads with some testing climbs, including "Rockley Mountain" on the long course B2B.
Both routes finish at the top of Mount Panorama where the final 300m to the top is a Ball Terror. Book above race on Cycling NSW website Click on Entry Form and Zoom In. Click on: Race Promoter's Invitation
(I) is marketing this w'end for Cycling NSW;
(II) welcomes any enquires at 02 9738.5850 or e-mails to Brian.Crawford@cycling.org.au; and
(III) informs that 50% net profit from the $55 entry fee for 70km race and $65 for 110km B2B rides on Sunday go to Bathurst Rotary Club.
b) Or join Muggaccinos 65km Tour de Bathurst from 9am Sunday morning in time to watch the finish of the above two Blayney to Bathurst rides. NW to Millthorpe thence East to Bathurst and return via Perthville, Georges Plains and Newbridge.
Monday 14th April
From Tulmeralen Farm heading -
* SE along Newbridge Rd to Newbridge;
* NE along Wimbledon Rd to Georges Plains;
* NE on Vale Rd to Perthville;
* Sth down Rockley Rd to Rockley;
* WSW down Triangle Flat Rd to (incl 6km gravel) to Trunkey Creek;
* Nth up Hobby's Yards Rd to Hobby's Yards;
* NW on Hobby's Yard Rd to Barry;
* Nth up Hobby's Yard Rd to Blayney - 80km (with 6km off-road).
Tuesday 15th April
From Tulmeralen Farm heading -
* SW to Carcoar then Mandurama;
* East to Neville;
* NNE to Barry; and
* Nth to Blayney - 55km

Last updated 28 Feb 2008