| | | |
| --- | --- | --- |
| | Tourist | |
Brian, who hails from and races 'B Grade' in Newcastle, has a penchant for racing up hills.
Tourist is intent upon being the first cyclist to register a competitive Climb Time for each of the 53 KOM Climbs across Greater Sydney and Illawarra at www.KOMpm.com.
Scribe has registered a Climb Time for all 53 KOM Climbs, but several of them ain't flash. Seemingly Scribe may 've been painting the Start and KOM signs on those KOM Climbs during some of his assaults.
Brian earned the moniker, Tourist, 'cause he ain't averse to setting out on a week long ride if there is a reason. It doesn't have to be a good reason, just a reason. Recently Brian attended Bright Vic. for the Audax Alpine Classic and registered a creditable 8hr:23min for the 200km route in searing heat. Tourist also managed to ride an additional 620km in the 3 days before and 3 days afterwards, 'cause Tourist figured "there is some good cycling country in N/E Vic, what with all those beautiful mountains and escarpments" and Brian was intent on seeing it whilst in that neck of the woods. He caught the train to Albury then cycled to Mt Beauty thence up Falls Creek and back to Mt Beauty and then rode to Bright. After the Audax, Brian rode from Bright through Albury and jumped onto the Olympic Hwy through a few small towns (Kilcairn being one of 'em) then into Wagga Wagga (ave 27). Then on to Gundagai on the Stuart H'way, but after enduring a stiff headwind, Tourist accepted that 270k was out of the question with the wind, whereupon he caught the bus to Sydney. All up 820k which included the Audax.

Another KOMpm.com supporter, Dave Hateley, aka Radar, recently eclipsed Tourist's KOM Climb Time for the dreaded Jamberoo Pass, so Brian hightailed it down to Kiama to attempt to correct that unfortunate development.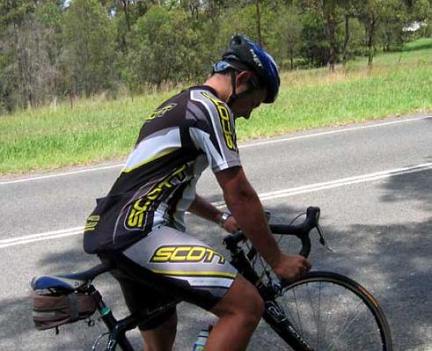 Brian is also known for his unusual Hydration Habits. It is not uncommon to observe Brian downing a 2 litre bottle of full strength cow. He'll finish it in one fell swoop and he'll tell you "it agrees with his body", whatever that means.