Muggaccinos.com The Bullsheet - Tour de Central Tablelands
Saturday 21st to Tues 24th April 2012 - Tour de Central Tablelands camping at David aka TreeHugger's "Tulmeralen Farm" 362 Clarkes Rd, Caloola - 10km NE of Blayney - 40km WSW of Bathurst on Goulburn Rd
Come for either 2, 3 or 4 nights with local rides each day from David's farm with option to get a taste of road racing by entering Blayney to Bathurst Cyclo Sportif:
Richard Kelly ("Sloth") is keen to ride B2B (Blayney to Bathurst) this Sunday, 10 April, if good weather is forecast. He plans to drive from Greenwich by 7am Saturday, and do a ride Saturday afternoon (negotiable: Abercrombie Caves, 80km?).
On Sunday, he'd do the longer B2B (110km, $65 entry), get back to the car, shower, and drive home. Accommodation would be camping or "shedding" at the farm of sometime-Mugg, David Rickard ("Treehugger"), near Blayney. Loo and cold shower available. The recommended shed has a wooden platform suitable for lilos, or just sleeping-bag if you're tough.
Richard could take up to three others plus bikes plus luggage (in Ford Territory), or meet there.
The event website is: http://www.b2b.asn.au/ A 70km alternative is available (same start/end points).
Early each April 1,200 circa cyclists, ostensibly from NSW Bicycle Racing Clubs, drive early on Saturday morning to Bathurst for annual:

* NSW Hill Climbing Championships on the Sat climbing revered Mt Panorama; and

* 110km (or 70km) Blayney to Bathurst race on the Sunday, with the majority driving home on Sunday arvo.


David aka TreeHugger, who owns "Tulmeralen Farm" 10km NE of Blayney, invites Muggs' cyclists to see "first hand" what makes racing cyclists tick!!! However, without the hassles of finding accommodation, 'cause both Bathurst and Blayney are all booked-up.

Below are details of ride options for Fri, Sat, Sunday, Monday and Tues. Option to enter a Cyclo Sportif category that Cycling NSW is providing for recreational cyclists who want to officially enter the -
Saturday Hill Climbing Championships up Mt Panorama; and/or
below 2 Sunday ride options:
+ 70km Race in the Master division for $55; or
++ 110km Race in the Masters division for $65
Accommodation on David's "Tulmeralen Farm" - 39.5km Sth of Bathurst on the Goulburn Rd at Caloola

Two farm house sheds are on RHS of above pic. Sleep under cover in one of them, with option to assemble your tent in the shed or merely rollout your bed mat and sleeping bag dormitory style.
TreeHugger's Blayney farm residence is above.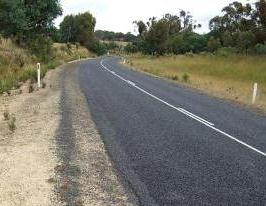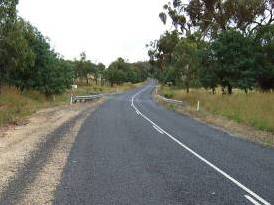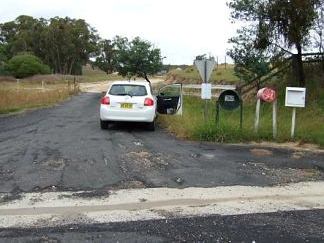 Initial 2 pics view of left turn from Goulburn Rd onto Clarkes Rd Final pic is entrance to Tulmeralen Farm
Friday 20th April
For any early Arrivers, Tour de Abercrombie Caves circa 80km return on good road with few cars. Caves are spectacular - open daily 9 - 4pm.
Saturday 21st April
11am rollout from Tulmeralen Farm due South to Trunkie Creek and Abercrombie Caves 'n return anti-clockwise via Trunkie Rd to Georges Plains, Wimbledon Rd and Newbridge Rd - 70km

Sunday 22nd April:
a) Enter either -
* 110km Cyclo Sportif Blayney to Bathurst ride for $95 with longer hilly course profile; or
* 70km Cyclo Sportif Blayney to Bathurst ride for $95 with hilly course profile; or
b) Join Muggaccinos 65km Tour de Bathurst to watch the two races finish
Re a) above: Blayney to Bathurst 110km Long Course ($65 entry fee) or 70km Short Course ($55 entry fee) rides (referred to as B2B) Cyclo Sportif Challenge - open to both Cycling NSW members and non members - promoted by Rotary Club of Bathurst Daybreak and Bathurst Cycling Club.
The Long and Short Course Routes, which start at Carrington Park, Church Street, Blayney at 8:30am and 10am respectively, are on quiet rural roads with some testing climbs, including "Rockley Mountain" on the long course B2B.
Both routes finish at the top of Mount Panorama where the final 300m to the top is a Ball Terror. Book above race on Cycling NSW website Click on Entry Form and Zoom In. Click on: Race Promoter's Invitation
Re b) above: Or join Muggaccinos 65km Tour de Bathurst from 9am Sunday morning in time to watch the finish of the above two Blayney to Bathurst rides. NW to Millthorpe thence East to Bathurst and return via Perthville, Georges Plains and Newbridge.
Monday 23rd April
From Tulmeralen Farm heading -
* SE along Newbridge Rd to Newbridge;
* NE along Wimbledon Rd to Georges Plains;
* NE on Vale Rd to Perthville;
* Sth down Rockley Rd to Rockley;
* WSW down Triangle Flat Rd to (incl 6km gravel) to Trunkey Creek;
* Nth up Hobby's Yards Rd to Hobby's Yards;
* NW on Hobby's Yard Rd to Barry;
* Nth up Hobby's Yard Rd to Blayney - 80km (with 6km off-road).
Tuesday 24th April
From Tulmeralen Farm heading -
* SW to Carcoar then Mandurama;
* East to Neville;
* NNE to Barry; and
* Nth to Blayney - 55km

Last updated 1 April 2011