Lisa flats with Gobbler 'n Ang, who perhaps might have intro'd her to pedal pushing. Camera might have had second thoughts about the merits of cycling during the recent 8 day Tasmanian Wilderness Ride where it was often hilly, cold and wet.
Talks like Bazza 'cause she hails from north of the Septic Tanks.
Recently jagged the above handle from Samurai 'cause -
(i) it ain't derogatory and demeaning;
(ii) Lisa knows about taking pics, and
(iii) it rhymes with her surname- well kind of.
The moniker, Camera, will likely suffice unless a fellow Mugg who snagged an unbecoming nickname, labels her with one that is derogatory and demeaning. However, unlikely as Lisa is one the more prudent Muggs who offends no one.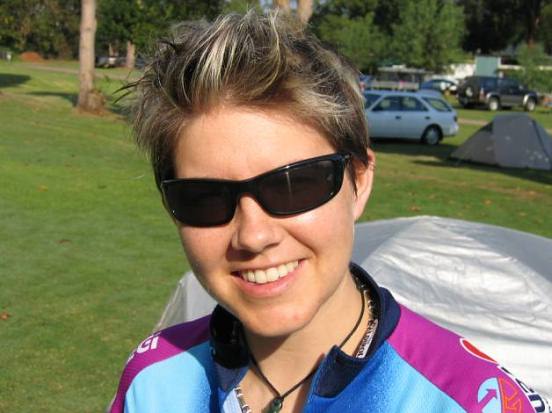 Snapped at NSW Ski Gardens on 2nd morn' of recent 3rd annual Tour de Wiseman's Ferry