Muggaccinos.com The Bullsheet

Sat 30 Oct to Mon 1 Nov 2010 - annual longer weekend pilgrimage to Canberra for Sunday, 31st Oct:

* 207km Fitz's Epic Challenge; or

* 165km Fitz's Classic; or

* 105km Tharwa Challenge; or

* 50km Tidbinbilla Challenge

Click on latest update from Pedal Power ACT "Cycle City Fitz's Challenge 2010".

Canberra's premier randonnee 'Fitz's Classic' will again be presented by Pedal Power ACT on Sunday, 31 Oct, ably presented by Audax ACT Region members.

Fitz's Classic

is held

in the scenic terrain in the foothills of the Brindabella mountain range SW of Canberra

-

second only to the

200km Audax Alpine Classic

for

patronage by ardent endurance cyclists.

Thru the late '90s and up to 1994 Muggaccinos regularly made the annual pilgrimage to complete the former 150km Fitz's Challenge route where we always stayed at Victor Lodge Guest House and dined at the plethora of fine restaurants at nearby Kingston Square.

If you intend riding one of the following distance options, e-mail ScribePJ@bigpond.com and Scribe will list your name and e-mail address herein to facilitate other interested Muggs' cyclists contact you. Register on-line now and save $10.

As is customary, you can book good digs at Victor Lodge

at around $90 p/n twin share with b'fast

or the adjoining

Motel Monaro (02) 6295.7777

ph

(

4km SE of centre of Canberra

) 29 Dawes St, Kingston

(02) 6295.

2466 fax

.

Fitz's covers the same roads used for the prestigious annual 'Canberra Tour' race. Pedal Power ACT contains more experienced endurance climbers than any other cycle club in Australia. If you have aspirations to test yourself against the best, Fitz's Classic is not to be missed - the recently introduced 207km Fitz's Epic Challenge with approx 3,850m of climbing, contains the really challenging ride up the Corin Dam Rd, is noticeably more difficult. Start and finish at the new Stromlo Forest Park cycle track.
Ride

Distance

Start

Target time

Entry Fee

To 20 Oct

Ride Day

Fitzís Epic
207 km
06:30
12.5 hr
$40
$50
Fitzís Classic
165 km
07:30
10.0 hr
$40
$50
Tharwa Challenge
105 km
08:30
6.0 hr
$35
$45
Tidbinbilla Challenge
50 km
09:00
3.5 hr
$25
$35
In the mean time, -
* Register as a Climber in KOMpm King of the Mountain performance measurement and discover 63 marvelous KOM Climbs across Greater Sydney and Illawarra; and
* read the Bullsheet for the annual pilgrimage to Mecca for the 2011 Audax Alpine Classic and suss out other cyclists who want to visit Bright Vic. for 6 days this coming Australia Day long w'end in January '11 to climb many of the marvelous mountains in the Victorian Alps.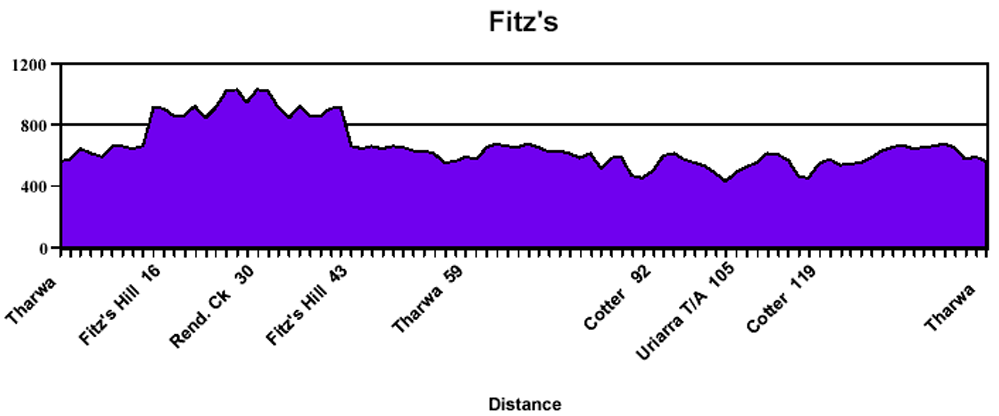 Or visit Pedal Power ACT and click on "Fitz's Challenge ONLINE entry" under the "Latest News".
Further information:
* Telephone: 6248 7995 or 0418 278 466
* E-mail: events@pedalpower.org.au
Road directions to digs at Victor Lodge
After driving due south to Canberra, cross Lake Burleigh Griffin and almost immediately turn R into State Circle and take 2nd L into Brisbane Ave, and shortly veer R into Wentworth Ave, and after passing Eyre Ave take next R into Dawes Ave with Victor Lodge on RHS - park on LHS of Victor Lodge.
Scribe last updated 17 Oct 2009