| | | |
| --- | --- | --- |
| | Welsh Wizz | |
A few years ago the effervescent Welshman experienced the obligatory mid-life crisis and was getting fed-up with hearing his mates and medicos consoling him with:
"Its called degeneration. We are all getting older. Get used to it, and grow old gracefully."
Gareth didn't agree and bought a bike in 1999 - his first in 20+ years. Alas, his first outing merely highlighted how years of abuse had taken its toll, as he felt like death warmed-up after struggling to ascend Akuna Bay and that "nasty little hill" coming back into St. Ives seemed like scaling Everest.
But Wizz wasn't deterred, 'cause he'd forked-out more on the bike than he'd let on to his wife. And more than he shelled-out on his better-half in quite a while - purely in the interests of resuming his former youthful physique, for his wife of course.
Has come on a bit since the Akuna Bay dry-reaches. Upon turning 40, Whiz pondered that doing triathlons would be less expensive and stressful than a 6-figure sports car or a mistress. He's not so sure about that decision now! Learnt to swim more than 50m without holding onto the side of the pool.
2002 was kind, but the aches and pains of pushing the joints harder might come later.
Completed his:
1st Half IronMan triathlon;

1st Half Marathon and

1st Marathon

1st Australian IronMan triathlon at Forster on 6 April '03 in 11:27 finishing 745th from 1,525 starters.

Welsh Wizz taking it easy at Church Point in Feb '02, with Widget 'n Whippet in the b'gnd (the bald look, which was merely the result of a bet with a mate, has since gone.)

Ridden with Muggs maybe 10 times, the highlights being -

sub 7hr Fitzís Challenge in 2001 when a fellow Mugg, The Whippet, set a hell of a pace, and Whiz couldn't catch him until Cotter Dam a mere ten clicks from home; and

2002 Loop the Lake at + 31km/h.
Whiz also reports that, notwithstanding expending way too many hours in training sessions, his loyal, patient and selfless wife, Tina, "hasn't tossed him out on the street yet." - much to his, and his two billy lids, relief.
Since moving to Sorrento Qld about 4 years ago to cycle the many marvelous mountains in the Gold Coast Hinterland, incl Beechmount, Springbrook and O'Reillys, Wizz has completed two more Australian IronMan Triathlons, each time lowering his time, and a Gold Coast Marathon.
Gareth's account of his first IronMan Tri
Sunday April 6th 2003 was a wonderful, marvelous, brill experience. It was the day I lost my IronMan virginity along with 600 first timers at the Snap Printing, Australian IronMan Triathlon at Forster.
A record field of 1,524 waited in Wallis Lakes at 6.15am for starterís orders.
One moment - serenity, glassy water, silence tainted the expectation of adventure.
The next - a heavy weight boxing match in a Maytag.
For the 1st km, survival is the only objective. Then, after the people who could swim left us in their wake, I, along with several hundred ďOrange HatsĒ, found some space to practice our questionable swimming strokes.
The rest of the 3.8k swim was uneventful, apart from a rainbow appearing in the eastern ski, a precursor of what was to follow. I fleetingly mused about, "Rainbow in the morning, ......... ............"
Out of the water and into transition where you try to quickly remove your wetsuit and put on bike clothes, socks and shoes. Itís amazing how hard it is to slide lycra over wet, salty skin. Anyway after what seemed like an eternity, I jogged out to my bike, put on my helmet, sunglasses, filled my jersey pockets with food that should only be served on the space shuttle and headed out on the 6hr rolling banquet.
The streets were lined with thousands of people as we rode out of Forster Keys and onto the Lakes Way at 7.30am. The locals are truly fantastic supporters of this race.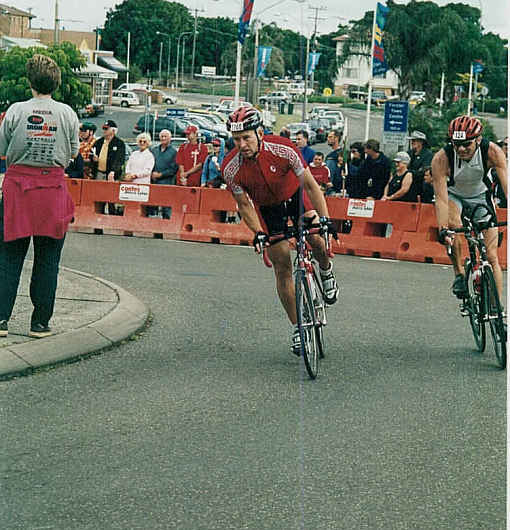 Within moments we got an indication of what lay ahead. A fairly stiff, cool southerly breeze, laden with showers and the occasional squall. Although the road surface was slick the whole day, Iím happy to say I only saw one incident that required medical attention. Plenty of punctures though.
I took it easy on the ride, especially on the 1st lap, riding exclusively in my low aerobic zone (<130bpm). I even put a piece of black electrical tape over my bike computer, so I had no idea how fast I was going.
Being a relatively slow swimmer can be an advantage once you get on your bike because you spend the day passing people. Itís a great boost psychologically and keeps you spinning those legs.
The powerbars, gels and sports drink were getting way past boring by the 4th hour so I ate a couple of cookies and bananas from the aid stations. I felt like the cookie monster yelling out ďCOOKIEĒ as I approached the volunteers at 30+km/h.
After 180.2kms, I was off my bike in 5h 52m including a couple of porta loo breaks. Averaged over 31km/h for the ride and felt remarkably good (read could still walk) when I handed my bike to a volunteer.
Now I only had a marathon to run.
Into another blisteringly fast (NOT) transition. Off with the cycling clothes, on with the running gear, more gels (enough already), salt tablets, race belt and Vaseline for those sensitive bits.
The damp, cool weather, which was fairly miserable for riding, became very pleasant for running. Just be sensible and there was very little chance of dehydration today (although I heard a couple of guys still needed 2 bags of saline drip to rehydrate after their finish!!!).
I ran very comfortably for the 1st lap (21.1kms) and posted a 1h52m split. For a fleeting moment I thought a sub 4 hour marathon was on the cards. Then at the 28km mark these hills, that werenít there on the 1st lap, put pay to my sub 4 hour goal.
Another porta loo stop, a long discussion with Steffi from Germany about I donít know what, a few more aid stations (by which time I was drinking flat Coke for a regular sugar hit) and the finish line was within ear shot. That is to say you can hear the music first and then see the lights as you crest the hill with 500-600m to go.
Everything up until there is a part of a learning experience. The training, the early starts, the discipline, the 3.8k swim, the 180k ride and the 1st 42k of the marathon.
The last 200m is simply a place to celebrate. Itís the piece of this race you savor and keeps people coming back. Itís a place where the pent up emotions of the day are released for all to see and enjoy.
Itís a special experience, made even more special by the presence of friends and family to share it with you.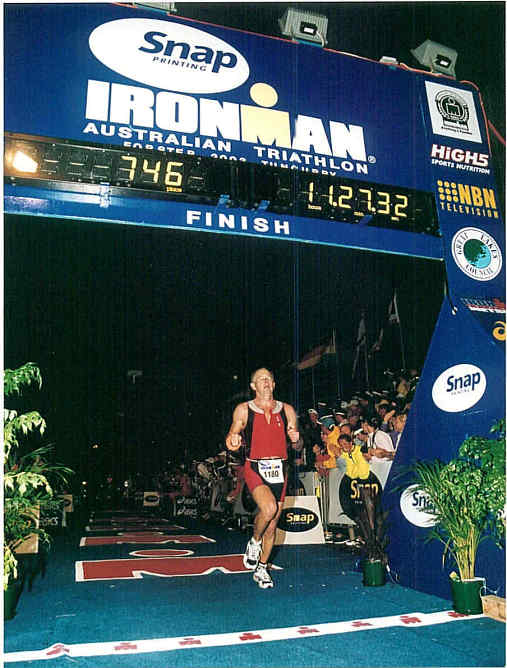 Overall: 11:27:33, Swim: 1:12:52, Bike: 5:52:29, Run: 4:07:10, Transitions: 0:15:02 More pics
Cheers,
Gareth aka Welsh Wizz IronMan #1180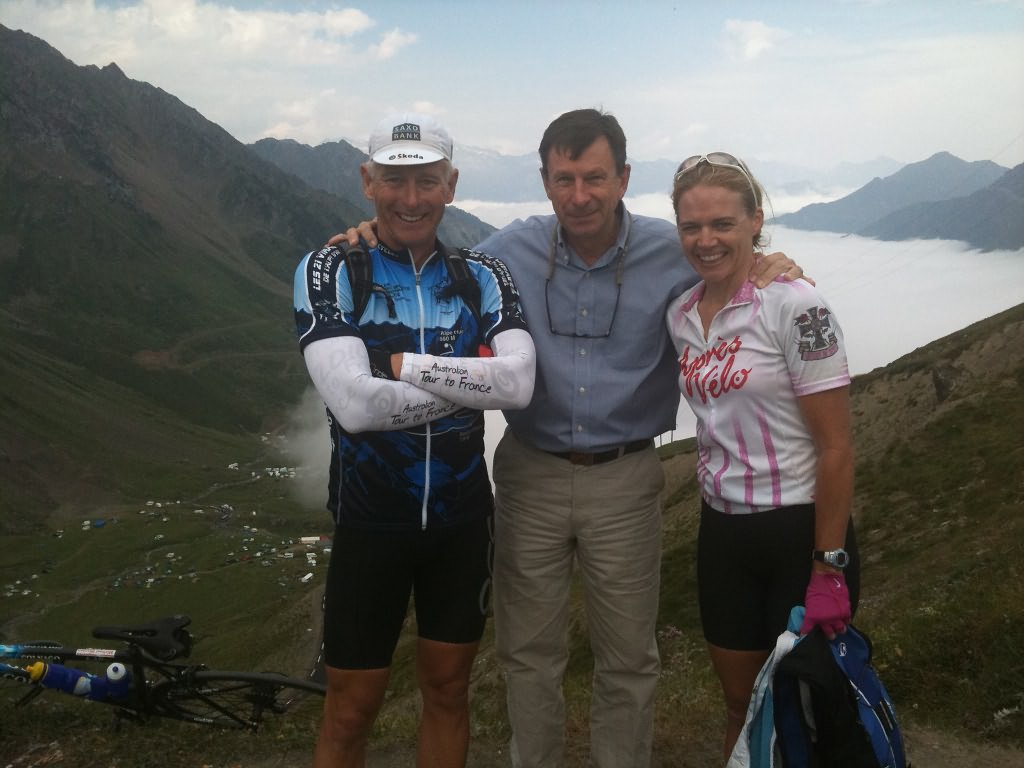 Cock-a hop to have scaled Col du Tormalet on July 21st í10 in 1h 28m at 11.6 km/h. The following day Contador and Schleck went head-to-head up to the same Col. The lass is the headmaster of a posh private girls college in Brisbane who took only 10 mins longer. We rode Col du Tormalet from the other side to Contador and Schleck. Our ascent took us through the ski village of La Mongie. All up it's a 36km climb starting at 550m above sea level and finishing at 2,150m (1,600m elevation) at 4.4% avg. The official HC statistics taken for the final 17kms of the climb, starting at Saint Marie de Campan and finishing at the summit the gradient, is 7.2% ave and 1,215m vertical. We bumped into Paul Sherwin and Phil Liggett at the top, but no they weren't there to greet us, but rather setting up for the following day's Stage.