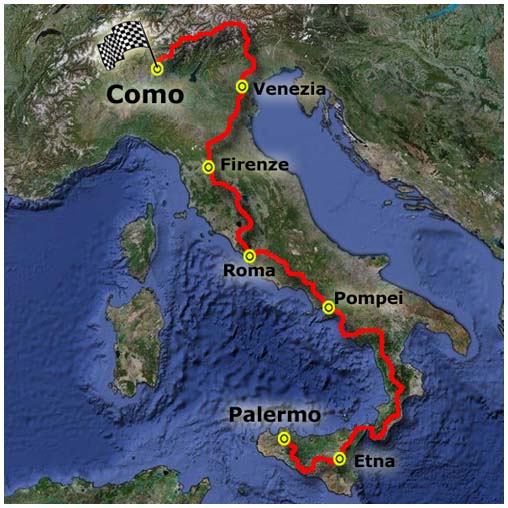 Eliz scored the unusual moniker of
Not-a-normal Nonna from her grand-daughter, Emily, because most Grandma's don't take on arduous endurance sporting challenges such as cycling over 3,000km, averaging 105km per day, from Palermo in Sicily crossing the Strait of Messina and continuing north through Pompeii, Rome, Florence and Venice, finishing at the shores of Lake Como.
Not-a-normal Nonna did, successfully completing it in the northern summer of 2009 on a route known as La Bella Italia, organised by the Dutch cycle tour company, Bike Dreams.
Highlights included scaling the precipitous 48 hairpins to Le Summit of Passo dello Stelvio at 2,760m, the magnificent Dolomites, campsites by the river enjoying a Cappuccino, a Gelati or a glass of vino - sometimes all of the above - Sicily, La Sila in Calabria.
Liz is definitely
Not-a-normal
Nonna.

(NB: Eliz knows how to fix a bike prob, but couldn't set the date on her camera.)