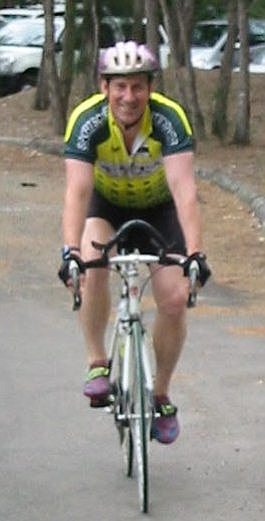 Pete has the unenviable label "Knees" 'cause he's had 8 Ops on his two Pole Holders, including two total reconstructions - they take new rubber bands out of your hamstrings and pin 'em either side and all which ways around your gummy knee, 'cause as Dr Kafoops would have inferred, "Mr Hammond, You've rooted all the ligaments". Technical term medicos employ is "degeneration". But it means the same thing. Pete has also had meniscus cartridge trimmed from both knees.
Whereupon both knees look like Jack the Ripper has ran amuck. Or the TV viewers' worm on the screen got drunk and went walkabout. But the bastard can still hammer up a hill like a draught horse with a wary regard for his master, as evidenced on Pete's 2nd Muggs ride when he scaled that 16o gradient "Loombah St" - back of Careel Bay en route to Whale Beach.
Pete has the oldest bike amongst Muggs - an 18 year old TechnoBullshit prototype aluminium frame with the gear change on the down tube. But he still powers along, and his downhill freewheeling speeds suggest he's riding top shelf Mavic rims. Knees will be AWOL for a month holidaying - US/Europe, where he might pick-up a circa 2005 bike. So watch out front runners.