| | | |
| --- | --- | --- |
| | RAAMBO | |
The 1,250km Paris-Brest-Paris was as close to the Tour de France as I will ever get. We were cruising through the French countryside; through the little towns with their round-a-bouts. Motorcycles whizzing by with video cameras, fans cheering along side of the road. Riders speaking in French. It was quite a high.
| | |
| --- | --- |
| | |
| 4,000 riders at the 10pm start | |
Training for the PBP began for me just over a year before the event this included the qualifying rides, a 200km, 300km 400km and a 600km. Personally I found the 400K ride to be the toughest, with the 600 you can make up a bit of time and catch some zzzzzzzzzz but the 400 is go, go, go. That ride took Steve
Cooper and I, 20hrs on a rainy and cold Aussie winter day. We were both on Optima Barons.
With just a week to go until the start of the PBP I was held up with trying to bring a business deal together, it didn't look like I would make it to this PBP at all. On the same day the ride started the gods (those that ride bikes) smiled and the contract was signed……..
I jumped onto a plane at 8.30pm Aussie time, tried to get as much sleep as possible on the 24hr flight. We (baron and me) arrived in Paris the next day; it was now more than 30hrs after the start. What to do? My body clock was somewhere between Australia and France and the slowest of the riders was maybe 300-350Ks ahead of me. Starting so late! This was now not to be an official PBP for me but still enough to be a real PBP adventure. The Baron performed very well on the mostly undulating roads of that part of France at times I passed packs of 30-40 riders, sometimes at more than double their speed. This often draw interesting comments from those roadies in the bunch – one French rider yelled out "Mon Dieu!!" (what does that mean??)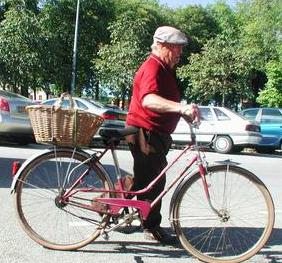 As the sun goes down, it starts getting chilly and there's a bit of mist in the air. Occasionally you'll see a bike going the other way – cycling is popular here and people cycle for sport, fun and transportation. Baguettes too - not a cliche - you see people walking or cycling down the street with baguettes in their arms everyday.
The PBP is not just about riding a bike for 1200kms, it is also about people and how different personalities react to what is very stressful on both the mind and body.
I saw a bloke who had fallen asleep while eating, and when he raised his head from the table he had mashed potato in his hair and down one side of his face, he didn't seem to notice or maybe he was just too tired to care. He put on his helmet and rode of into the cool French night.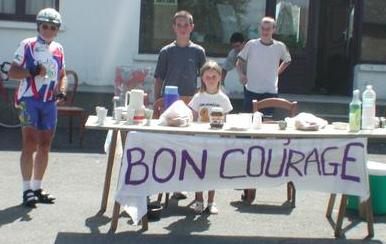 All along the route, the children giving water, biscuits or other French tit-bits, the families brewing coffee in the middle of the night, and the crowds applauding and shouting "Bravo!" as It was unbelievable.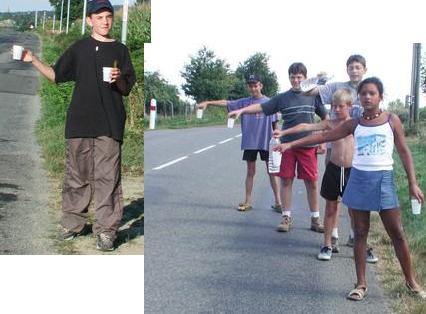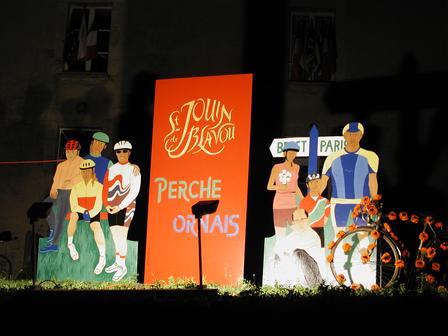 The French are really into the spirit of the PBP and many of the small towns and villages decorate the roadside with old bicycles festooned with flowers, emblazoned with Christmas lights and similar ornamentation.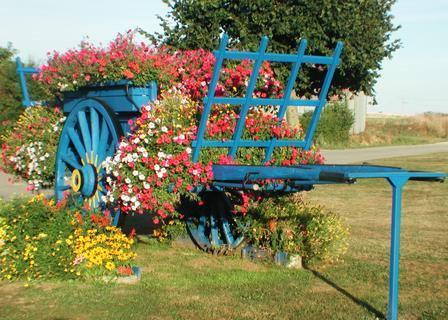 The start and finish of the ride takes you through city streets in large packs of eager cyclists. Sometimes it feels like a Sydney-Gong or Round the Bay in a Day as we're directed through traffic lights and local cyclists jump on to join the fun. I rode with a pack through city parks with narrow lanes and steep climbs and their momentum hurled me on.
My memories of PBP are ones I will cherish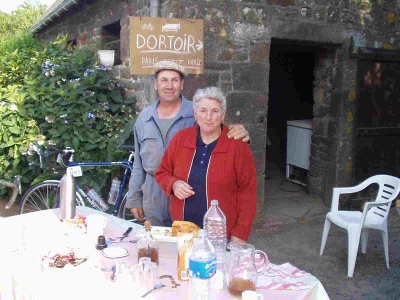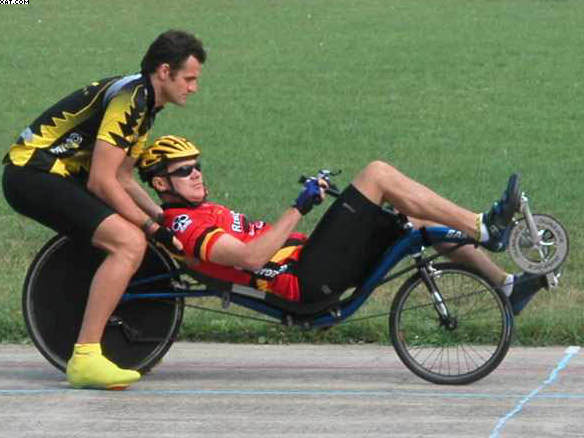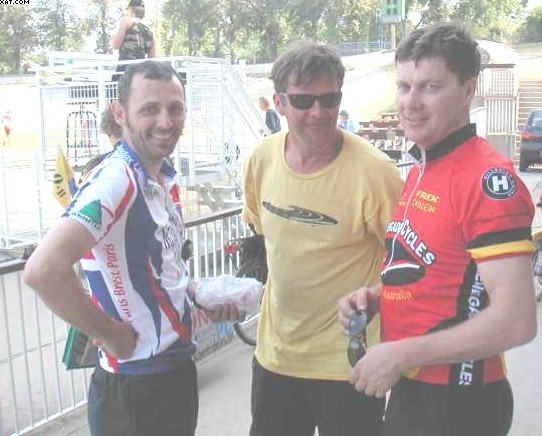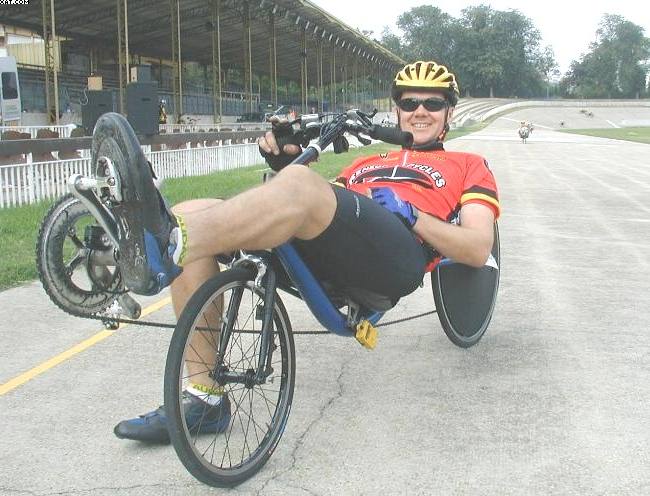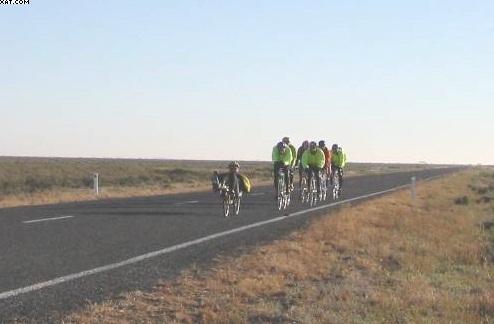 ---Original Message-----
From: Glenn Druery [mailto:weec@bigpond.net.au]
Sent: Tuesday, 23 December 2003 12:31 AM
To: ozhpv@yahoogroups.com
Subject: Wallaby v Lowracer
On Sunday the Bicisport, Northside, Manly-Warringah and Brookvale cycling clubs let the Baron (Lowracer Recumbent)and I participate in the Clubs 10km Time Trial and 50km road race.
The deal was that I could start at anytime in the Time Trial but would have to start 5 mins after A grade in the road race, so it was really a chase for me.
This was to be an opportunity to display the superior speed of the Lowracer design to a heap of hotshot roadies.
Entrants in the road race had to first do the T.T
My time was 14.37, only a couple of young A grade riders beat me, this was a good start. After the T.T and before the start of the road race about 6 or 7 roadie riders wanted to talk to me about this "bloody fast bike"
The overall attitude of the riders and officials towards the recumbent was very positive.
And so for the road race.
All the roadies stated and 5 mins later I was let go,
I marked the first of the roadies at about 25km, at this point I became totally revved and my HR was toping 190 fortunately this was where some big decents were, I gave it all I had.
My max speed for the day was 89.6km/h
With less than 5km to go, I had passed a lot of riders that had fallen off the pack but it was unlikely that I would catch all of them.
On the second last big downhill before the finish I spotted a bunch of riders half way down the hill. My plan was to give it hell on the downhill and pass all of them before the finish. THIS DID NOT HAPPEN!!
While approaching speeds in the mid-late 60s a wallaby came from nowhere, I didn't have a hope of avoiding it. I hit the deck at around 70km/h and rolled and rolled on the rough aggregate road for what seemed like the length of a football field.
I was not in good shape, my leg was bleeding badly, but it was the left arm that concerned me. When I looked at my arm the sight of ripped muscle and exposed bone didn't do a lot for my morale.
I laid on the side of the road until some of the roadies came upon the scene of carnage. One of them rang an ambulance, however luckily for me within seconds some guys rolled up in a car. The friendly but squeamish good Samaritans poured me into the car and drove at high speed to the Hospital.
The nice people at the hospital gave me lots of drugs that made the world seem like a really cheerful place, I was put to sleep and the damage repaired.
No broken bones ripped tendons or head injuries but lots of skin left on the road, 25 stitches in my arm and the possibility of skin grafts looming.
Still haven't seen the Baron, will go get it tomorrow
Let you know the bike damage later.
Race result – wallaby won – Lowracer zero.
Wallaby last seen hopping off into the bush.
Glenn
----- Original Message -----
Sent: Saturday, January 29, 2005 9:13 PM
Subject: 400km race on No Com

Lots of BIG HUGS AND KISSES for Sarah, aka Novice for your wonderful support and encouragement in the 400k bike race yesterday..
That coffee you made was just about the BEST coffee I've ever had……
I had planned my first stop to be around 100-120Ks, your support made it possible to ride until nearly 200km before I had to replenish fuel and liquid supplies, this gave me a big advantage and helped me go on and beat the race record by nearly 1hr.

This was truly one of the hardest races I've ever competed in, as usual I went out WAY too hard for the first 120k or so and paid dearly later on with bad cramping and a major reduction in speed. Sarah's delivery of bananas, coffee and other assorted snacks sorted me out and propelled me into my 2nd wind - this made it possible to take the lead for more than 200ks..
From the 150- 250k mark I settled into a reasonably fast groove and it was here I hit my max speed for the day. Somewhere around 270 Ks I slipped onto another low energy level and I could think of a bunch of reasons why I should just pull the pin and go get some sleep. My body from the waist down screamed at me with pain from being pushed so hard, the heat during the early stages of the race had taken a toll and I don't think I drank enough, the fact that I didn't need to pee until 200K was not necessarily a good sign.
Thanks Peter Heal for dragging me around the loop for so many laps during this period.
Some time around 12am (I think) the race officials yelled "done 300km" this was a turning point, only 100Ks to go, that's an easy Sunday ride, my mental state jumped into overdrive and all I wanted to do was finish.
More food, more liquids, more energy gels and more bullshit in my head convincing my body to fire up for the final run home.
At 350Ks it happened, I was on fire, phone calls from family and friends helped motivate me into an almost euphoric state of mind and body, I felt like I could fly. Some of my best lap times for the 400 were after the 350 mark.
From 380Ks until the end I was lapping one guy every lap and the faster riders every third or fourth lap.
When the crowd at the start/finish line started to YELL and CLAP for me every time I came around, this just helped me dig deeper and push harder, I was now smiling and happy to be so near the end of the epic race.
With 10Ks to go I ran out of water I didn't think this was such a big deal but maybe the painful post-race cramping could have been avoided if I did drink more.
On last 5 laps (about11km) I started singing, I was SO happy to have nearly finished, I looked at the trip computer and realised that not only was I going to SMASH the race record but also finish in under 12hrs if I worked just a bit harder, the final laps were some of the fastest all day and the last lap was the third fastest.
I finished first in 11hrs and 57mins.. A GREAT DAY..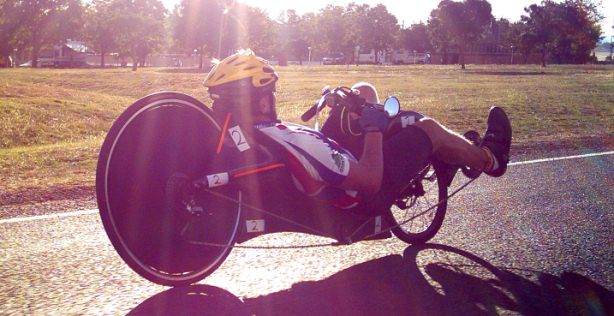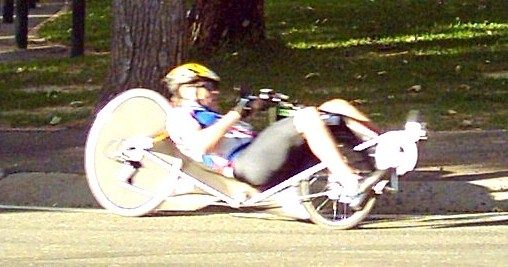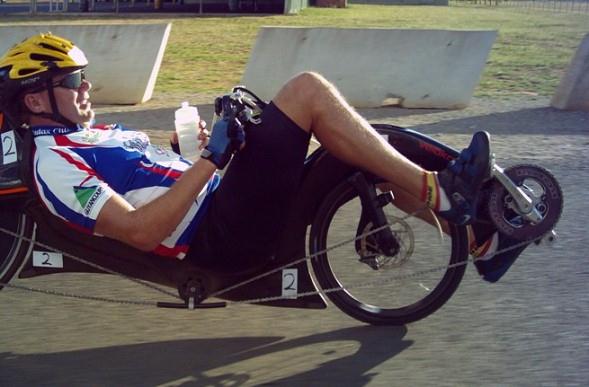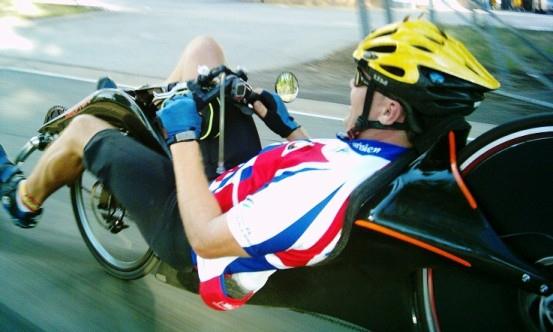 -----Original Message-----
From: Glenn Druery [mailto:weec@bigpond.net.au]
Sent: Sunday, 30 January 2005 9:05 PM
To: scribepj@tpg.com.au
Subject: Re: Fw: 400km race on No Com
Sri Chinmoy Record
The previous best time for an individual at the Sri Chinmoy 400km bike race was 12hrs and 48mins.
The new time is 11hrs and 57mins held by me.
1st World Record:
On the 12th August 2000 Byron Gremley rode his recumbent 388.53km in 12hrs A WORLD RECORD.
At 3am on Saturday the 29th January in Canberra I rode my recumbent 400km in 11hr and 57mins A NEW AMATEUR WORLD RECORD.
2nd World Record:
The fastest Audax time for a 400km ride is 12hr and 39 mins. I just broke this by more than 49mins.
Team RANS in 2009 Race Across America