GungHo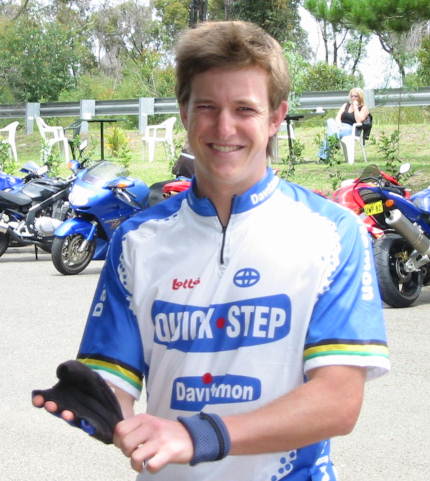 With the backdrop of high powered motor bikes at Pie in the Sky, you could think that tyro Rich is gloving-up to ride one of em. This rookie immediately got labelled GungHo, 'cause Rich had only owned his bike for 3 weeks and hadn't cycled more than 30km in any one ride. Scribe happened to enquire as Rich passed Scribe ascending to Kalkari Reserve on Boxing Day, "Are you riding on your own?" to which Rich responded, "Yes".
Bank Teller immediately invited Rich to join Muggs' 20 strong throng to the Road Warriors' Cafe. The above pic evidences he did, and rather than his planned 30km loop from his Turra' digs to Mt Colah, he ended-up clocking 100km, and he reckoned to Kaza that momentarily during his 4th climb from Bobbin Head to Nth Turra', he was pondering the merit of his exuberance. But buy the time GungHo had pulled into Nth Turra' shops, the pain of that 4km climb had slipped to his back-burner.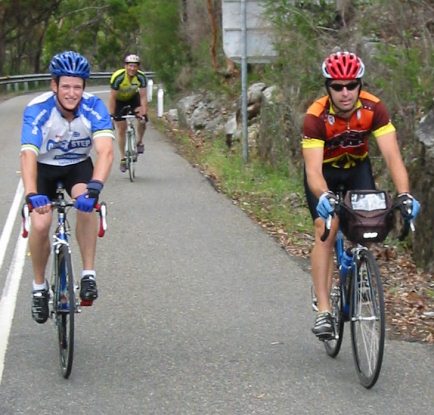 GungHo, Knees 'n Tornado climbing from McCarrs Creek
The Concise Oxford defines "gung ho' as an adjective - pidgin English from Mandarin Chinese meaning:
"extremely enthusiastic and enterprising, sometimes to excess"
"exceedingly keen to participate in military combat".
On Sunday 9 Feb whilst luncheoning at Whale Beach on a "Tour de Northern Beaches" ride, Bank Teller mentioned he'd swam the 2.2km "Palm Beach to Whale Beach" swim a few times in the early-'90s. "It is the 'piece de résistance' of tougher ocean swims, particularly if a big swell is running. One year with a Nor'easter swell, I swam it in 47 min. A year later it took me 88 min, and almost a third of the field couldn't even get out of Palm Beach as the Southerly swell that year was big. In the Palm to Whale you swim out of Palm and then head almost 2km Sth down a rock headland before chucking a right to enter a much anticipated Whale Beach. Whereas many of the other beach swims eg. Bondi's Cole Classic are merely confined within a large beach. It is traditionally held on the Sunday of the Australia Day w'end which clashes with the Audax Alpine Classic in Bright Vic, so I don't get to swim it these days, but it, and the Shark Island swim in March down Sth, are the best."
GungHo immediately retorted that a buddy had talked him into entering this year's Palm to Whale. Bank Teller enquired had Rich done many ocean swims. Rich responded, "No. This will be my first." Phil further enquired, "Do you do much lap swimming?" Rich responded, "No, not lately, but I plan to get down to the pool a few times leading up to it." Phil mused, "Hmmm, most people start with the easier ocean swims, and build up their confidence." Phil assured Rich, "Don't worry, once you get used to it, swimming in a big swell isn't much different to swimming in a pool, when the water level shoots up, you go with it, when it drops down, so do you. So long as you can swim 2km in a 50m pool (ie. 40 lengths), you never give up in an ocean swim. Something inside you drives you on. Perhaps it is the fear of the alternative."