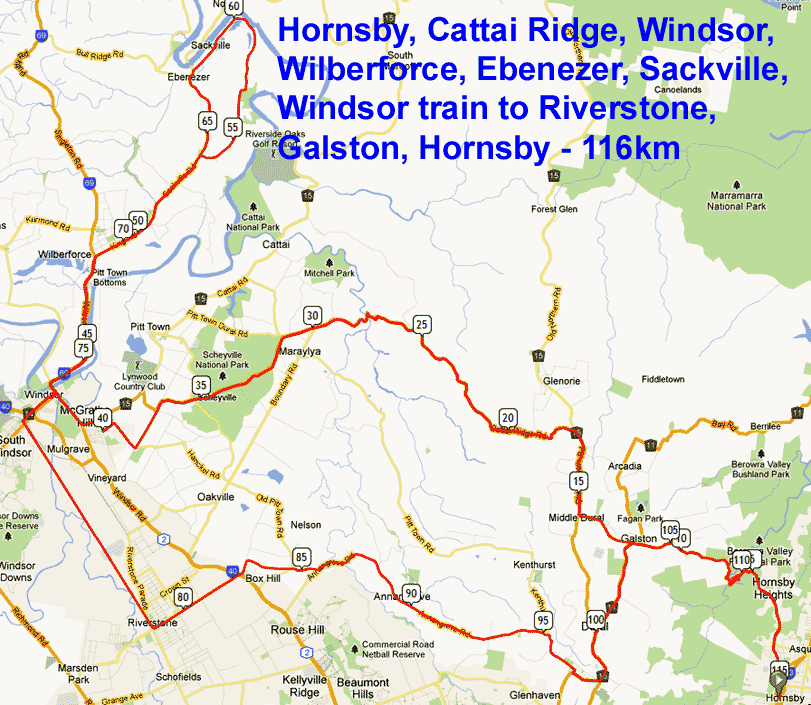 1st Leg - Hornsby street front carpark 100m Nth of Railway Hotel in Jersey St on West side of station to Galston Bus Shelter: - 11.6km approx - 45 min:
* Rollout 7:10am from Hornsby station carpark Nth up Jersey St for 500m,
* L into Bridge Rd 40m to lights at Old Pacific H'way,
* R Nth for 700m on Old Pacific H'way,
* L at lights into Galston Rd for 5km to Galston Gorge noisy timber bridge,
* Ascend for 3km to Crosslands Rd,
* L for 1.1km to main roundabout and another 100m to
Bus Shelter opposite Galston shops arriving 8:05am.
2nd Leg - Bus Shelter opposite Galston shops to Windsor - 33.4km (agg 45km) - 70 min:
8:10am ahead along Mid Dural Rd, R into Old Northern Rd, L into Cattai Ridge Rd, ahead Scheyville Rd arriving The Bridge Cafe, Macquarie Square, Windsor 9:20am for 1st Nosh Stop (35 min).
3rd Leg - Windsor to Wilberforce, Ebenezer, Sackville ferry anti-clock loop back to Windsor – 37km (agg 82km) - 100 min:
9:55am descend and cross the adjacent Old Windsor Bridge heading N along Wilberforce Rd for 7km to Wilberforce - taking the bike lane with views of river flat vegetable farming.
R at a slight incline into King Rd for 5.4km after passing thru Ebenezer the road becomes Sackville Rd.
R into Tizzana Rd for 8.9km which leads to Sackville as we wind anti-clockwise NW, then fleetingly W then SW, then S, passing the Tizzana Winery and a lily farm opposite, with 1.5km of good unsealed road.
Upon arriving at "T" intersection where Tizzana Rd meets Sackville Rd - R for 200m and re-group off-road Sag Stop (5 min) above Sackville Ferry entrance arriving 10:30am.
Left retracing to Windsor back along Sackville Rd. Left into King Rd. Left into Wilberforce Rd arriving Windsor 11:35am to catch a train to Riverstone which departs Windsor every 30 mins at 26 min and 56 min after the hour and takes 14 mins to arrive at Riverstone.
4th Leg - Riverstone to Galston - 23km (agg 105km) - 60 min:
12:15pm ride Nth up Garfield Rd East, Right into Windsor Rd, Left into Nelson Rd/Edwards Rd, Left into Annangrove Rd, Right into Kenthurst Rd, Left into Old Northern Rd, Right into Galston Rd arriving Galston shops at 1:15pm for 2nd Nosh Stop (20 min) at Galston shops.
5th Leg - Galston to Hornsby - 12km (agg 116km) - 40 min:
1:35pm ahead East along Galston Rd, down/up the Gorge, arriving Hornsby station carpark 2:15pm.