Muggaccinos.com The Bullsheet Sunrise 6.55am
8:20am Sunday, 10 June '18 - Hornsby to Windsor, Wilberforce, Ebenezer, Sackville loop to Windsor for Choo Choo to Riverstone, cycle back thru Galston Gorge - 116km - ETR 2:15pm
Shorten ride distance by 22km to 94km by starting from Galston Village shops at 8:20am.
The 3rd leg from Windsor to Wilberforce, Ebenezer, Sackville ferry anti-clock loop back to Windsor is beaut. Muggs rode it a lot until a few years ago.
WHO, WHEN, WHERE:
Ride Organiser, Phil Johnston aka Bank Teller 0434 715.861 [1st Acceptor], Pete aka CampyAficinado [2nd Acceptor], Jean aka ChiliDog [3rd Acceptor], are starting from the Bus Shelter opposite Galston shops at 9:05am for the 94km shorter route.

................................are starting from Hornsby station carpark @ 8:20am with, David aka MountainGoat, Bill aka Glasgow, and , , Barry aka BackPacker ], Ron aka Draughtsman [3rd Responder], and AnotherBeanCounter [4th Responder], Kev aka TexDubbo, , Scott aka PatternMaker, John aka Auckland

APOLOGIES:
Jane aka Neo-Luddite is still tied-up moving digs and is keen to join Muggs next week.

Justine aka Trumpeter is on baby duty, but is confident about riding next week.

Eric aka PapaBear is hopeful of joining Muggs rides within four weeks after a sholder Op to enable him to cycle faster.

Bill aka Glasgow has had surgery to loosen contracting fingers. He hopes to join us in about three weeks.

Cloris aka MarketingGuru is on two weeks hols, but then keen to see more new cycling terrain and cafes with Muggs, so long as they can keep-up.

John aka Auckland is on vacation for 4 weeks from 20th June, visiting Alice Springs, Uluru, 4wd Finke Gorge, Kings Canyon etc plus 2 weeks 4WD in the Simpson Desert, on the Madigan Line. "It is a long time since I have been a regular rider, but I do intend to return as a regular on your rides. After our holiday, or before, I look forward to catching up with the Muggs crew on a Sunday ride".

If you think you are >80% of joining us, please e-mail Scribe. Hopefully it is not beyond you.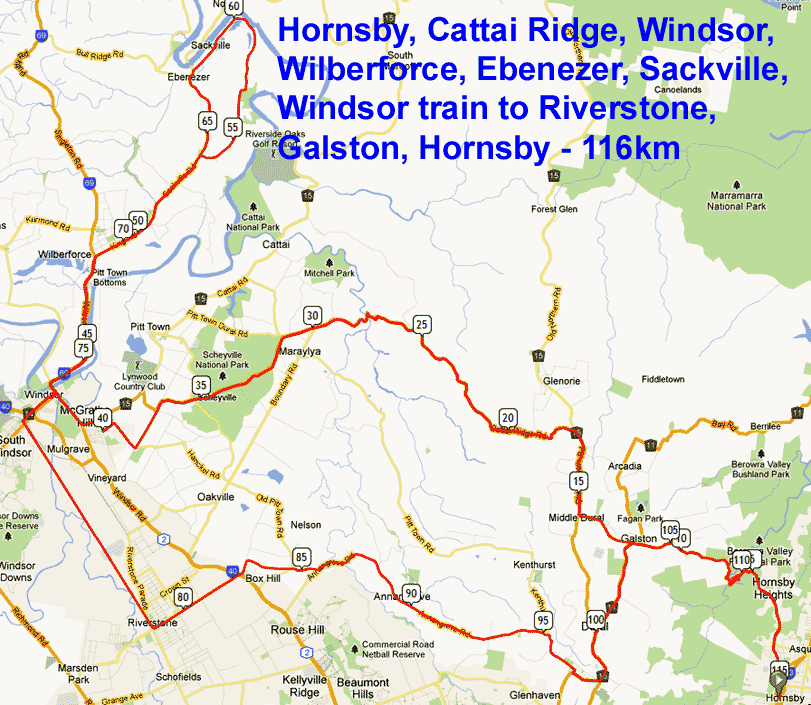 1st Leg - Hornsby street front carpark 100m Nth of Railway Hotel in Jersey St on West side of station to Galston Bus Shelter: - 11.6km approx - 45 min:
* Rollout 8:20am from Hornsby station carpark Nth up Jersey St for 500m,

* L into Bridge Rd 40m to lights at Old Pacific H'way,

* R Nth for 700m on Old Pacific H'way,

* L at lights into Galston Rd for 5km to Galston Gorge noisy timber bridge,

* Ascend for 3km to Crosslands Rd,

* L for 1.1km to main roundabout and another 100m to
Bus Shelter opposite Galston shops arriving 9:05am.
2nd Leg - Bus Shelter opposite Galston shops to Windsor - 33.4km (agg 45km) - 70 min:
9:10am ahead along Mid Dural Rd, R into Old Northern Rd, L into Cattai Ridge Rd, ahead Scheyville Rd arriving The Bridge Cafe, Macquarie Square, Windsor 10:20am for 1st Nosh Stop (35 min).
3rd Leg - Windsor to Wilberforce, Ebenezer, Sackville ferry anti-clock loop back to Windsor – 37km (agg 82km) - 100 min:
9:55am descend and cross the adjacent Old Windsor Bridge heading N along Wilberforce Rd for 7km to Wilberforce - taking the bike lane with views of river flat vegetable farming.
R at a slight incline into King Rd for 5.4km after passing thru Ebenezer the road becomes Sackville Rd.
R into Tizzana Rd for 8.9km which leads to Sackville as we wind anti-clockwise NW, then fleetingly W then SW, then S, passing the Tizzana Winery and a lily farm opposite, with 1.5km of good unsealed road.
Upon arriving at "T" intersection where Tizzana Rd meets Sackville Rd - R for 200m and re-group off-road Sag Stop (5 min) above Sackville Ferry entrance arriving 10:30am.
Left retracing to Windsor back along Sackville Rd. Left into King Rd. Left into Wilberforce Rd arriving Windsor 11:35am to catch a train to Riverstone which departs Windsor every 30 mins at 26 min and 56 min after the hour and takes 14 mins to arrive at Riverstone.
4th Leg - Riverstone to Galston - 23km (agg 105km) - 60 min:
12:15am ride Nth up Garfield Rd East, Right into Windsor Rd, Left into Nelson Rd/Edwards Rd, Left into Annangrove Rd, Right into Kenthurst Rd, Left into Old Northern Rd, Right into Galston Rd arriving Galston shops at 1:15pm for 2nd Nosh Stop (20 min) at Galston shops.
5th Leg - Galston to Hornsby - 12km (agg 116km) - 40 min:
1:35pm ahead East along Galston Rd, down/up the Gorge, arriving Hornsby station carpark 2:15pm.
Risk Warning
Ø Hardcopy these directions and bring on Sunday
Ø Expend 5 min studying your street directory for the 1st Leg from Cnr Mid Dural Rd and Old Northern Rd left into Cattai Ridge Rd, Scheyville Rd to Windsor
Ø Don't ride two abreast on single lane roads with an unbroken centre line and descend corners on wet roads as though you are skating on ice
Ø When passing a fellow Mugg, always provide a metre clearance. If you can't, or are passing on the inside, you MUST call out loudly eg. "passing inside" etc
Some forms of cycling are dangerous. An ave of 36 Australian cyclists have been killed annually since 2000. 95% of these fatalities occur on the road.
Other cyclists in Australia break bones and incur nerve impairment from falling off their bikes in accidents.
A cyclist could fall from his/her bike, inter alia, due to -
(i) being hit by a car or another cyclist; or
(ii) encountering a pothole;
(iii) cycling too fast on a wet downhill where the coefficient of friction is much less, particularly at corners; or
(iv) getting their bicycle wheel caught in a gap in a timber bridge.
A negligent cyclist could -
(a) be litigated by a seriously injured cyclist, or 3rd party (ie. a woman pushing a pram on a footpath or a car driver) under common law where the damages could exceed $500,000; and
(b) lose his/her home if he/she did not have public liability insurance which covers their negligence whilst on a push bike.
A negligent cyclist who did not have personal injury insurance (ie self-employed without income protection cover) could struggle to meet regular outgo commitments.
A seriously injured cyclist could be awarded damages which a negligent cyclist could not afford to pay if the negligent cyclist -
(I) did not have public liability insurance cover; and/or
(II) did not possess valuable assets.
Ø Cycling without Public Liability cover is as silly as driving without 3rd Party -
join Bike NSW for PL insurance, so that all Muggs are better protected
Ø Click on: Risk Management which warns of 'inter alia', the dangers of cycling on public roads with motor cars, potholes and over bridges with vertical timber planks with gaps
Ø Cycling with Muggs is predicated upon notifying Bank Teller if you materially disagree with any clause(s) in Muggaccinos' "Ride Participants Liability Acknowledgment"
Last Sunday's ride to Windsor via Wisemans Ferry Rd and the Sackville Ferry, returned along Cattai Ridge Rd - 112km - 8 riders
Our 1st Nosh Stop was the Glenorie Bakery where the locals must all suffer from insomnia on Sunday mornings
Bank Teller 5 June '17