Prologue: Start 6:15am in Rohini Street carpark NE side of Turramurra station to Nth Vimiera Rd carpark - 4km - 8 min
Cycle 200m up Rohini St to Pac H'way, R for 100m, L down Kissing Point Rd to Browns Water Hole and Vimiera Rd entrance by 6:40am.
Or park at Nth Vimiera Rd carpark, Marsfield for 6:30am roll-out to arrive Blacktown station to catch 7:59am train to Emu Plains station arriving 8:17am.
1st Leg: Start 6:30am Nth Vimiera Rd carpark to Blacktown station - 23.2km - 60 min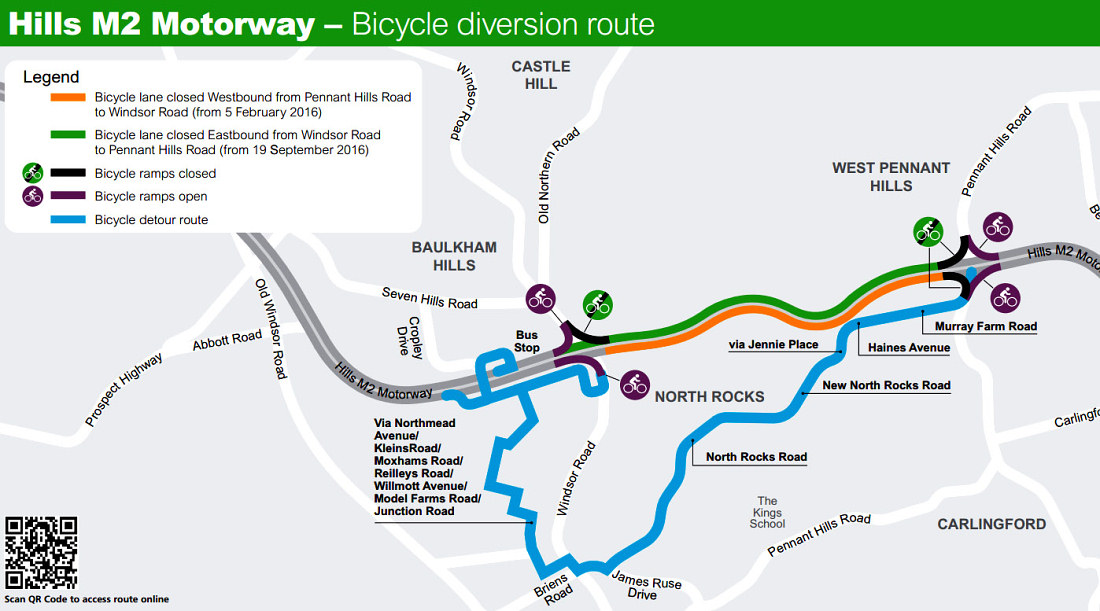 Please read NorthConnex bicycle diversion as we need to catch the train at 7:59am, so no stuff-ups:
"The eastbound detour is approximately 11km and starts at the Hills M2 motorway near Cropley Drive (Winston Hills), follows Windsor Road, Northmead Avenue, Kleins Road, Moxhams Road, Reilleys Road, Willmott Avenue, Model Farms Road, Junction Road, New North Rocks Road, Jennie Place, Haines Avenue, Murray Farm Road before rejoining the Hills M2 at Pennant Hills Road. Cyclists are advised to allow extra travel time for their journey."

| | |
| --- | --- |
| Nth up Vimiera Rd for 200m | 0.2 |
| Left onto M2 for 5km | 5.3 |
| Left off-ramp onto Pennant Hills Rd (Cumberland Highway) for 200m | 5.5 |
| Ahead South down Cumberland Highway for 900m | 6.4 |
| Right (West) into North Rocks Rd for 7.5km | 13.9 |
| Continue ahead on Barclay Rd for 700m | 8.2 |
| Continue West onto Renown Rd for 700m | 8.9 |
| Continue straight onto Park Rd for 150m | 10.05 |
| Turn left onto Cook St for 400m | 10.45 |
| Turn right onto Windsor Rd for 300m | 10.75 |
| Turn left onto Seven Hills Rd (signs for Blacktown) for 3km | 13.75 |
| Continue Ahead onto Prospect Hwy for 250m | 14.0 |
| Turn right onto Lucas Rd for 800m | 14.8 |
| Lucas Rd turns slightly right and becomes Sackville St for 450m | 15.25 |
| Left along 'bike path' adjacent to Sunnyholt Rd for 250m | 15.50 |
| Right at pedestrian traffic lights into Prince St for 400m | 15.90 |
Arrive Blacktown station 7:45am for 14 min wait for train to Emu Plains departing at 7:59am arriving Emu Plains at 8:17am.
Two 2nd Leg options:
* Hard 2nd Leg: Emu Plains station up mega precipitous Old Bathurst Rd to Blaxland station, thence Warrimoo and on to Springwood for Nosh Stop at The Subway - 17km (60 min)
Alight train at Emu Plains station at 8:17am on southern side and take path under rail line entering Old Bathurst Rd from Mackellar St for a level 2km stretch to a short but really steep KOM Climb starting 15m past traffic lights at Bus Stop sign and ending 2.05km later at Bowaga Ave for 1st Sag Stop (10 mins). Continue West to Springwood arriving 9:20am for 1st Nosh Stop [30 min].
* Or Easy 2nd Leg: Blaxland station thru Warrimoo and on to Springwood - 9km

Alight train three stations later at Blaxland station at 8.16am and wait for cyclists in Wilson Way (300m after we turn Right from Old Bathurst Rd) on our route to Warrimoo and Springwood. Thence on roads which hug the Great Western H'way to Springwood arriving 9am for 1st Nosh Stop [30 min] at Aroma Cafe 300m down Raymond Rd on LHS of Macquarie Rd after 41.2km.
3rd Leg: 26km from Springwood to Richmond station alighting at either Seven Hills or Riverstone station - 70 min
9:50am re-trace 250m back down Macquarie Rd;
Left following signs NE to Richmond, along Hawkesbury Rd, Springwood Rd, thru Yarramundi pulling-up at Hawkesbury Heights Lookout on RHS after about 12km for 5 min Sag Stop whilst gawking at the awesome view.
Thence descend from the Hawkesbury Heights Lookout to Richmond to catch train half hourly service at 10:40am, or 11:10am or 11:40am for 41 min trip to Seven Hills station arriving 11:21am, 11:51am or 12:21pm.
4th Leg: 25km from Seven Hills station to Turramurra station - 70 min - ETR 12:50pm
Alight at Seven Hills station at 11:51am -
Left into Terminus Rd for 300m
Left into Prospect Highway for 700m (care two lanes but no shoulder, so try and cycle with another cyclist beside you to occupy the entire lane);
Right into Abbott Rd/M2 for 11km being careful as some traffic roars up Seven Hills Rd;
Left off M2 at Pennant Hills Rd off-ramp;
Retrace 1st Leg above along Seven Hills Rd, Barclays Rd etc to Vimiera Rd
Down/Up Browns Waterhole
Ahead up Kissing Point Red for 3.7km with a 65m section just before the apex which is killer;
Right onto Pacific Highway for 200m; and
Left into Rohini St for 250m to carpark - ETR 1:01pm.