www.Muggaccinos.com The Bullsheet
Sunday, 4 July, Ferry Boat to Patonga & Iron Horse from Woy Woy to Brooklyn
* Depart Nth Turra' shops by 9am - 91km – ETR 4pm; or
* Depart Hornsby by 9:25am - 65.5km – ETR 3:20pm
Ride Organiser: Phil Johnston 9498.3684 hm

Hardcopy these directions and bring on Sunday

Cycle two abreast at own risk. Keep well to LHS

Get off the road at Sag Stops

Maintain your membership of Bike NSW for Public Liability cover in case another Mugg sues you for riding negligence
When passing a fellow Mugg, always provide a metre clearance. If you can't, or are passing on the inside, you MUST call out loudly eg. "passing inside tight" etc
Snapshot:
Depart by 9am from Nth Turramurra Shops on Bobbin Hd Rd or by 9:25am from Hornsby Stn W side, Jersey St.
Catch 11am Brooklyn ferry $10 to Patonga cycle to Woy Woy for train $4 to Brooklyn cycling to Hornsby ETR 3:20pm or Turra' 4:10pm.
NoshStops:
Ferry to Patonga from 10:50am (45 min)
Cafe at 3/5 Blackwall Rd, Woy Woy from 12:40pm (30 min)
SagStops:
1st: Kalkari Reserve at 9:20am (3 min)
2nd: Cnr Sydney Ave and Ocean Beach Rd at 1:05pm outside Shell Garage off the road (5 min)
1st Legs: either Turra' 41.5km or Hornsby 26.3km - to Brooklyn
Due to the 11am Brooklyn ferry departure, arrive -
Nth Turramurra shops on Bobbin Head Rd by 8:55am; or

Hornsby station car-park [75m Nth of Railway Hotel in Jersey St] by 9:20am.
Details for Turra' start:
Rollout by 9am in/out of Bobbin Head, arriving at Kalkari Reserve after 13.5km Sag Stop (3 min). 4.4km later (immediately after passing Asquith Golf Course on LHS) -
R into Belmont Rd for 150m;

L for 30m to lights at Old Pacific H'way;

R onto H'way heading Nth for 20.6km; and

R into Brooklyn Rd for 2.7km around 10:30am.
Details for Hornsby start:
Rollout by 9:25am -
N for 600m up Jersey St;

L for 20m to traffic lights;

R onto H'way heading Nth for 22.5km; and

R into Brooklyn Rd for 2.7km around 10:30am.
Arrive by 10:40am at Red Herring, Brooklyn Pier or the other cafe on the RHS, in time to buy a snack and assemble at ferry by 10:55am for 1st Nosh Stop (30min ) on 11am ferry to Patonga (fare incl bike $10).
2nd Leg: Patonga to Woy Woy - 14km
After 35 min crossing the delightful/majestic/blue Brooklyn Waters at 11:40am, cycle -
5.3km up Patonga Drive to Pearl Beach Drive;

Ahead for 3.2km past the Umina Beach 180o "U"- turn (during the descent) where road changes to Mt Ettalong Rd, then thru Ettalong to SW Woy Woy;

R into Hobart for 200m;

L into Sydney Ave for 150m Sag Stop (5 min) outside petrol station just prior to Ocean Beach Rd and GET COMPLETELY OFF THE ROAD;

Ahead crossing Ocean Beach Rd and along West St for 400m;

L into Trafalgar Ave for 2.9km;

R into McMasters Rd for 450m; and

L into Blackwall Rd for 750m to 2nd Nosh Stop (30 min lunch) from 12:40pm [Turra' 55.5km - Hornsby 40.5km] in the sunny courtyard outside the Grouse House (3/5 Blackwall Rd - 4340.2300ph) where "Mamma Maria" serves yummy burgers.
At 1.26pm [or 2.26pm] we pedal 100m further NNW along Blackwall Rd and cross Railway St (at traffic lights) to Woy Woy station and catch the all-stops train [$3 fare] arriving at Hawkesbury River station 14 min later at 1:41pm [or 2.41pm]. [Alternatively, at 1:02pm or 2:02pm catch an Express train from Woy Woy arriving Hornsby 34 min later - ride distance starting from Hornsby is 40.3km.]
3rd Leg: Brooklyn to Pie in the Sky - 7.5km
Cycle 3.6km West along Brooklyn Rd and climb 3.9km Nth for 3rd Nosh Stop (20 min) at Pie in the Sky from 2:15pm.
4th Leg: Pie in the Sky to Hornsby - 18.7km or Nth Turra' - 31km
Around 2:35pm commence final leg, either -
Sth to Hornsby for 18.7km - 65.5km - ETR 3:15pm [an hour later if you miss the 1:26pm from Woy Woy]; or

Sth for 15.7km, then L into Bobbin Head for 13.9km - ETR Turra' 91km - 4pm [an hour later if you miss the 1:26pm].
Bank Teller's rap-up of Muggs' inaugural Saturday ride - 96km - 9 starters
Kaza, Scribe, Schooners, Ned and Ant assembled at Nth Turra' shops on yet another brill Winter's morn'. We were soon joined by Tony Mc, Richard A and Sandra McC for Cinque Montagnes anti-c/w. Annie joined us at PitS.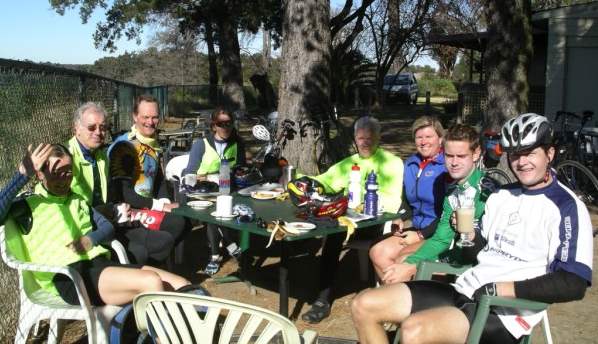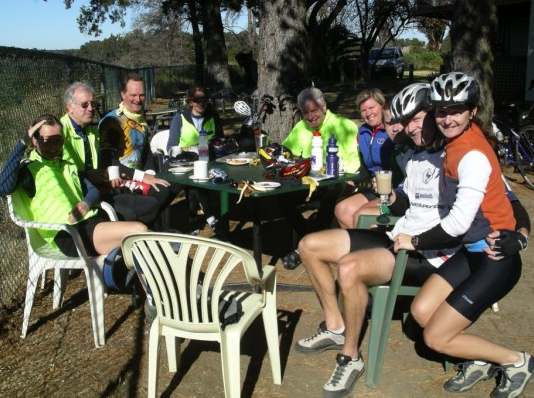 We've all heard of cruelty to dumb animals, and we know there are some Sickos in this world. But when they pop-up in your own backyard, you got to start to wonder. Check out the macabre mind of Ant who took the above 4 graphic pics of a defenceless brown bear who came with his cup of coffee at PitS, as Ned devoured bits of it. Ned's sadism revealed a side of her that wasn't present in the other above/below pics which portray Ned as an innocent, fun loving cyclist. Goes to show, that you never can tell.
Bank Teller pulled-out at Berowra Waters Rd, 'cause Nigger Chores were a beckonin'.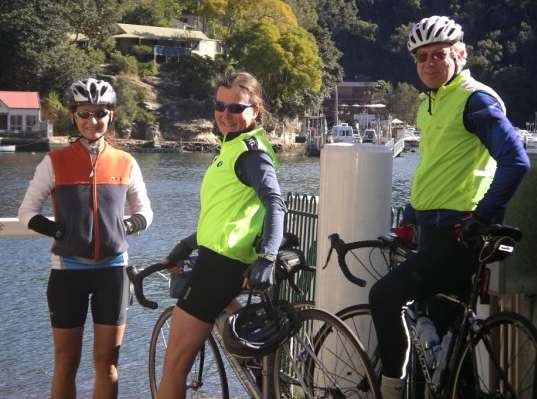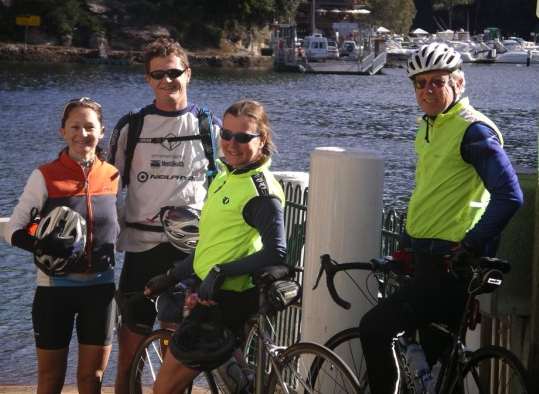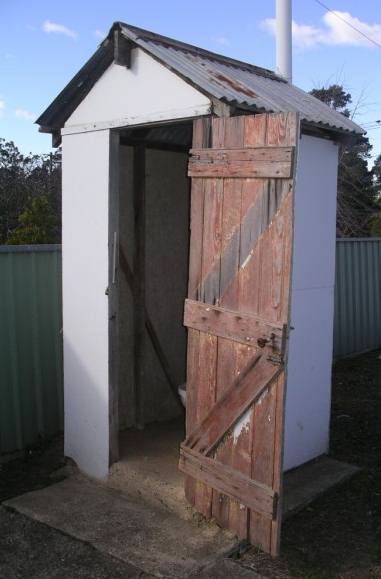 Don't know where Ant found this pic of an out-house, but he sent it across with the rest of the above. Looks like circa Berrilee. But don't know how Ant got close to it from the roadway.
Sunday, 27 June, Whippets rap-up of "Cinque Montagnes" anti-clockwise - 95km - 11 starters
At our mid-Winter 8:30am rollout, Ride Organiser, Bank Teller, was AWOL, having broken one of Muggs' 'Ten Commandments', of not riding on Sunday. Sounds like poor form, but he had an excuse, 'cause the day before Scribe had led (from the rear) Muggs' inaugural Saturday ride which attracted 8 starters - Kaza, Marcel aka Schooners, Ant 'n Ned, Tony McL, Sandra McC, Richard A. and Bank Teller.
On such a fine, sunny Sunday morn', Whippet pondered how could so many stalwarts be missing, with only about 9 on-deck, albeit others joined from the shorter Hornsby departure.
Not a lot of interest for cycling both Saturday 'n Sunday over the same route, so at the 11th hr we opted for the Muggs' Sunday version of the 5 hills with an 8:30am rollout from Nth Turra'. As this was a slim, trim and exceedingly fast group, we would attest, with Whippet one of the slowest.
Others who made it along, included BeanCounter, Navigator, NoPlay, Linda, ToothFairy, Flaxen, Heineken, Samurai, Printer, and Pacific Pete. We met Arno after the contested climb to Kalkari, on route thru Mt Colah. 'Twas then up 'n Over Fire Tower Pass before our drop down to sea level at Brooklyn Rd. Flaxen set a PB of 17:53 for the 3.85km climb to PitSky, with the rest of us similarly sloggin'-it-out, up this familiar climb before our first caffeine fix. Our view 'twas at its grandest with pollution free skies.
There was no hint on the Berowra Waters ferry of what was to come, where we had decided the next stop was Grumpy's. Heineken monstered up this climb where Flaxen clocked a time of 19:12 from the punt to Koppers Log KOM. There was an unfortunate spill of red juice when Whippet "Bit the Bitumen at Berrilee" which was to plague him later on in the ride. Whippet had over-cooked the familiar hard dog leg left (about 150m after a hard right and a slightish downhill) which leads into a long straight stretch prior to Grumpy's. This required a patch-up at Grumpy's to plug a few leaks, which spoilt our second Nosh Stop. (sorry folks).
Heineken again was first to the familiar West Hornsby bus stop; the climb from Galston Gorge saw NoPlay encourage Flaxen to put in another time of 15:49 to what must be the most well acquainted bus shelter for several Muggs.
A good day marred by an old codger who should have taken a familiar corner a tad more circumspect, 'cause that bitumen is hard, but fortunately no poles snapped, and my new treadley somehow came of unscathed. Lost lots of skin and flesh left on the pavement, but that stuff grows back.
Scribe 27 June 04