Photos from CBA Boat 3 in Harbour Bridge to Manly Wharf swim from 7:50am on Sat 4 March 2006
Two nasty swarms of Blue Bottles, which got most of Boat Team 3 swimmers, caused us to not swim a 2km section from Sydney Heads to 700m from Manly beach whereupon Boat 3 and Boat 4 swimmers swam the final 700m into Manly Wharf
Click on: Pics snapped by Adam Jeffrey in CBA Boat Team 1
Click on: Pics snapped by Trent Koch in CBA Boat Team 3
Click on: Report on Commonwealth Bank's Intranet of stoic swim teams under Blue Bottle adversity
Commonwealth Bank's swim team invitation
Pre swim briefing at Blues Point by the swim co-ordinator, Dean of Ocean Paddlers
(Above 'n below) Pictures of Lily from Freehills, as she entered the water to "high five" with our lead-off swimmer, Trent from Challenger Financial Services who is about 5m to the L of our paddler, Phil Carmont, CBA, in top right of pic.
Judging by the splash Lily didn't make that dive would have ranked high points.
If you look closely you can see Lily is about to re-surface smack on target to "tag" up with our lead-off swimmer, Trent.
Trent, from Challenger Financial Services, caught his breath after climbing aboard after his opening 1.4km where the pace was really on.
Lily out in from of paddler, Phil Carmont, early in her initial interval under o'cast skies.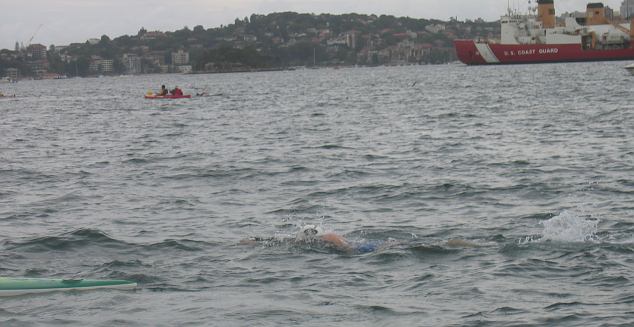 Alison with a strong kick. No swimmer from Boat 3 put in harder swim intervals than Alison, who after each interval took quiet a while to catch her breath.
We had to steer clear of some bigger craft.
Lily has swum in the Cottesloe to Rottnest Island swim and lots of other oceans. With her 6 beat kick churning out the 'wash' in the above pic, it is easy to see why it took Lily on 37 min to swim the 2.7km Palm to Whale Beach in late Jan.
Another entrant waiting for her swim partner to arrive at their change-over
You can tell the men from the boys by the size of their toys - James Packer's Russian Ice Breaker moored off Taronga Zoo.
Lily and Jonathan Horan just after they had high fived their 'tag-up' following Lily 2nd swim interval where she had sought the protection of her white rash vest, 'cause the Bluey's were starting to drift in on the incoming tide.

More obstacles to look out for, as about 60 kayaks which were separately competing in kayak events passed us en route to Manly.
A close-up of Rohan on point duty.
Tom Kirby, CBA, from his best side enters the water for his 2nd interval after 50% of our 11km course was all done. Alison from PWC is still swimming in between our two paddlers, so Tom Boy had some catching up to do. If there were any Sea Creatures hanging around our boat, they would have vamoosed pronto after Tom had pierced the water.
Alison is re-entering CBA Boat 3 after tagging up with Tom.
Alison really hammered in all her swim intervals and took a while to get her breath afterwards.
Two nasty largish Blue Bottles in upper L pic, and three more in upper R pic. These guys are a bit like icebergs, 'cause it isn't the innocent looking Bottle floating on the surface that causes the pain but the tentacle which drops about 10" below, and does a nice job wrapping onto you.

CBA Boat 3 had to reduce our swim distance to pass through two swarms of large Blueys, but we still managed to swim the last 650m into the beach, albeit Moniker Mather, Colonial First State, from Boat 4 got bitten barely 100m from the finish line. Moniker is allergic to Blueys and spent most of the arvo at RNSH getting antibiotics pumped into her, after the Boat Captain, Ronnie Altit, quickly rushed her back to Balmoral Wharf. Blue Bottles must be a discerning "Sea Creature" or perhaps they don't like tough skin, because our girls got bitten a lot more than our guys. In a voice mail Moniker left with Phil late Sat arvo, Moniker paid particular tribute to her Boat Captain, Ronnie Altit, who in addition to immediately ferrying Moniker to Balmoral Wharf after she got stung, had also ferried around other swimmers in distress.


The rash down Lily's left side was more prominent later. But as Lily would be the first to acknowledge a few battle scars go with the territory of open water swimming.
Alison, who also got bitten by a few Blueys wasn't posing for the 2nd pic on LHS.

As pics snapped an hour later exemplify (further below) at the Manly Wharf Hotel, those stings were son forgotton.
Jonathan, Adam, Richard 'n ? back at Manly post swim.
CBA Boat 3 post swim on the Beach - Phil Carmont (Paddler), Trent Koch (Swimmer 'A'), Tom Kirby (Swimmer 'E'), Ian Grayburn Boat Captain, Lily Mathews (Swimmer 'B'), Jonathan Horan (Swimmer 'C'), Alison Peakman (Swimmer 'D'), Phil Johnston (Swimmer 'F') and Rohan Last (Paddler)
Some swimmers from CBA Boat 4 joined us in the above victory pic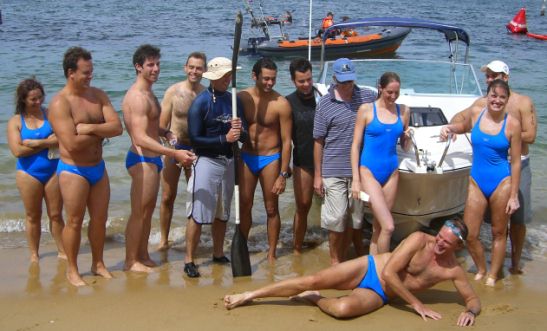 Having a quiet post swim ale back at the Manly Wharf Hotel. The guy without legs up front in the 20 year old sweat shirt is on his knees, 'cause the dude next to him, Chris Milcz (Paddler for CBA Boat 2), is a shortie.
Lily showing off her freebee shirt from the swim organisers.
On the beach at Manly, with the swim all done, Chris Milcz presented Phil with the above memento which is suitably inscribed
Phil "Shark" Johnston for a job well done - Bridge to Beach 2006
It is muchly appreciated, because it isn't every day CBA can draw a bunch of clients together who can also hammer hard out of the office, and laugh about it afterwards.
POSTSCRIPT: A lot of planning was required to ensure 4 boats, 5 paddlers and 24 swimmers arrived at Blues Point by 6:50am. Everyone did their job. I am sure all 24 swimmers are as appreciative as I am that 4 boat owners and 5 paddlers were prepared to wake at Sparrow Fart to put their craft into the water from as far a field as Rose Bay, Meadowbank and Roseville Bridge, so that 24 swimmers had boats to climb aboard, and paddlers to -
(i) make us feel safe; and
(ii) steer swimmers the shortest course to Manly.