| | | |
| --- | --- | --- |
| | Architect Too | |
Greg's impressions of his inaugural signature event annual endurance ride - The Dreaded 2005 158km Fitz's Challenge again competently presented by Pedal Power ACT
I am tuckered-out and tired, but my trip to Canberra to tackle the 158km Fitzís Challenge was a memorable experience which I hope to repeat several times over in ensuing October's.
We were greeted by an unseasonally cold morn' which never warmed up "much", 'twas minus 1 in the morning peaking at 21, light wind, a veritable beautiful day for a long ride. Setting off at 8am with 200 riders circa, most wearing vests or long sleeve wind jackets 'cause it was seriously chilly, I wore arm warmers all day as did many in the field and started with a vest as well. It was easy to find a peleton to stick with for first 19km until we hit The Dreaded Fitzís Hill. Golly Gosh, didn't that hill split up the entire field. At +10% gradient for about 3km itís the meanest thing Iíve ever climbed.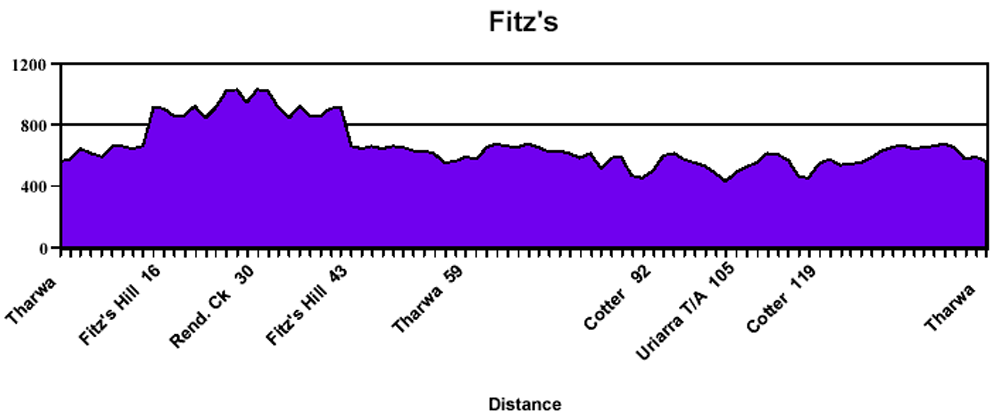 Bank Teller's recommendation to pack a cassette with a 29 big cog was never regretted as I trudged up the killer precipitous. The toughest thing about Fitz's Challenge "The Classic" is that itís never flat. Itís always up and down, and apart from the major climbs, there are these short steep pitches that slow you up so you just canít speed down and roll up. Always going up and down thru the gears.
Very well organised, friendly riders and locals. Getting off at each checkpoint to get your card stamped means you are forced to have a short break, which worked out well by the end.
Lawrence aka Tyro, another younger and fitter Muggs' rider, who started late, caught me at about the 70km mark, where I was fixing a rear tyre puncture on the roadside. After about 15 minutes we started together and Lawrence immediately snagged a puncture as well. So we fixed that one. By now most of the 158km riders had passed us by, so no groups to tag on to, only slower riders doing the shorter events. Lawrence left me languishing behind on the next big climb, after letting me draft him for maybe 10km. But surprise, I caught him at around 102km as he was by the roadside fixing the same puncture again! So I joined him to help, and now after our third puncture we were really at the tail of the field. We rode together 'till the furthest checkpoint (110km), turned around and struggled home up some obscenely steep climbs. Once again I lost him on the first big climb.
Lawrence had changed from a 21 biggest rear cog to a 26, just before this event and even he was struggling a bit I think. I honestly didnít know whether I would make it back to the start at Tharwa as I was so tired from the constant hills, but managed to scramble home having consumed all my energy bars, carbo drinks, gels as well as fruit and muesli bars at checkpoints.
My official time was 8 hours 40 minutes. My actual time, excluding the three puncture repairs (its so hard to pump up the bloody tire when youíre totally stuffed from climbing hills) was 7 hours 52 minutes. Actual ride time (excluding the checkpoint stops, refueling and rest) was 7 hours 22 minutes. Time limit is 10 hours, so its possible to do it at a much easier pace, as long as you donít puncture too much.
Thereís an estimated 2,600m of climbing and its very tough, but countryside is beautiful with very few cars on the route. Highly recommended for those that want to challenge themselves.
Regards
Greg - 29 Oct '06
A couple of pics snapped at Tour de Macarthur circa Oct 2006 - with Architect Too on the extreme RHS.

Crossing Coalcliff Bridge - Sept '07 Guy 'n ArchitectToo en board to Wagstaffe - circa Roctober '07
Greg's rap-up of his 2nd 160km Lake Taupo Cycling Challenge, NZ - Sat 24th Nov 2007
My first attempt at this hilly 160km ride in 2004, after only 3 months cycling, evidenced a 7 hour 19 min journey of pain-staking agony, beating only 20% of the field home. I completed it this time in 5:24, averaging a smidgeon over 29.5 km/h including a 3 min pit stop half way to refuel. Whilst placing arenít out yet, I expect to be well in the top half of some 5,000 riders who completed the challenge. About 10,000 riders competed on the day which is an experience in itself especially being amongst passionate Kiwis, with half of them part of 4 person 4 x 40km relay teams.
The ride is not as tough as the (further above) Fitzís Classic 165km route, but is continually hilly for the first 90km, climbing up and down between 300m and 600m in elevation. Whilst the last 70km is mostly fast and flat, there is a 2km long 7.5% gradient hill at the 140km mark which takes its toll if youíre fading. I found the hills particularly daunting last time, but thanks to the dogged determination of a few Muggs, this time them there hills were only moderately menacing. Below are profile maps to scale in 2km units
Special thanks to Guy and Rex who somehow pulled me along a 137km ride some 6 weeks back, my first really long one of my 10 week training program; I thought I was gone at Pie in the Sky and I admit the thought of hailing a taxi back to St. Ives had fleetingly whizzed thru my noggin, but whilst on that warmish Oct day I didnít have enough in the tank to follow Lawyer and Pimpernel, via Bobbin Head, I managed to make it back to St. Ives under my own steam.
A few weeks later on that Magical Mystery Tour via the Palm Beach ferry to the central coast and Gosford returning via Mooney Mooney and Mt White amidst The Kaiser & Co., Muggs' camaraderie and unrelenting resolve to complete the mission saw me thru another much needed Taupo training ride.
Phil's Berry Bash proved the final fillip for my Taupo preparation. Perfectly planned, with one week to aboard a flight over the ditch, I rode the final two hardish hit outs on Saturday and Sunday. Glorious, verdant countryside, great company, and tough hills were an ideal final work-out. Watching Harry aka KayakMan scaling the frightening Fountaindale Road KOM Climb to Saddleback Mtn Lookout Entrance was inspirational, and the panorama when dropping down Saddleback Mtn Rd is breathtaking. Coupled with Macquarie Pass, Berry Mountain and Fitzroy Falls, the hills at Taupo, in the above profile graphs, paled by comparison.
After an indulgent massage on the Tuesday after Berry, I felt in fine fettle, both mentally and physically, to tackle the 160km four days ahead. On ride day, I confidentially pushed myself hard up the smaller, less steep hills conscious not to blow out the heart rate by going too hard too soon.
It is pay-back time to my family, so Iím having a couple of weeks off to recover and spend time with my supportive wife, Carla, and the Billy Lids who witnessed a seemingly sleepy soul during five days cycling per week in the lead-up weeks.
Thanks muchly for the support and Walk the Talk example from the Muggs who rode with me recently. Hope to see you on the road again this Summer. I will try to entice along a few of the South African chaps that I ride with locally in the Eastern Subs who exhibit the same unrelenting resolve to complete the task.
A few weeks ago I mentioned to Phil, that in the hurly burley of life as an architect where you are regularly having to rejig a time-line because a contractor, council or counterparty can't deliver on time, it is comforting to know that if cyclists agree a rollout time, that you can get up early in the realization that the guys will be there. Completing rigorous, challenging road cycling goals like Fitz's and Taupo, amidst a collegiate team environment, is a material lifestyle assurance which assists me in my not-so-symmetrical working life, and I suspect also to most cyclists who include hills as amongst their friends.